Beltran Family Year End Photos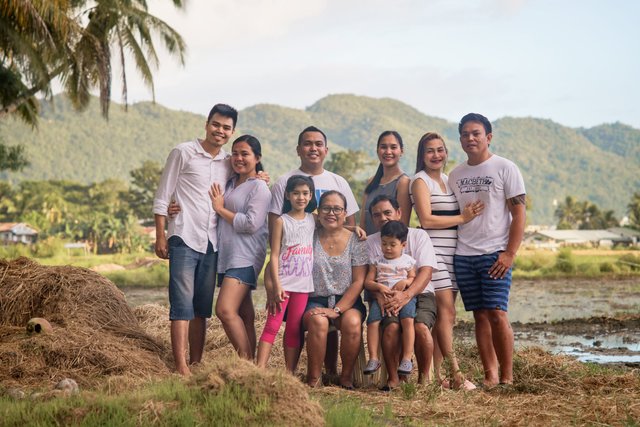 Each family has a culture of its own. Our young family started creating our own culture as well and one of them is making Year-End family group photos. In this way, we could reminisce about the good things that had happened throughout the year before ending it and welcoming the new year to come.
I realized that our family is growing and by 2020, we will be adding two more members of the family. I am already pregnant when this photo was taken and today, I just heard good news from my older brother but I can't really proclaim this right now on social media because he want to be sure about it first. Hopefully, he won't be able to read this blog.
From left to right: James (my husband), yours truly, our youngest Jay R, mama Vicky, Aiesha (first granddaughter), Seth (first grandson), papa Arce, Ate Mae (sister in law), Gecell (sister in law), Kuya Jonas
Anyway, I really praise God for sustaining our family throughout the year 2019. Our family is not perfect, just like every other family out there. We have arguments, we fight, we also laugh and cry many many times within this year. But I still praise God for keeping us in-tact and keeping us healthy and strong for the next year 2020. We miss our eldest, Steven who's in the UAE working for his family.
Our theme this year was really simple, I asked everyone to wear something light or white unrestrictedly. They could wear anything on the bottom as long as the above is light or white.
Before the 31st of December, I already checked that the ricefield area near our house was already cleared and that there were dried hays around so I thought this would be a good spot for a group photo.
Our other members were late for the shoot as they had some errands to do so we took some sample shots while the five of us wait for them.
It rained a few minutes before so I was really glad that it stopped just right before sunset. We had some nice lighting for our photo op.
My niece and yours truly!
I also took some photos of each family except for James and me which I forgot to take. I will do in the next years when we are already a family ourselves with the arrival of our soon baby, no gender yet!
Above is Aiesha, Ate Mae and Seth, our eldest, Manoy Steven is still in the United Arab Emirates. Here's my Kuya and his wife, Gecell:
More images here:
All portraits were taken on a Sony A7 III with Pentax Super-Takumar 105mm f/2.8
!steemitworldmap 9.765280 lat 124.480240 long d3scr
---
Posted from my blog with SteemPress : https://stillsandmotion.blog/photography/beltran-family-year-end-photos/
---