Cold and Populated Yehliu Geopark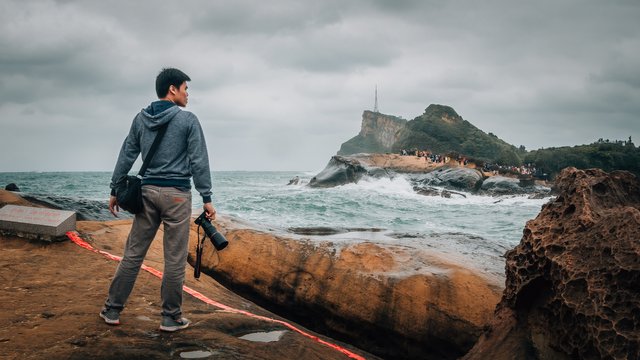 On our third day in Taipei, the group has a prescheduled tour for three spots: Yehliu Geopark, Shifen for the Lantern Experience and Jiufen. This blog is the first of the three series.
Our group had to split into two buses because we were too many to be catered by one bus. At around eight in the morning, we all assembled at the hotel's lobby so we can all go together.
We just walked towards the metro station where our tour buses will pick us. As the tour was already prepaid by my husband's company, I had no idea how much the entire tour costs but based on my research, KKDay's tour package is worth Php 1163 per person.
We stopped at an overpass on our way to the metro! We met our tour guide who's a photographer and he speaks English well. He was a little strict in terms of the timing so we all had to be aware of our bus number and color as well as the specific time of assembly per spot.
It took us just approximately an hour to reach the spot. It was a coastal area thus the view was nice on our way there. We spotted some fishing villages but was surprised at the number of people around the vicinity when we arrived! There were numerous buses and it looked like this is the first spot in every tour so it is expected that these buses and people here are the same set of tourists who'll also visit both Shifen and Jiufen!
Click the photo above to have a bigger and wider view of the image.
The geopark is a landscape full of honeycomb and mushroom rocks eroded by the sea! You have to be aware of the surroundings, make sure not to go past the red taped border!⁠⠀
⁠⠀
Near that hill far behind is the famous formation called Queen's Head, there are too many tourists there and it will take hours before you could get a photo so better take advantage of its replica instead which is located near the entrance.⁠⠀
At my back engulfed by sea is the "Gueitou Mountain". There are two cuestas in Yehliu, the other one is called "Big Cuesta". ⁠
A cuesta refers to a kind of ridge featuring a stiff slope on one side and a gentle slope on the other side.⁠ Information from: ylgeopark.org.tw⁠
Here's the replica of the Queen's Head. This has fewer people compared to the original one but of course, you'll have to wait for hours to get a photo of it. It's better to take advantage of the replica one instead.
More photos below:
The rock formations are indeed amazing and I believe that a few years from now, the landscapes will also change further.
The geopark has a lot of comfort room cubicles, there are also a lot of food stalls and fruit stands around, too bad we were running out of time so we didn't get to check those out.
!steemitworldmap 25.206553 lat 121.690465 long d3scr
---
Posted from my blog with SteemPress : https://stillsandmotion.blog/travel/cold-and-populated-yehliu-geopark/
---