Cold Night in a Teepee House at Highway 81 Resort BuDa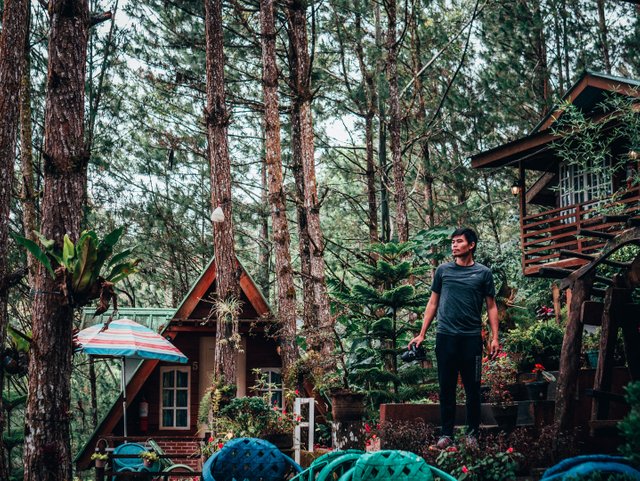 Out of Malagos Garden Resort, after squandering their good green salad at the Viewdeck Cafe and realizing that we were already late of schedule, James and I progressed to the resort exit and proceed on our two hours motorcycle road trip to this mountainous part of Davao City, a road famously called BuDa which basically means Bukidnon - Davao Road. We had to gas up first, filled it up to its brim to ensure that we won't be facing any issues while on the road.
I truly relished the drive, the air was already chilly when we started but it eventually became colder and colder as we traversed, Google Maps says we were just 30 minutes away from our destination place, the resort where we will be staying the night when the rain started and we were almost out of gas. Boy, it was a long ride!
I didn't imagine it to be that long or perhaps it was just because it was our first time to be in this part. But we were glad to be greeted by a beautiful sunset view while filling our tank. Gasing up here reminded me of childhood when we used to go to the mountain area in our town and they use 1-liter soft drink bottles.
It is pretty typical to presume rain every now and then when located in a high land area such as Bukidnon-Davao, Marilog District in Davao City. Just a few months ago, James and I were also in Bukidnon and it rained on our first night when it was all sunny that entire day so we were also expecting the same for that Davao trip.
True enough, it rained, a little bit hard than we expected and we were already a little soaked of the rain when we finally arrived at Highway 81 Resort. It didn't help that the road was dark, there's just a tiny street light at the side but thank God, we found our way to their parking area just next to the highway lane. 
Highway 81 Resort is a resort which is situated on a hill, it is 81 kilometers away from Davao City proper so that's how they got their name. 
So to get to the main front desk which was also there in house cafe cashier desk, we had to exercise up the cemented staircase, about five minutes hike but breathing would be a little bloody most especially that we had heavy backpacks on our back, I could literally feel my backbone bending and trying its best to hold on to dear body.
It is also good to note that I didn't reserve a room. Well, the truth was that I contacted them a few days before coming over to Davao City but didn't send the required partial down payment to confirm our reservation so we ended up getting a different room at a higher price of Php 1600 instead of Php 1400, but this fee already includes breakfast so for us, it is still a good option.
However, I really want the room with a terrace, anyway, we have no choice because it was my mistake not finalizing the reservation thinking there won't be any visitors on Fridays.
Our room was a teepee designed structure, the first of the two with its green roof and red painted walls including its white door and a glass window. It felt like we were going into yet another hobbit house! It looked small from the outside but actually, it can fit two to three persons inside as they got an extra couch too, a wooden one.
A table was provided and a sole power wall outlet, this is always an issue when we are traveling so then I always bring with me a power outlet adaptor which can allow us to plug three devices at once as we got a lot of devices to charge the entire night.
What I love about Highway 81 Resort is their resort ambiance. The resort is full of pine trees, it is also situated on a hill so we could see the highway from our room and from their in-house cafe. Another thing to love about Highway 81 Resort is they got a few tables and chairs spread out through the entire resort area so day tour guests can pick where they'd love to sit and enjoy their hot chocolate and the view.
Highway 81 Resort looks really nice from the highway as how you can see in the photo below. Those pine trees look like they're reaching to the skies!
On the other hand, Highway 81 is also the home of Cafe Binukid.
Cafe Binukid, an in house cafe and restaurant in Highway 81 which has been one of the main tourist attractions here in this area of Marilog District, Davao City.
Cafe Binukid is quite famous because of its Budbud and Hot Chocolate combo. Budbud is a sticky rice delicacy wrapped with banana leaf. But unfortunately, we weren't able to try it as they ran out during our stay. Most day tour guests would request that but not for us. I still believe that tastes good as most guests were asking for it when we had breakfast.
But anyway, we had dined here twice, first was on our arrival for dinner and second was for breakfast which was a free meal. Our dinner had to have soup so we ordered their native chicken Tinola.
Serving wise, it was very generous, the soup was almost overflowing from the container, that size which could feed ten people! We tried finishing it but we can't, it was just too much for the two of us. Another order on our table was James' request, sweet pork ribs which were also served in a generous amount too. We figured the restaurant's cook or chef is good at his job. They served it hot and we were just indulging ourselves in the steaming soup. It was nice to feel its warmth, at last, we could feel our toes after a few sips!
That night ended with us having tea after dinner at the cafe, they provided us with hot water to our request and used my own brought green tea which they were okay with. There were a few other customers around too but what we were surprised about was that after the guests started going to their rooms, the staff and crew had their mini birthday dinner. Someone from the team was celebrating his or her birthday and we witnessed their fellowship. They said their grace and even asked us to eat with them, of course, we declined as we were already full.
Our complimentary breakfast was Bangus-silog for me Corn-silog for James. They also had given us free instant coffees but we asked for one Binukid Coffee but it was not incorporated in the free breakfast. I just requested it and pay an additional amount of Php 70 for that. Both meals were just the normal Filipino breakfast, nothing very special about it except for the coffee.
Anyone who'd plan to come to pay a visit or even stay overnight, I highly recommend that you reserve your preferred room. They have rooms and cottages which are good for families and even those which are good for couples. Davao locals won't have to go far to Baguio to experience cold weather, this is already enough, perhaps more resorts and amenities would make it comparable to the city of pines.
Currently, there are still roads which were under construction and if that finishes, I believe more and more tourists will consider to come here and feel the cold air. Plus they got friendly cats too to play with.
How to Get There?
From Davao City, take a bus with a sign "Bukidnon" or "Cagayan" (aircon bus) at Ecoland Bus Terminal. The fare is around Php80/head.
Advise the driver/conductor to drop you at Highway 81.
You can also, of course, use your own vehicle for group tours and like us, rent a motorcycle too so you can have control over your time. It is advisable to travel during the day, it is quite an adventure getting there as lamp posts are not consistently available.
!steemitworldmap 7.487018 lat 125.248997 long d3scr
This story was originally posted on my bitLanders blog.
---
Posted from my blog with SteemPress : https://stillsandmotion.blog/travel/cold-night-in-a-teepee-house-at-highway-81-resort-buda/
---