Quick Stop at Taipei Zoo!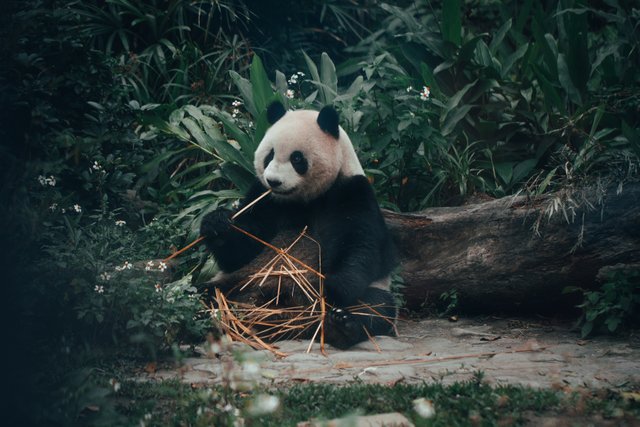 I can't recall the last time that we had visited a zoo! So, when we came to Taipei and learned that one of the itineraries was a zoo, we were not very interested should I say but we ended up regretting not spending more time there.
One of the highlights of our Taipei Zoo visit was, of course, the cute Pandas! But before that consumed our time, we first roam around the vicinity which by the way was huge and found some other animals!
I must mention that we only paid 60 NT$ for the entrance tickets which was surprisingly cheap! That's equivalent to Php 120 only! I am not sure if that was because we came from Maokong or if there was just some discounted rates that day. I checked online and it shows that's really the actual and normal rate.
This above is one of the firsts that we found. We didn't even dare check the animal's names.
Since we were from Maokong Gondola, we took the cable car, we already have a return pass and stopped by the Taipei Zoo South Station. We paid our entrance fees and took a free shuttle going towards the zoo!
The view from the shuttle was also great, it was just around five minutes and we arrived at the bird dome area where we found certain bird species but that was already around four in the afternoon so we have to take advantage of the next one and half hours.
Spotted some cute procyonids. When I saw them, I knew exactly that we have to have a photo with them. Aren't they cute?
We didn't bring a big tripod during this trip so we had to rely on our table tripod and set the timer too! One tip is to use the timelapse feature of your camera too! This way you can take your unlimited shots and poses!
Another area where we had enjoyed was at this Amphibian and Reptile House. Check these photos below:
After having so much time at the Amphibian and Reptile House, we went to find the Panda House after some of my husband's colleagues sent some images of the panda. We passed by this spot where the tree was barren and there were leading lines, we took a few snaps of ourselves.
More animals on our way to the Panda House! Even spotted some huge ones like elephants and hippos!
Finally, we found the Panda House but there were two pandas around and we were not sure which was Yuan Zai the panda among the two.
There were a lot of photographers just taking multiple photos and videos of these two, it was actually a little challenging to find a good spot to take a photo due to their huge and tall monopods blocking the glass cage.
In fact, there was a little fight between one of the tourists and photographers. I guess the issue was that the photographers had been there for some hours and one tourist just had enough of waiting.
Anyway, we headed to the exit and went our way towards the Raohe Night Market for dinner!
The zoo is open all year-round, every day (except CNY, 18 Feb).
Zoo Hours: 9AM - 5PM (no entry after 4PM)
Animals Exhibit: 9AM - 4:30PM (indoor and outdoor exhibits)
---
Posted from my blog with SteemPress : https://stillsandmotion.blog/travel/quick-stop-at-taipei-zoo/
---
!steemitworldmap 24.997656 lat 121.583001 long d3scr