Vita Isola Leisure Farm's Island Living Vibe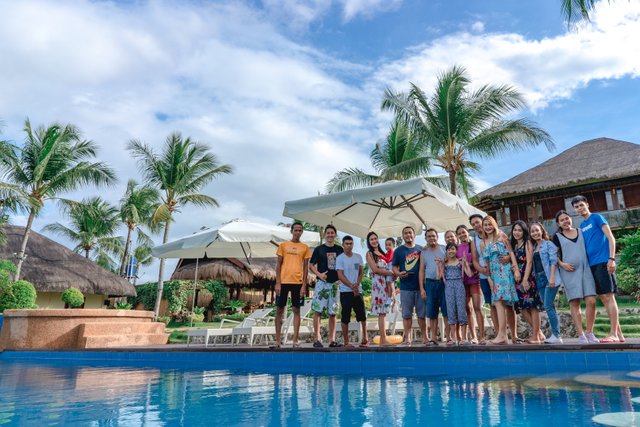 Three of our family members were born in February, perhaps the most number of celebrations for the entire family so we always make it a point to spend a time to get together and enjoy each other's company.
A welcome board at the center of this rustic restaurant!
Our plan was to go over to Vita Isola Leisure Farm then spend the night at Blue Villa in Panglao. We rented a self-drive Van, my older brother was in charge of that while I was in charge of the visit at Vita Isola Leisure Farm as well as booking our overnight stay at Blue Villa.
I found Blue Villa via Airbnb and booked it using my husband's account. Here's a little trick: If you have an Airbnb account which had been used before to book for space, and when you plan on booking a new one soon, refer your friend or your relative so you can get some discounts. That's what I did and I had Php 2200 off. So instead of paying more than Php 6000, I paid only Php 4000+.
Or if you do not have an Airbnb account yet, please sign up here!
The entire group!
Going back to Vita Isola Leisure Farm, it was not our first time to get here. It was in 2018 when we visited the place with my parents and my brother together with his wife. We were celebrating something which I can't recall now.
Read more: Reconnecting to Inner Self at Vita Isola, Loon, Bohol
At that time, the resort was still pretty new, in fact, their pool was still not available for usage. The owners of the resort were also staying at the La Casita house. What I could recall though was the pretty good, fresh and ultimately delicious food we had. Although, the only downside was that they were a little on the pricey side.
But note, the location was really relaxing. It is facing the Tubigon side of Bohol, it is a cliff so the guests have a view of the pool and the ocean in the background whilst sitting at their restaurant. The vibe is island living and truly, it speaks to its name.
Aside from that, they got their own farm where they source their ingredients for their food menu. They also got a fishing area where the farmers could fish fresh seafood for their guests! So that explains why the food was really good.
When we visited Vita Isola Leisure Farm the second time around, we were surprised to see not much changes, perhaps the only change was the addition of Dragon fruits at their farm and that their pool is already available and La Casita was already available for booking, the owners were not anymore living inside that space but still, the rustic and very fresh side of the resort is still there.
Let me show you around some of the spots within the vicinity:
Another new addition I missed to point out is this dining place right here! It's really great for events!
We occupied two tables but we decided to take some photos taken first before eating everything.
And I was serious that we ate everything, here's before the destruction:
I even want to sleep while inhaling the fresh sea breeze and listening to the hustling of the coconut leaves and they got some folk songs playing in the background too! Our kids had fun at the pool and we just love the food of course!
The entrance fee of Php 500 can be used to get some food as the Php 300 part is consumable. But the resort currently has a weekday promo of 100% consumable which we didn't take advantage of since we came on a Sunday. Anyway, it was still a pleasant experience.
Since I am 17 weeks pregnant, I only intended to take a few shots of the resort. I used a wide lens and I ended up liking how the images came out.
Here are some of the photos of my family members while at the resort:
Gecell and Kuya Jonas
Mama and Papa
Aiesha with Mommy
Again, Vita Isola Leisure Farm is really a great choice to unwind, to get out of the busy city and just experience island living with the sea and the farm right at your reach.
Contact Vita Isola Leisure Farm for your reservation. They got really good customer service too! I had been in contact with them prior to our visit and they had answered all our questions faster than expected!
0910 505 0277
[email protected]
fb.com/VitaIsola
!steemitworldmap 9.855145 lat 123.808673 long d3scr
---
Posted from my blog with SteemPress : https://stillsandmotion.blog/travel/vita-isola-leisure-farms-island-living-vibe/
---