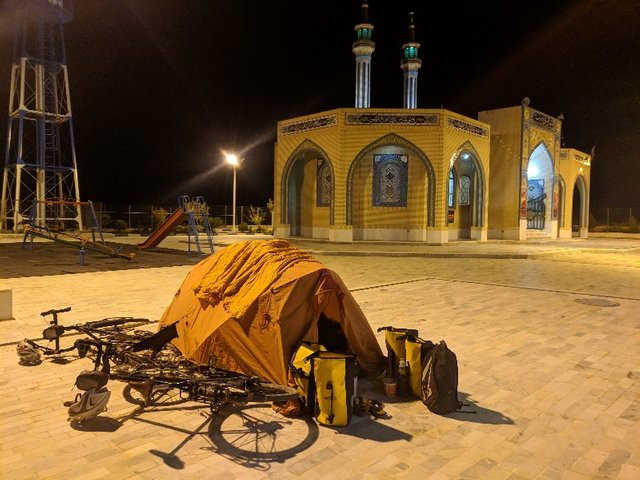 Two years ago when we were planning our route, we decided to include Iran. The advice we got from our friends and family was to avoid the country. Such comments included: "It is too dangerous", "Aren't they at war?", and "Is it safe?"
Ignoring their advices, on October 29th 2018 we entered the country. We will write about how normal a country Iran is from what we've learned. The news we heard back home are purely in relation to the government but the people are super friendly and hospitable.
两年前,当我们计划我们的路线时,我们决定将伊朗包括在内。我们从朋友和家人那里得到的建议就是避开这个国家。这些评论包括:"太危险了","他们不是在战争中吗?","安全吗?"
我们无视他们的建议,于2018年10月29日进入该国。我们将从我们所学到的东西中了解伊朗的正常状态。我们在家里听到的消息纯粹与政府有关,但人们非常友好和热情好客。
#1 Hospitality 好客
You may think such a dangerous country would have a lot of scary and violent people. As it turns out, it is the opposite. Before we entered Iran, we met so many tour cyclists that had passed through. Everyone said the hospitality from the Iranians is at another level. A phenomenal level of hospitality.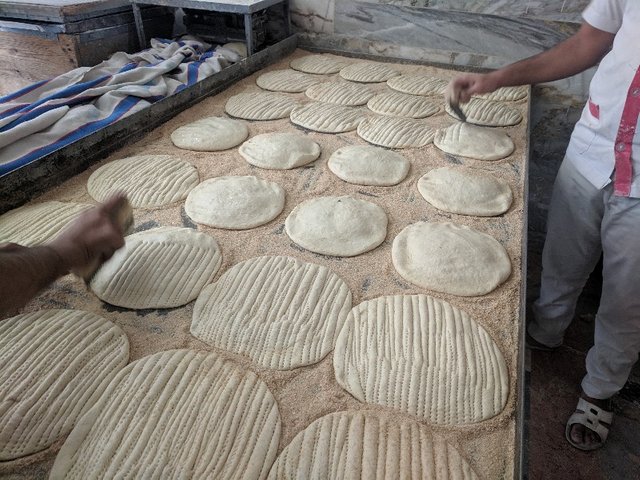 We got invited into the bakery, watched them make bread and drink tea.
On our first day in Iran, we were looking for bread in the town of Sarakhs. A local man also buying bread came to talk to us. We couldn't understand very well, but later on he strongly insisted on paying for our bread. The random generosity of the Iranian people is astounding.
你可能认为这样一个危险的国家会有很多可怕和暴力的人。事实证明,情况正好相反。在我们进入伊朗之前,我们遇到了许多已经通过的自行车骑行者。每个人都说伊朗人的热情好客在另一个层面。非凡的热情好客。在伊朗的第一天,我们在Sarakhs镇寻找面包。一个当地人也买面包来跟我们说话。我们无法理解,但后来他强烈坚持要为我们的面包买单。伊朗人民的随意慷慨令人震惊。
#2 Picnic 野餐
The Iranian people really enjoy picnicking. They picnic as we do in New Zealand: everyone sitting in a circle on a big spread out mat. They even bring out a tent with them, not for sleeping overnight though.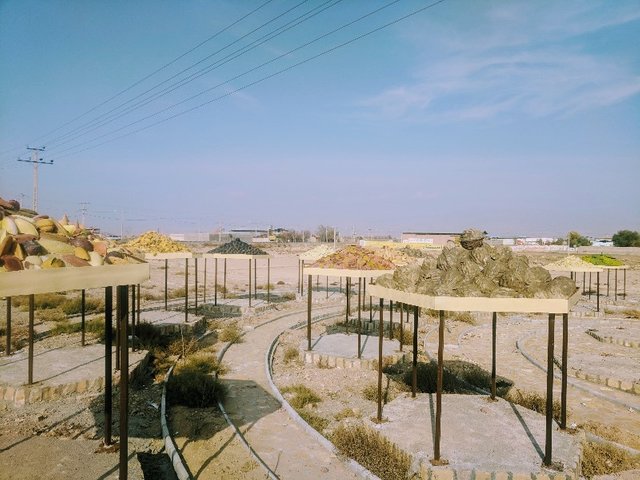 People prefer to eat on the ground, so it is uncommon to find picnic tables. You're more likely to find a firepit which is used to cook kebabs. And sadly, rubbish is always left behind.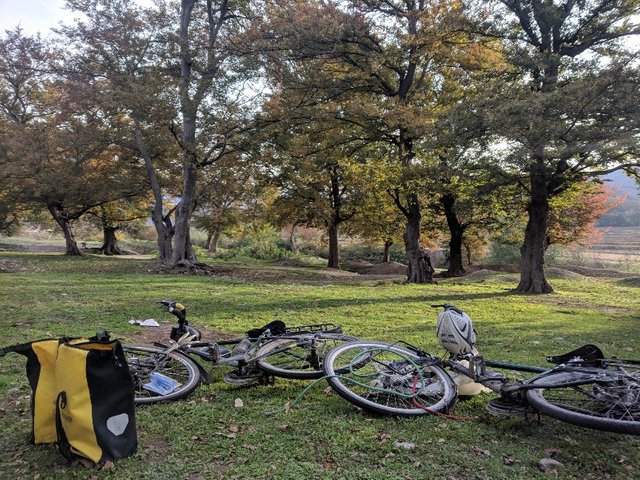 We camped at a picnic park and there were rubbish everywhere
伊朗人民真的很喜欢野餐。他们像我们在新西兰一样野餐:每个人都坐在一个大的摊铺垫上。他们甚至带着帐篷,但不是为了一夜之间睡觉。人们更喜欢在地上吃东西,所以找到野餐桌是不常见的。你更有可能找到一个用于烹饪烤肉串的火坑。可悲的是,垃圾随便扔掉了。
#3 Sculptures 雕像
Sometimes a commissioned work for a sculpture can cost tens of thousands of dollars. Here they keep cost low by producing the most normal sculpture imaginable.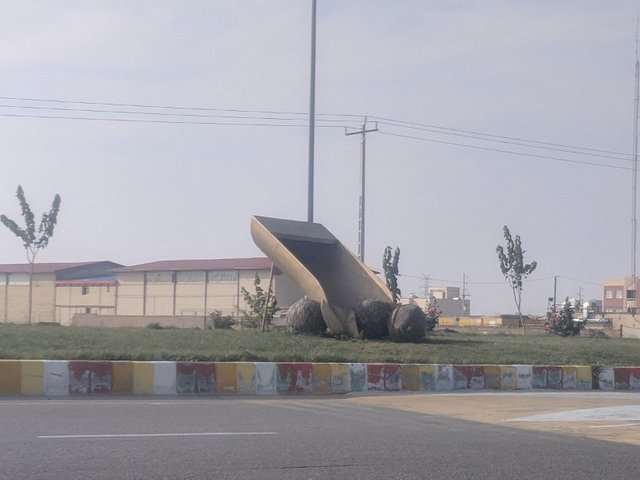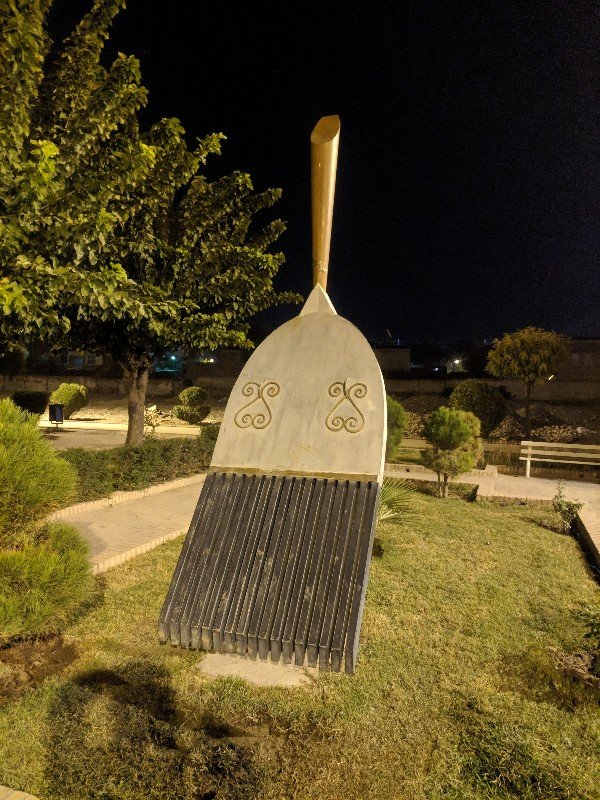 We only started taking photos after noticing a trend. Everyday normal objects are made into sculptures 100+ times their size. The most well done one we saw was of a zipper!
有时,雕塑的委托作品可能要花费数万美元。在这里,他们通过生产可以想象的最正常的雕塑来保持低成本。 我们才注意到趋势后才开始拍照。日常的普通物体被制成100倍于其尺寸的雕塑。我们看到的最好的一个是拉链!
#4 Inflation 飙升
One New Zealand dollar can get you almost 100,000 rials. With the American sanctions, the rial has devalued at least 40%. Because of the big number problem, Iranian use another unit of currency called toman. One toman equals 10 rials.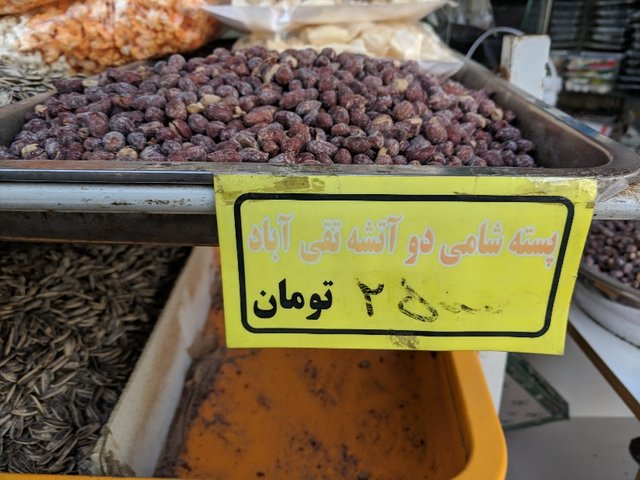 This sign states the price and "toman"
A fresh bread from the bakery costs "500". We always assume it is in toman and hand over a large numbered note. It is very confusing handling 10,000, 50,000, and 100,000 notes. You just have to trust the correct change is given.
一新西兰元可以获得近10万里亚尔。随着美国的制裁,里亚尔贬值了至少40%。由于存在大量问题,伊朗使用另一种称为toman的货币单位。一个toman等于10里亚尔。面包店的新鲜面包价格为"500"。我们总是假设它是在toman并交出一个大编号的音符。处理10,000, 5,000和100,000笔记非常令人困惑。你只需要相信给出了正确的改变。
#5 Laundry 洗衣
We have stayed at several homes in Iran and they all have one thing in common. The washing machine is in the kitchen along with other kitchen appliances. It was a bit weird for us at first because laundry doesn't relate to food at all.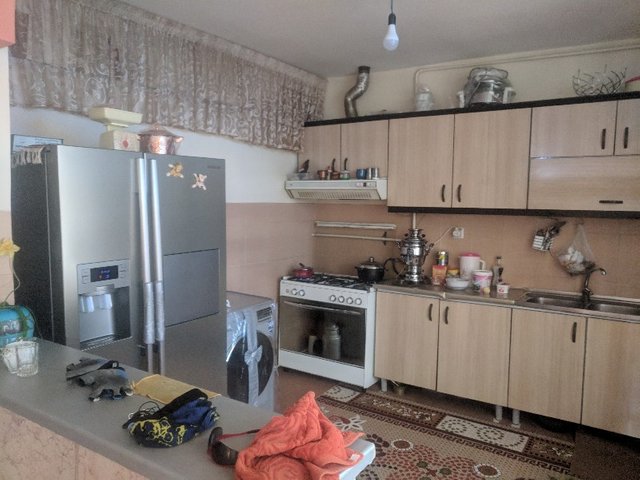 In fact, putting the washing machine in the kitchen means one less place that needs plumbing.
我们住在伊朗的几个家庭,他们都有一个共同点。洗衣机和其他厨房用具一起在厨房里。起初对我们来说有点奇怪,因为洗衣与食物完全无关。其实,将洗衣机放在厨房意味着需要管道的地方少一个。
#6 Religion 宗教
Iran's official name is "Islamic Republic of Iran". The current ruling government is very religious. Although we can't go into too much detail, it is very clear why any government should be separate from religion. We have been advised that one should not speak about religion or politics on the streets as there are secret police around.
It is mandatory in school to practice religion. Praying at school is required, and during prayer times (sunrise, noon and sunset) all television channels are interrupted and broadcast religious content instead during prayer time.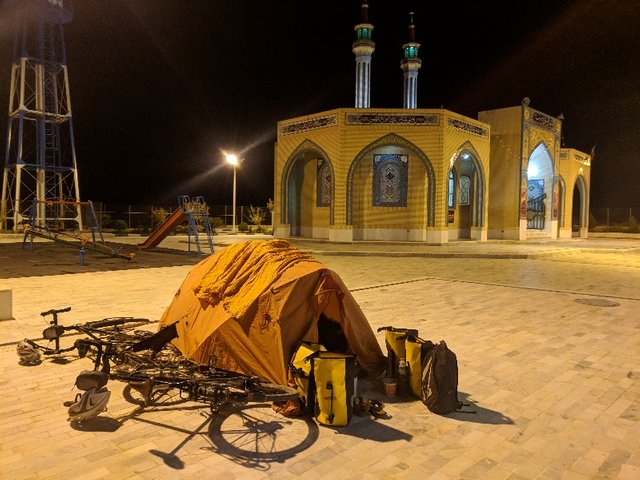 Mosques can be found everywhere
Due to this, there are many restrictions on the life of ordinary Iranians and predominantly women. See "#8 Women"
伊朗的官方名称是"伊朗伊斯兰共和国"。目前的执政政府非常虔诚。虽然我们不能详细说明,但很明显为什么任何政府都应该与宗教分开。我们被告知,不应该在街上谈论宗教或政治,因为周围有秘密警察。
在学校必须实行宗教活动。在学校祈祷是必需的,在祈祷时间(日出,中午和日落),所有电视频道都被打断,并在祷告时间播放宗教内容。因此,普通伊朗人和女性的生活受到很多限制。看一下"#8女性"
#7 Sides 双方
In the Western world, we see one side of Iran. That is the government of Iran that is portrayed in the news. We always hear about nuclear deals, sanctions, and proxy wars.
The unheard side of Iran is the Iranian people. They don't want sanctions and they don't hate America. Many people actually apply for the Green Card lottery (permanent residency in USA) for a chance at a better life. It is only when you visit a place that you can understand and see what the people are like. The reason we've written this Post was to share how similar the Iranian people are.
在西方世界,我们看到了伊朗的一面。这是新闻中描绘的伊朗政府。我们总是听说核交易,制裁和代理人战争。
伊朗闻所未闻的一面是伊朗人民。他们不想要制裁,也不讨厌美国。许多人实际申请绿卡彩票(在美国永久居住),以获得更好的生活机会。只有当您访问一个您可以理解的地方并看到人们的样子时。我们写这篇文章的原因是为了分享伊朗人民的相似之处。
#8 Women 女生
Iran is one of the countries where women are required to wear a full body cover. The face can be shown. Everything else is covered by a cloth. Black is the main colour used so women don't attract attention. In religious areas of the city, you'll see more women in full black cover, whereas in other area more colours can we seen.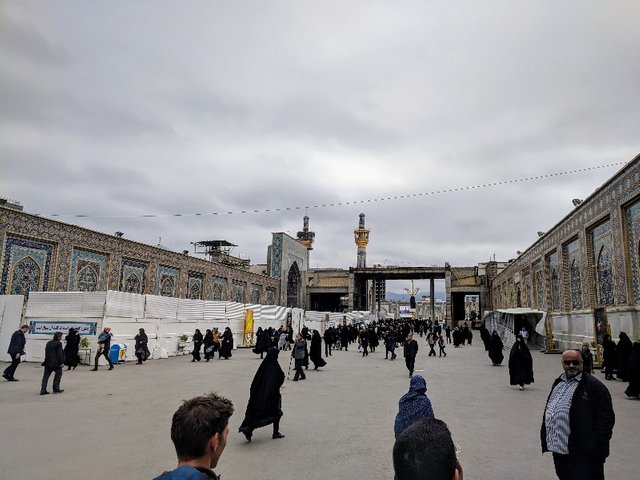 Thankfully women can drive. They can go to work, but only if the husband gives permission. We met a women who spoke great English, but after she got married, her husband forbid her to continue studying English. We didn't ask "why" as it wasn't our business, however we could feel the wife did miss going to study English.
伊朗是妇女被要求全身覆盖的国家之一。可以显示脸部。其他一切都被布料覆盖。黑色是使用的主要颜色,因此女性不会引起注意。在城市的宗教区域,你会看到更多的女性全黑覆盖,而在其他地区,我们可以看到更多的颜色。幸运的是,女性可以开车。他们可以去上班,但前提是丈夫允许。我们遇到了一位讲英语的女性,但结婚后,她的丈夫禁止她继续学习英语。我们没有问"为什么",因为这不是我们的业务,但我们可以感觉到妻子确实错过了去学习英语。
#9 Rubbish 垃圾
A very sad problem in Iran is rubbish. We assume there is no education about managing rubbish. In fact, plenty of bins are provided in the parks and picnic areas. One time we burned all of the rubbish around our tent. In the night it got windy and by morning, more rubbish got blown to our camping spot.
Beautiful waterfall… with litters (🎥 Instagram)
Part of the problem is the excess use of single-use plastic. They range from straws, sauce pottles and table covers.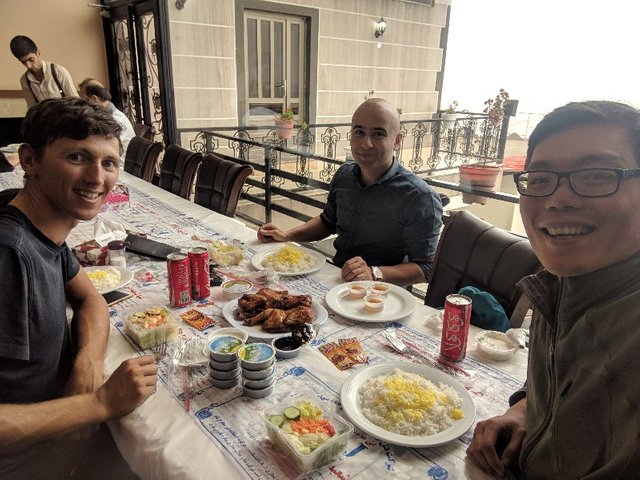 伊朗一个非常悲惨的问题是垃圾。我们假设没有关于管理垃圾的教育。事实上,公园和野餐区提供了大量的垃圾箱。有一次我们烧掉了帐篷周围的所有垃圾。在夜晚它刮风,到了早上,更多的垃圾被吹到我们的露营地。部分问题是过量使用一次性塑料。它们包括稻草,酱汁和桌布。
#10 Dog 狗
There are many stray dogs in Iran. The Islamic government considers them "dirty" and forbids having pet dogs. Taking your dog out for a walk is also outlawed, but less strictly enforced. Due to this, people protect their dog by keeping it a secret.
The stray dogs are so neglected and abused they have become very afraid of people. They shyly walk around us sifting through rubbish and looking at us with their head held low. There are no organisations like SPCA to take care of stray animals.
A friend in Mashhad told us this and we didn't want to believe it…
To control the population of stray dogs, occasionally a police or military personnel would go around and shoot them.
One morning in our tent we heard it happen first-hand. We were eating breakfast in our tent on a quiet field when suddenly we heard shots being fired "pow pow". Followed immediately by the cries of dogs. This happened several times, with the same horrific cries from the dogs. We stayed in the tent because we didn't want to see what was happening. Later on we got up and packed our stuff. A man in uniform with a gun hanging on his shoulder walked by us. We greet him and his sighting confirmed exactly what we feared.
伊朗有许多流浪狗。伊斯兰政府认为他们"肮脏",禁止有宠物狗。带你的狗散步也是非法的,但不太严格执行。因此,人们通过保守秘密来保护他们的狗。
流浪狗如此被忽视和滥用,他们变得非常害怕人。他们羞涩地走来走去,我们在他们的头上低着头看着我们。没有像SPCA这样的组织来照顾流浪动物。
马什哈德的一位朋友告诉我们,我们不想相信它......
为了控制流浪狗的数量,偶尔会有警察或军人到处射击。
一天早上在我们的帐篷里,我们听到它是第一手发生的。我们正在一个安静的地方在帐篷里吃早餐,突然我们听到枪声被发射"啪啪"。紧接着是狗的叫声。这发生了好几次,同样来自狗的可怕的哭声。我们住在帐篷里,因为我们不想看到发生了什么。后来我们站起来收拾东西。一名男子穿着制服,手上挂着一把枪,走过我们。我们迎接他,他的目击确切地证实了我们所担心的。
---
As we plan to spend the winter in Iran, we'll learn more about the culture and its people. So far we're very happy to be here, and by no mean worried about any danger at all.
当我们计划在伊朗过冬时,我们将更多地了解文化及其人民。到目前为止,我们很高兴来到这里,并不担心任何危险。
---
Posted from Steem中文社区 : http://cnstm.org/blog/2018/12/03/life-in-iran-%e7%94%9f%e6%b4%bb%e5%9c%a8%e4%bc%8a%e6%9c%97/
---