He who fears being conquered is sure of defeat - Napoleon Bonaparte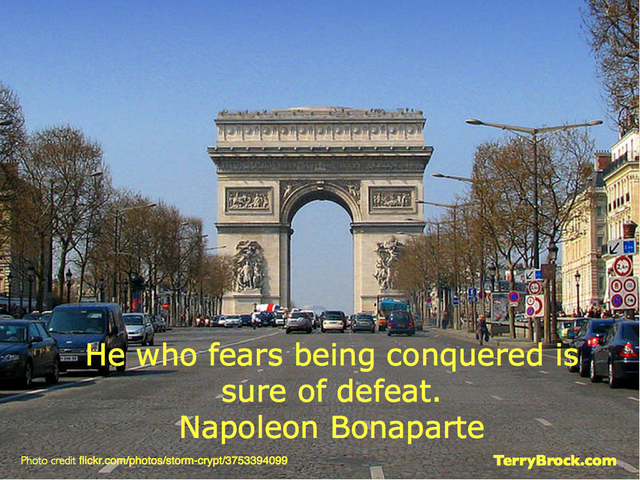 This quote rings true for me.
If you fear something you become vulnerable to it and are subject to being defeated.
The answer, as Napoleon demonstrated, is to due your homework diligently. Know the terrain, the enemy, your strengths, and your weaknesses.
Then attack with fervor and unrelenting courage.
This has been shown throughout history.
Thank you for stopping by.
Terry
Terry L. Brock, MBA, CSP, CPAE
Member, Professional Speaker Hall of Fame
Certified Speaking Professional
Council of Peers Award of Excellence
2018 Recipient of the National Speakers Association's Highest Award, The Cavett
Master of Ceremonies
Professional Video Coach
Chief Retail Advisor - Ace Hardware Global Solutions Academy
Training Ace Retail People around the world, online training
See some wonderful (!) videos on my YouTube Channel!
https://www.youtube.com/user/TerryLBrock/videos
My TEDxBocaRaton presentation.