Axie Infinity Battles Have Arrived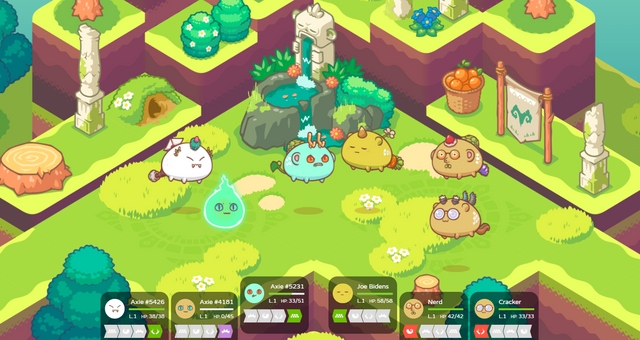 Axie Infinity Battles have come to mainnet and they have brought with them a slew of kick-ass interface upgrades and features, oh.. and giveaways!
Not familiar with Axie Infinity? Well here is a quick breakdown: Axies are adorable, little, digital animals that players can collect, breed and now put on teams to battle others in arena style matches. Potential players can "adopt" Axies at the
Axie Infinity official website
in exchange for the cryptocurrency Ether. The game is completely online and accessed through your web browser, but with an added extension called MetaMask. MetaMask acts as a link between the Ethereum Blockchain and your browser, and also as an Ether wallet. Ether is the cryptocurrency used on the Ethereum Network. I will post some links at the end of this article if anyone is interested in acquiring Ether for the first time.
The Battle Lobby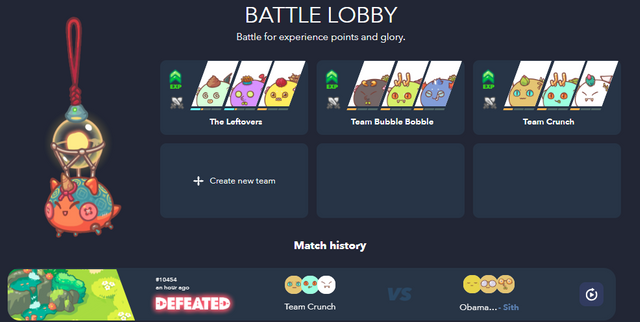 On the Battle Screen players can create teams and send them out into the arena, where they are matched up against another team from somewhere across the globe. The results are determined automatically, but factor in many things such as Axie type, stats, ability selections, positioning and luck. After battles are calculated (a few seconds), replays immediately become available for players to watch and assess their team's strategy.
Every arena win will net each Axie 30 xp, a loss 15 xp, so even if you lose the majority of your matches, your Axies will still be advancing. Advancing your Axies will bring more options to your battle strategy and hopefully more wins. Right now it costs 300 xp each to breed two Axies, but will result in a new Axie with a mixture of traits and new strategic options for the arena. Soon players will also be able to spend xp to level-up Axies and their moves, which will open up a whole new chapter in Axie strategy. To add a boost to xp collection, Axie dev's have included a trigerable charm called Bean's Blessing, shown on the left side of the picture above. Activating the xp boost charm required a very small Ether transaction, like 2 cents, but grants a 20% bonus xp for battles for 24 hours.

Another neat feature within the Battle Lobby is the Leaderboard. Axie raising is a competitive industry, so if you want to know where you stand within the community, look no further. The leaderboard seems to get updated after every match, I check it regularly just for kicks. Most of the time I am ranked in the 30's, which is much better than I expected. It also displays your total wins and losses.
The Axie Lab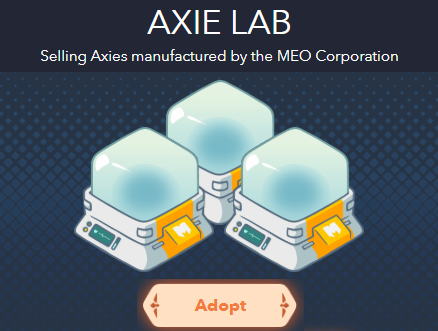 To help prepare players for battle, the Axie Infinity team has also reopened their egg shop, called the Axie Lab. Players can purchase Axie eggs from the shop and receive a randomized Axie with 400 xp. This round of egg sales is a little different that the last one, players no longer have to wait for their new eggs to hatch and mature, instead they are purchased fully grown and ready to battle. The price is not hard set but float around $34 USD in Ether.
The Axie Lab now also contains a small section containing your own personalized referral link. This offers players more incentive to seek out new people to join the Axie Infinity community. If someone follows your personal link and then purchases one or more Axies from the Lab, you as the referrer will automatically receive 5% of the value directly to your Ethereum wallet.


Some Basic Tips for Newbs
For anyone reading this and considering looking into the game a little more there are a few tips I would like to share. Every Axie is different and they each have their strengths and weaknesses, but in general you should put your most "Tanky" Axie in the front. By that I mean an Axie with high HP and high defence (10+) abilities. A good tank can take a lot of hits and keep your other Axies safe in the meantime. You will also want an Axie with some high damage moves placed behind the tank, because you can't win with defence alone. The third Axie is can be anything, a second tank in the front, a second DPS Axie in the middle or a support Axie for healing. All those options will work effectively.

Luck plays a big part in the outcome of Axie battles. Your luck in getting matched up with opponents and your Axies luck in battle, so don't expect to win, or lose, every battle. That said there are definitely ways to increase your team's win ratio. Strategies for Axie Infinity are deep, so don't think you are going to jump to the top of the leaderboard on your first night. It will take time to learn all the different classes and moves, I suggest watching some recorded battles, there are some great streamers in the Axie community. And speaking of the Axie community,they are hosting an awesome giveaway.
Axie Infinity Giveaway!
Just click the link below. Every entry wins something, some will win a free Axie. All ya gotta do is some basic social media stuff and you are guaranteed to win something cool.
Giveaway Link - via Gleam
Related Links:
Axie Infinity Website : Just got an awesome new landing page and where I got all of the graphics for this post.
The Axie Lab ; where you can buy some brand new Axies using my ref code, if you please.
Latest Official Dev Blog; where you can find way more Axie info than this one post.
Axie Infinity Discord Chat; where you can get your questions answered directly from Axie dev staff, or just hang out with an awesome community.
MetaMask Website; Not only to download the extension but also a great how-to guide for those new to blockchain, Free, no ID required
Coinbase Exchange Website: The largest and most well known place to buy Ether and several other cryptocurrencies, ID verification required here