Official #Steemsilvergold Membership Post - 27th February 2020
Hello Steem Silver Gold!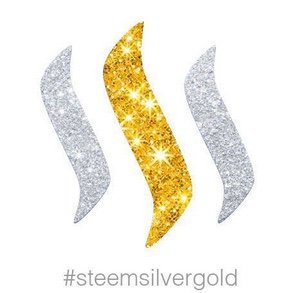 It has been a hot minute since sharing a membership update. Thank you for your patience while I have been dealing with family issues since the start of the year. I am not sure when I will start posting from this account again regularly... but today at least we do have some member news! :)
Wee One
I am sure everyone has heard the news. However, just in case you missed it.... @welshstsacker welcomed a baby girl just a few short weeks ago. 1/4 pint, big brother 1/2 pint, mom and dad all seem to be doing well. If you haven't visited Welshie's blog lately, there are plenty of baby posts and SILVER posts to enjoy. Congrats @welshstacker!
Membership
This week we have one new member joining Steem Silver Gold. Please welcome @anchormetals to the team. He is very new to Steem, but has shown some lovely silver and GOLD pieces in his posts. With all of the Steem/Tron/Communities stuff happening on our block chain, it is nice to step away from the confusion to focus on what is important - the people who make Steem great. :) Welcome to Steem Silver Gold @anchormetals.
If you are interested in nominating new members, please make sure nominees have a track record of posting about metals and of building relationships with community members (ie. consistent posting with a track record of posting about silver and/or gold, replying to comments on their posts , commenting on posts of other community members). The friendships we form will be what sustains our group through the growing pains of Steem.
PS - If you were once a member of Steem Silver Gold and do not see your name on our member list, you were likely taken off of the rolls due to lack of posts or comments in 6 months. If you have returned to Steem, please let us know. We are happy to add you back to this lists.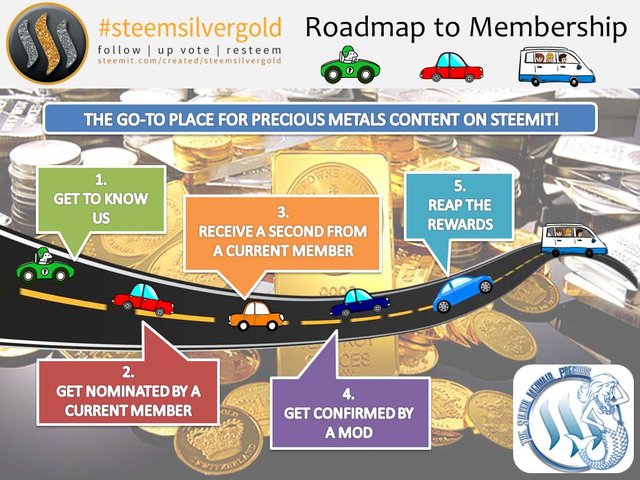 ---
Member
Member
Member
@ajain
-
@owenwat
@anothervoice
@fat-elvis
@pbock
@armshippie
@firecajun9262
@peaceloveliberty
@axeman
@fishyculture
@phelimint
@battleaxe
@flipstar
-
@bauloewe
@floridastacker
@plaid
@bearbear613
@geneeverett
@pocketechange
@bearone
@generation.easy
@raybrockman
-
-
@rolf.bakker
@bengy
@goldkey
@rollingthunder
@bi5h0p
@goldmatters
@ronaldoavelino
@bitcoinman
@goldrooster
@russellbury
@blackrussian
@gomatthew
@saffisara
@bluelightbandit
@grizzman
@sbsparts
@bmj
@guiltyparties
@senstless
@bowentroyer
@handofzara
@sevinwilson
@brian.rrr
@harleymechanix
@shaungerow
@britcoin
@hashcash
@silverbug
@buggedout
@hooiyewlim
@silverd510
-
@infidel1258
@silverfortune
@buster544
@ironshield
@silver-hammer
@caladan
@janusface
@silveringots
@clumsysilverdad
@jbcoin
@silversaver888
@coindevil
@jimbobbill
@silverstackeruk
-
@joshuaslane
@sk43
@coolbowser
@juniusmaltby
@smaulgld
@corndogg42
@jznsamuel
@solominer
@cryptofuwealth
@kanedizzle08
@soyrosa
-
@katrina-ariel
@stephen-somers
-
@kerrislravenhill
-
@darkmrmystic
-
@stokjockey
@davedickeyyall
@kiwiscanfly
@summertooth
@daveks
@knowledge-seeker
@tbnfl4sun
@dfinney
@kp138
@teenagecrypto
-
@ladybug146
-
@dixiesilverminer
@mattclarke
@thedamus
@djohan
-
@thekittygirl
@dkid14
@methus
@themanwithnoname
@drakos
@mikepm74
@thesilverdoll
@dreemsteem
@moderndayhippie
-
@dwingsworld
@monsterjamgold
@underground
@eaglespirit
@mrchef111
-
@edthecanadian
-
@vgholdingsllc
@eveningart
@naltedtirt
@welshstacker
@elamental
@neoxian
-
-
-
@xyzashu
@edxserverus
@o07
-
@enginewitty
@odracir80
@yankee-statman
@georgemales
@dropthatcode
@elizabethbit
@silvertop
@silver-horde
@anchormetals

Help the community, help yourself!

There are TWO ways to receive community supported votes at Steem Silver Gold. One is via the @myprecious curation trail, the other is via the @ssg-community subscription service (which is also confusingly referred to as Precious the Silver Mermaid). Here is a run down of each:

1. Join the Steem Silver Gold curation trail - HERE

The community curation trail up votes every member of Steem Silver Gold (unless a member requests otherwise). 26 accounts currently follow the trail. You will see the @myprecious vote appear on one of your posts each day after 6 minutes. 26 other votes are tied to that one! Thank you to everyone on the trail.

Members may also choose to delegate to @myprecious. There is no membership requirement to delegate, but it is a selfless way to support the entire community. There are currently 17 delegators to this account. The delegators include: @bauloewe, @thesilverdoll, @ronaldoavelino, @tbnfl4sun, @kerrislravenhill, @ladybug146, @silversaver888, @thekittygirl, @enginewitty, @handofzara, @edthecanadian, @fat-elvis, @dfinney, @jznsamuel, @guiltyparties, @xyzashu and @dkid14

2. Join our members only up voting service (aka Precious) - HERE

Precious the Silver Mermaid up voting service (linked to the @ssg-community account) is open to all members of the #steemsilvergold community. She has well over 100k in voting SP and members can receive daily up votes by either delegating SP are donating STEEM on a monthly basis.

If you have questions about the @ssg-community subscription (aka Precious the Silver Mermaid), please reach out to @welshstacker. He can advise you on how to delegate, pay liquid steem or use a combination of the two to reach a subscription tier.

---

Wishing "phat" stacks and good times to you all! :)

~ @dfinney