Vans Pro Skate Demo 2003 Playstation Skate Park, London - Dustin, Greco, Rowley etc..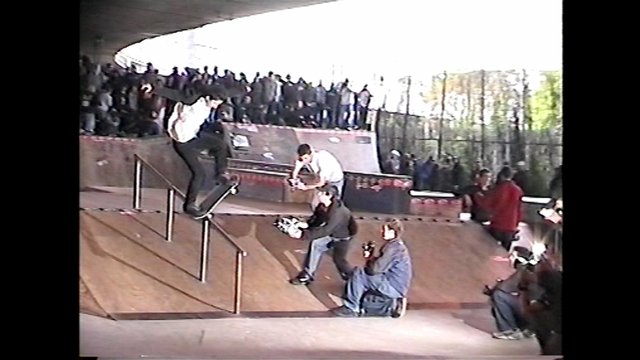 Dtubers, Steemians and Steemskaters! I have a REAL treat for you today! =)
My bro found a bunch of old camera tapes from nearly 20 years ago and one of them had this PRICELESS footage!
Dustin Dollin, Jim Greco, Geoff Rowley, Danny Wainwright, Evan Hernandez and other International Pro's from the Vans Skate team, when they came to London for an afternoon at Playstation Skatepark (nowadays called Bay 66), on the 2003 'Pleased to Meet You' world tour.
This footage was donated to me by a friend to put online on my youtube channel with all my other old UK contests and event videos and here on d.tube as well!(cheers Tom!)
Filmed from the sidelines, you get a real taste of the atmosphere that all the UK events had. Really feels like being there, on that cold day not far off 20 years ago!
Being at the height of the Baker and PissDrunx craze, all eyes were on Dustin Dollin and Jim Greco, who both came through with the hammers everyone was expecting. But with it being a UK event, Geoff Rowley also was a true crowd favourite. Casually displaying his truely legendary and timeless style of skateboarding.
Vans shoes sales probably went up in London after this day, as this demo was the talk of the town for long after! Classic UK skate contest style atmosphere with world class pro's from Baker Skateboards, Flip Skateboards and more. Love it!!
Thanks for watching!
LOVE is all
@nicolcron