SketchTravel in Peru
Lima…
---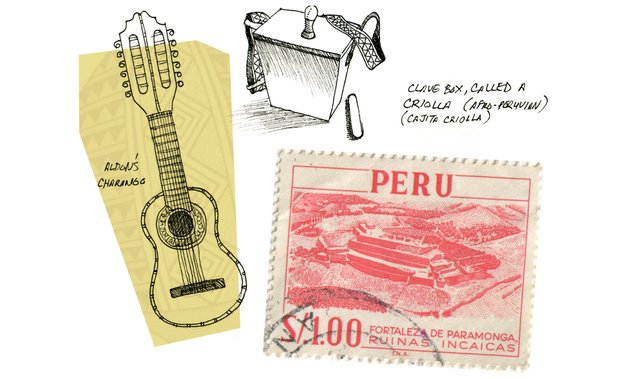 Arriving just after midnight, we got our first glimpses of the dark, dusty city on our way to the Hotel Antiqua Miraflores. It was the usual Spanish stye I like so much, painted in yellow, sunburnt red, with white trim. And of course having an inner courtyard with fountain.
Next day we took a local city bus to the Museum of Contemporary Art (apparently a great way to get robbed). We visited the neighborhoods of Barranco and Milaflores before flying to Cusco the following morning.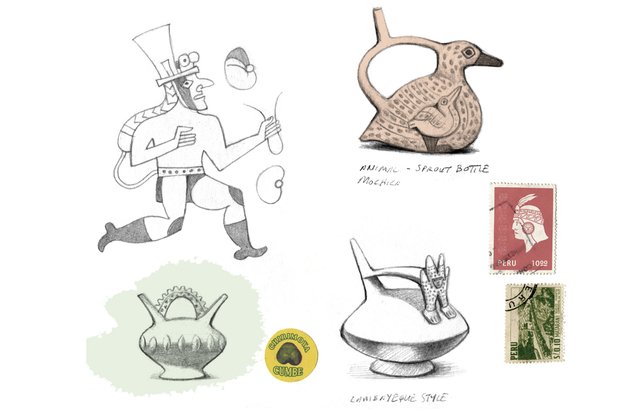 To Cusco and endless cups of coca tea
Cusco was hot, humid, and sunny. Our hotel promptly brought us a big pot of coca tea, which is necessary in order to acclimate to this elevation as well as prepare for the Inca Trail climb.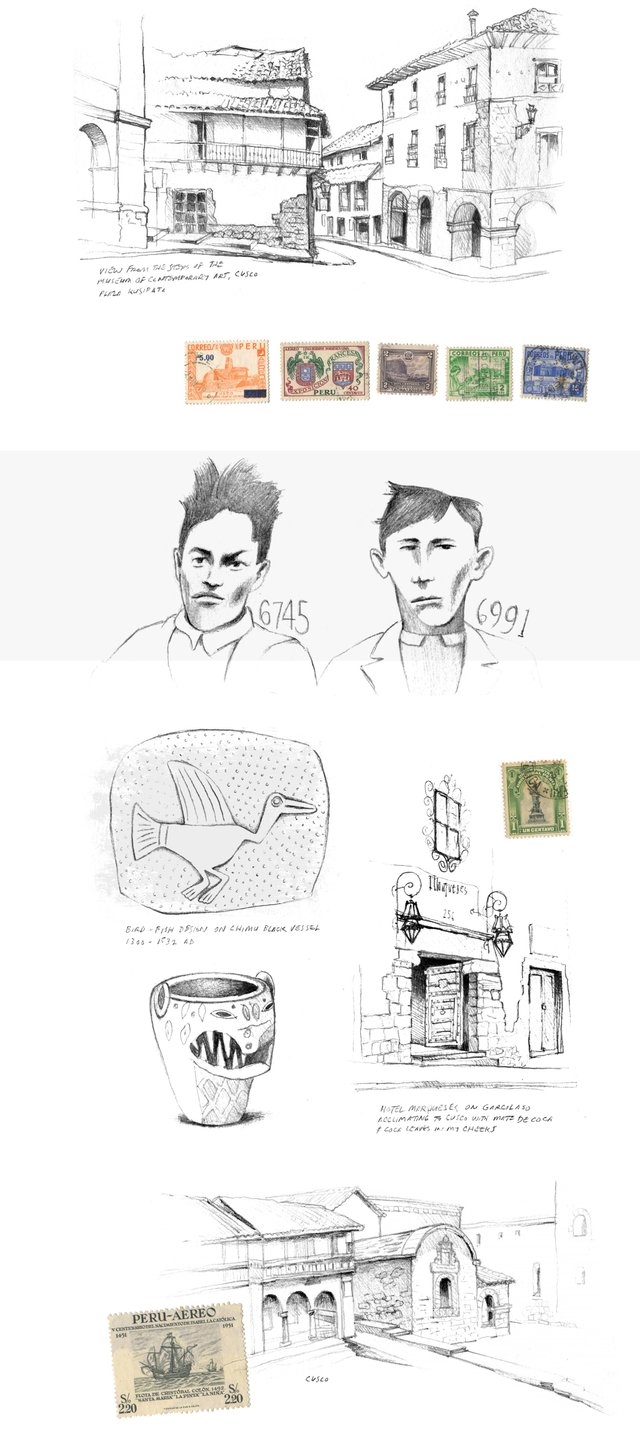 I loved walking around this ancient city, seeing all the stone walls (pre Inca). We saw the 12-sided stone, and found the trail taking us up above the city to the ruin of Sacsayhuaman (sounding like "sexy woman"). I did a sketch in the windy, thundering sky. An awesome view from there. We took another path back down, leading us past so much old architecture – carved wooden doors and disintegrating walls.
The main plaza was just too busy, full of people celebrating on Christmas eve. Listened to a live band in an upstairs café, and then got a high quality charango for my son (he is a composer). Christmas Day was quiet.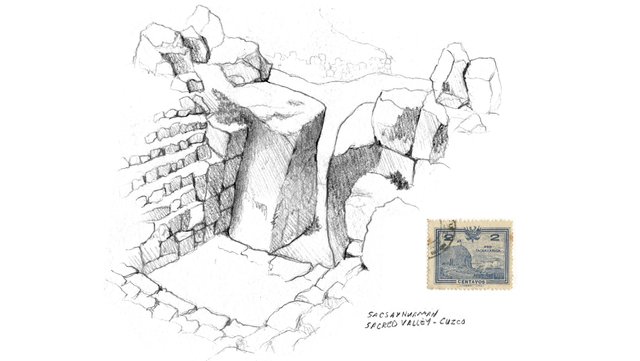 On through the Sacred Valley to the trailhead
We took the bus up out of Cusco along a narrow, windy highway, past Urubamba and other hillside terraced Inca ruins to the trailhead. We crossed the Agua Calientas River on a footbridge and hiked for miles as the trail ascended. There were spectacular views of other ruins above and below us as we climbed higher, passing small farms with their kids, cows, turkeys, chickens, and corn fields.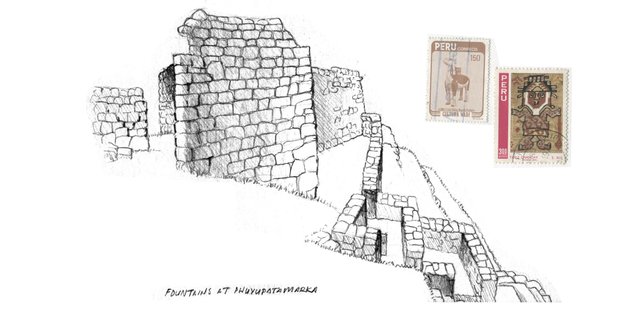 Woke at 5am next day to a bowl of hot water for washing just outside the tent, as well as coca tea. Coca leaves were always available, so I tried keeping some in my cheek. But after a guide said they just give him diarrhea, I quickly spit them out. Once I'd gotten a taste of the primitive sanitation on the trail, I certainly wanted to avoid that!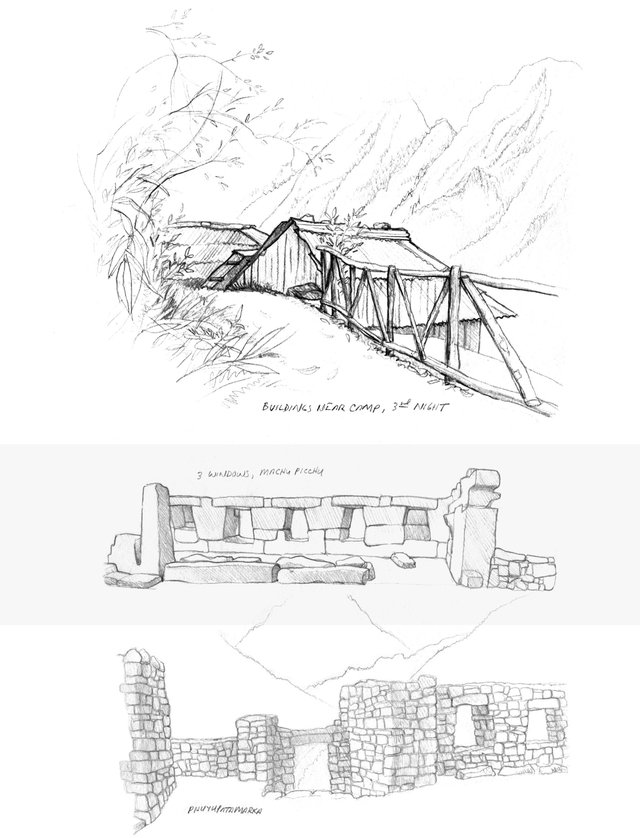 This was a 4-day hike. The 2nd day we had a 5,000 ft. elevation gain, only to lose several thousand feet of elevation in a steep decline, then back up. We stopped at Runkuraqay ruins, originally built for food storage. There were great long lines like Nazca lines crossing the valleys and up the slopes, for no obvious reason. One of the guides rubbed some flowers between his hands. Whe you inhale it, it opens up your breathing passages.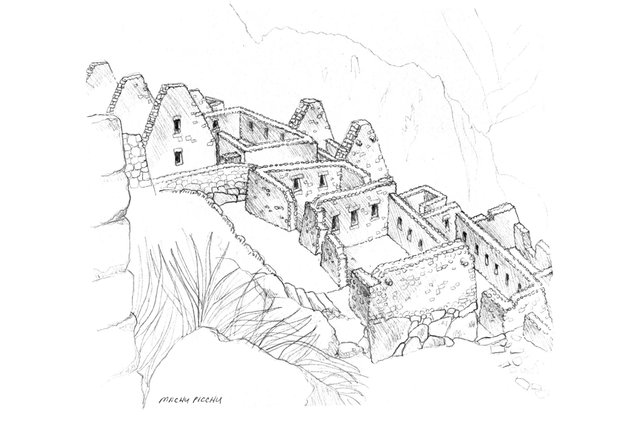 The trail was high up on steep mountains, and wove in and out through a number of fantastic ruins. It was a hard hike overall for me, so I didn't have the energy to sketch much. On the 4th day, we hit the trail at 4am. As it got lighter we had amazing glimpses of the canyons and river way down below. And then finally we scrambled up the last set of slippery steep steps to the sungate, where all of Machu Picchu came into view. Luck was with us this morning because we were treated to clear views of it all. The day before had been completely clouded in.

To Puerto Maldenado and up the Tambopata River into the Peruvian Amazon
---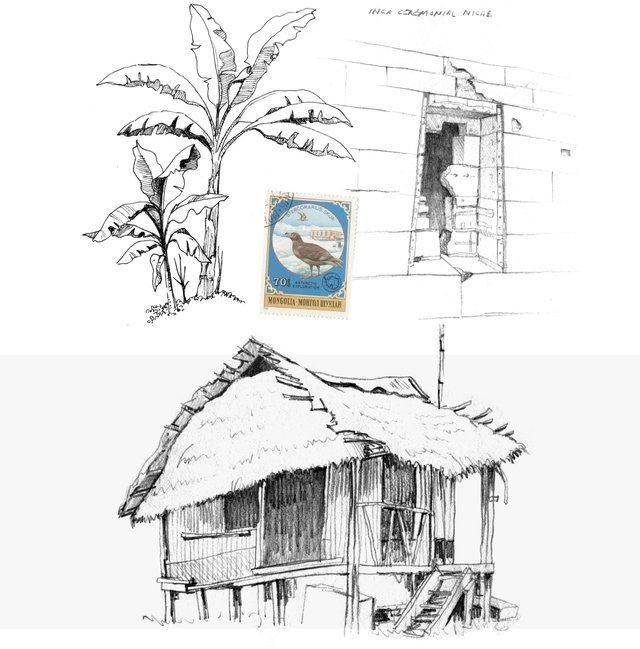 From Cusco it was a short flight over the mountains, dropping down on the east side into the dusty town of Puerto Maldenado. Seemingly forgotten in time, its rusted roofs protected us from the sun until we caught the bus. We drove an hour of red dirt roads out of town, past patches of jungle burned to grow corn in. Arriving at a point on the river, we sped for two hours on a narrow wooden boat up the river, stopping to see capybara and monkeys before arriving at the Tambopata Ecolodge. The lodge gets its power from a generator. It had solar showers, along with oil lamps lighting the paths at night.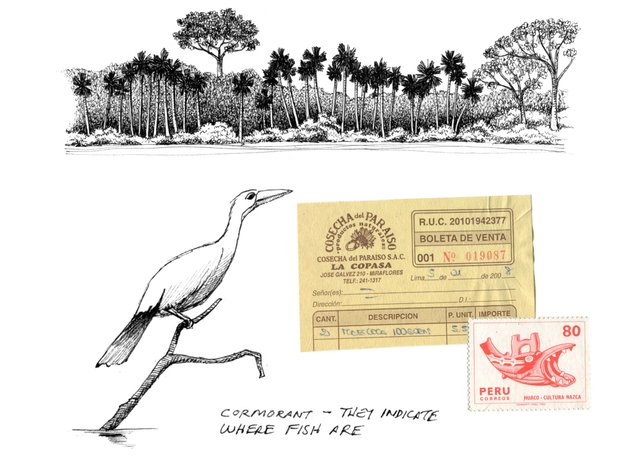 We did the usual things – taking a boat to the oxbow lakes and all their wildlife, taking nocturnal hikes to see all the giant spiders living nearby including a chicken spider that was bigger than my hand.
The ecolodge itself had no power, using oil lamps on the tables. The generator lit a few outside lights but mainly was used to cook food. After days hiking the trail and then going deep into the Amazon without a radio or anything, we were surprised to find one morning that it was New Years day. The only reminder of it was that the waiter was hung over.
The Tambopata River is wide with a strong current from bank to bank. You can tell how much it has rained by the number of uprooted trees floating down in the reddish muddy water. The morning after we arrived, the river was 12 feet higher from the previous night's rain. Guests said that recently a boat hit a log and sank, leaving the tourists and their luggage in the middle of the river. As we know, when traveling, things sometimes go wrong!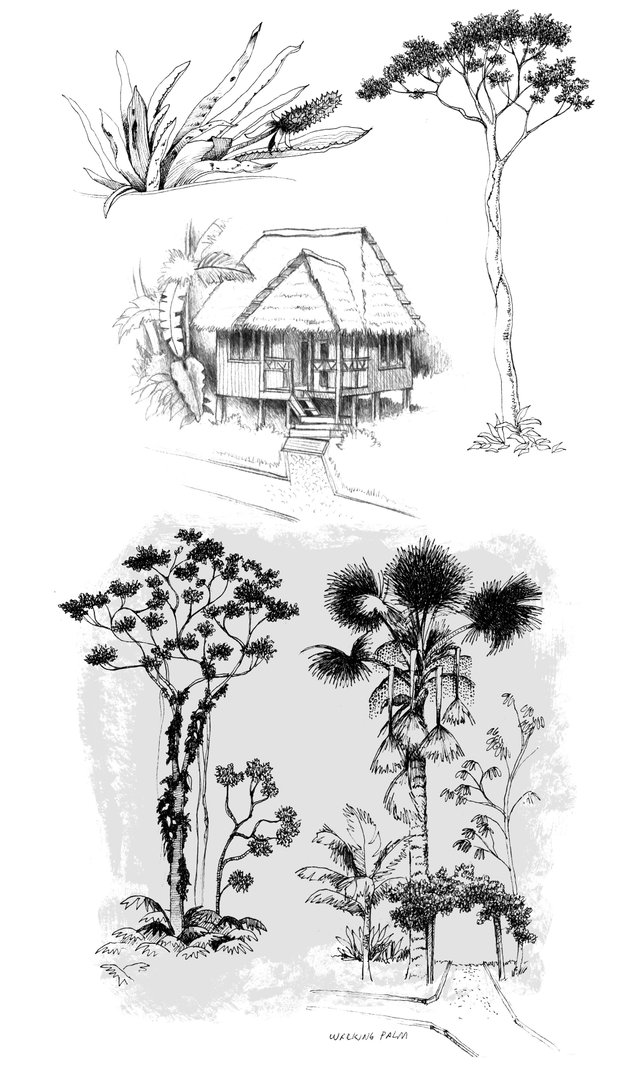 © All Rights Reserved @mrsomebody
Steemians, thanks for reading this post. Please follow me at @mrsomebody and comment below.