Stinging cancer
Stinging cancer



A few weeks ago I wrote about how a mutation in bats enables them to withstand viral infections. The protein in question is called "stimulator of interferon genes" or STING and it's responsible for the activation of the immune system as a response to the presence of exogenous DNA in the cytoplasm of a cell.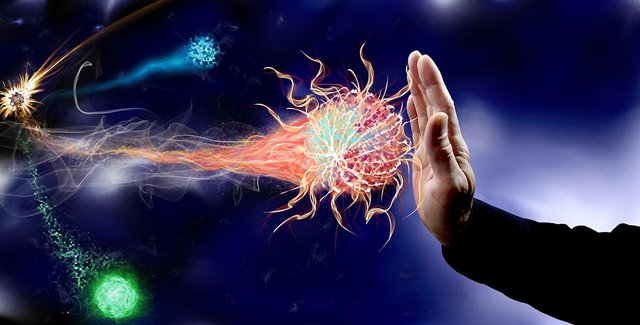 Image CCO Creative Commons
I became curious about it so I decided to do some more reading to fully understand how STING works. While reading, I found several scientific papers linking the activity of STING to viral infections (Sokolowska and Nowis 2018) but also to signaling in cancer cells, so it seems to be a big deal.
The STING pathway



STING is often located in the endoplasmic reticulum (ER). As I mentioned earlier, this protein is activated by the presence of DNA in the cytoplasm (remember that the DNA should be in the nucleus, cytoplasmic DNA could often mean that a virus has infected a cell).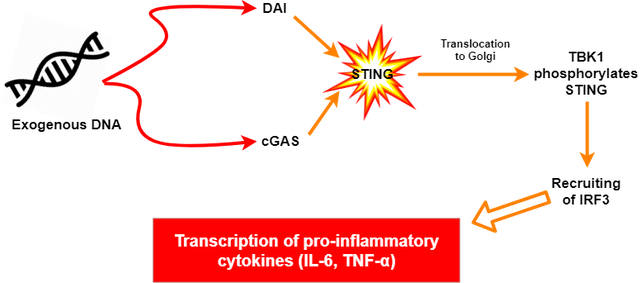 Image made by the author
However, DNA does not activate STING directly, there are several different sensors in the cytoplasm of a cells, thus there are several different ways to activate STING. The main two are the DNA-dependent activator of interferon (DAI) (Wu and Chen 2014) and the cyclic GMP-AMP synthase (cGAS) (Ablasser et al. 2013). Upon activation, STING translocate from the ER to the Golgi apparatus. Here it interacts with a protein called TBK1 that phosphorylates STING causing the protein to fold and thus change function (Liu et al. 2015; Tanaka and Chen 2012). The phosphorylated form of STING can recruit a transcription factor called IRF3 that is able to promote the transcription of pro-inflammatory genes like the ones encoding for IL-6 or TNF-α (Ishikawa, Ma, and Barber 2009; Woo et al. 2014).
So, all this to say that STING can trigger the synthesis of pro-inflammatory proteins and type I interferons, thus activating the immune system.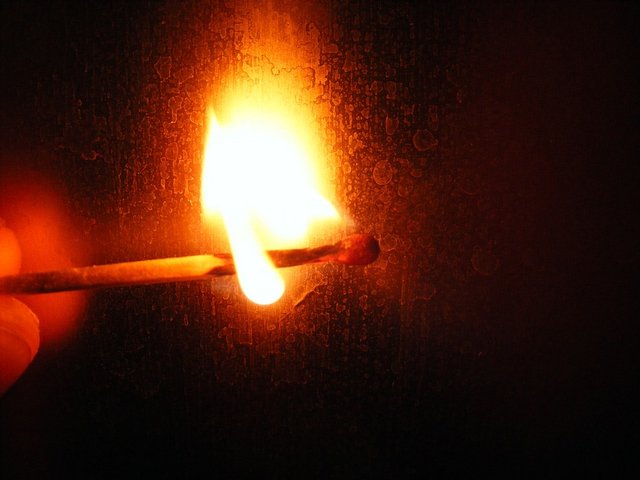 Image CCO Creative Commons
What about cancer cells?
There is much we still don't know about STING, but something we learned is that during the latest stages of the disease, cancer cells stop producing STING (Xia et al. 2016) and the suppression of STING activity seems to be quite common in several different types of cancer. However, STING is also a target of several different viruses that suppress its activity by inhibiting the downstream effectors of STING (Ronco et al. 1998; Yuen et al. 2016). The advantages for cancer cells and viruses of the suppression of STING are obvious, by suppressing its activity they can avoid alerting the immune system. So, suppression of STING activity could be a way for cancer cells to escape from our immunosurveillance. For us, STING could be an interesting target in the therapies against cancer, STING agonists were already shown to induce death of some cancer cells.
References
Ablasser, Andrea et al. 2013. "CGAS Produces a 2′-5′-Linked Cyclic Dinucleotide Second Messenger That Activates STING." Nature 498(7454): 380–84.
http://www.nature.com/articles/nature12306
.
Ishikawa, Hiroki, Zhe Ma, and Glen N. Barber. 2009. "STING Regulates Intracellular DNA-Mediated, Type I Interferon-Dependent Innate Immunity." Nature 461(7265): 788–92.
http://www.nature.com/doifinder/10.1038/nature08476
.
Liu, S. et al. 2015. "Phosphorylation of Innate Immune Adaptor Proteins MAVS, STING, and TRIF Induces IRF3 Activation." Science 347(6227): aaa2630-aaa2630.
http://www.sciencemag.org/cgi/doi/10.1126/science.aaa2630
.
Ronco, L. V., A. Y. Karpova, M. Vidal, and P. M. Howley. 1998. "Human Papillomavirus 16 E6 Oncoprotein Binds to Interferon Regulatory Factor-3 and Inhibits Its Transcriptional Activity." Genes & Development 12(13): 2061–72.
http://www.genesdev.org/cgi/doi/10.1101/gad.12.13.2061
.
Sokolowska, Olga, and Dominika Nowis. 2018. "STING Signaling in Cancer Cells: Important or Not?" Archivum Immunologiae et Therapiae Experimentalis 66(2): 125–32.
Tanaka, Yasuo, and Zhijian J Chen. 2012. "STING Specifies IRF3 Phosphorylation by TBK1 in the Cytosolic DNA Signaling Pathway." Science signaling 5(214): ra20.
http://www.ncbi.nlm.nih.gov/pubmed/22394562
.
Woo, Seng-Ryong et al. 2014. "STING-Dependent Cytosolic DNA Sensing Mediates Innate Immune Recognition of Immunogenic Tumors." Immunity 41(5): 830–42.
http://linkinghub.elsevier.com/retrieve/pii/S1074761314003938
.
Wu, Jiaxi, and Zhijian J. Chen. 2014. "Innate Immune Sensing and Signaling of Cytosolic Nucleic Acids." Annual Review of Immunology 32(1): 461–88.
http://www.annualreviews.org/doi/10.1146/annurev-immunol-032713-120156
.
Xia, Tianli, Hiroyasu Konno, Jeonghyun Ahn, and Glen N. Barber. 2016. "Deregulation of STING Signaling in Colorectal Carcinoma Constrains DNA Damage Responses and Correlates With Tumorigenesis." Cell Reports 14(2): 282–97.
http://linkinghub.elsevier.com/retrieve/pii/S2211124715014539
.
Yuen, Chun-Kit et al. 2016. "Suppression of Type I Interferon Production by Human T-Cell Leukemia Virus Type 1 Oncoprotein Tax through Inhibition of IRF3 Phosphorylation" ed. F. Kirchhoff. Journal of Virology 90(8): 3902–12.
http://jvi.asm.org/lookup/doi/10.1128/JVI.00129-16
.
Communities that support me are: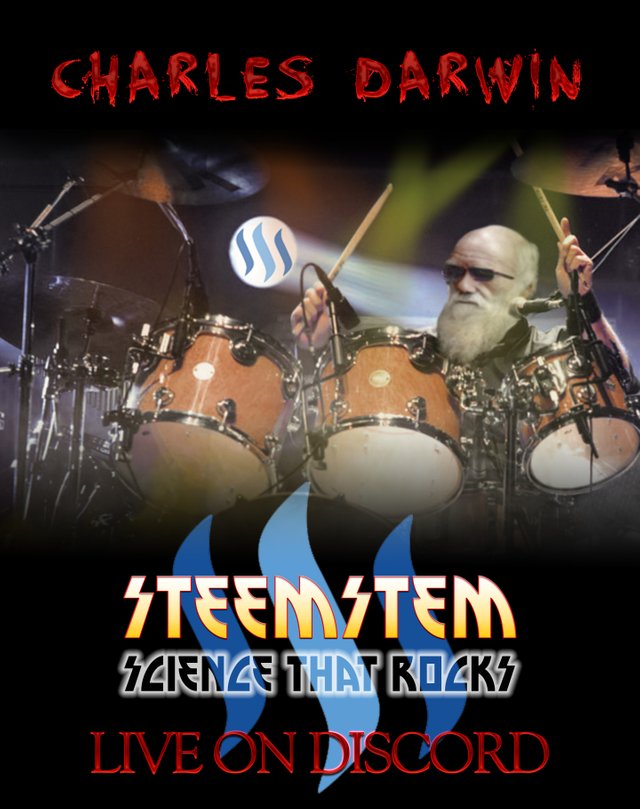 enlarge
Attribution-ShareAlike CC BY-SA
Reuse this image by copying and pasting this text with it:
Attribution-ShareAlike CC BY-SA by @elvisxx71 thanks to @aboutcoolscience and @davinci.art

IMMAGINE CC0 CREATIVE COMMONS, si ringrazia @mrazura per il logo ITASTEM. Click here and vote for @davinci.witness