Poor Misunderstood Exponential Curve. It Gets Better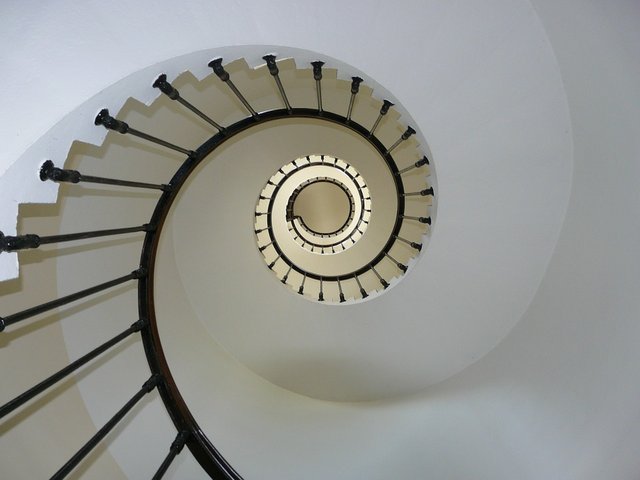 Source:
Pixabay
Let's start this post with a famous story. Sessa, an Indian minister, invented the game of chess and presented his king with a beautiful wooden chessboard. Fascinated with his new toy, and feeling in a generous mood, the king asked Sessa to name any payment for the marvellous gift. Sessa replied that all he desired was an amount of rice that would double for every one of the 64 squares on the chessboard. A single grain was placed on the first square, followed by two on the second and four on the third. Observing the first few payments, the king was amazed that Sessa would ask for such a puny reward.
The story doesn't end well for the kingdom, with the total amount of rice coming to 18,446,744,073,709,551,615 grains of rice, weighing about 1,199,000,000,000 tons[1]- far more than the total amount of rice in the world even today. Depending on the version of the story, it also doesn't end well for Sessa, who is unsurprisingly executed for making the King look bad.
The grains of rice doubling every square is an example of exponential growth. The 3 to 8% compound interest rates we often find in investments are also examples of exponential growth, though at a much lower growth rate than the chessboard example. Go here for a full explanation of exponential growth.
The blue line in the diagram below is an example of exponential growth, while the green line is simple linear growth. As we can see, the exponential line stays well below the linear line for the majority of the time covered by the graph, before streaking up far past it at the end.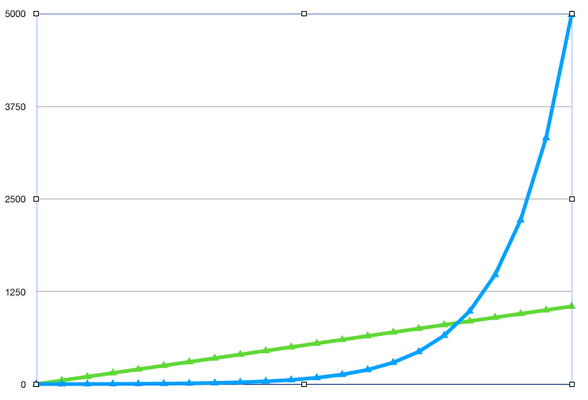 Source:Own Work
Linear growth increases by a fixed amount each time period. If you added one dollar to your piggy bank every week without fail, and your sister never discovered and ransacked it, your savings would grow at a linear rate.
Today we are far more familiar with exponential growth rates. Many people think they understand them quite well, and wouldn't make a foolish mistake like the King in the story. There is a lot of evidence that this belief is simply not true. We will look at that evidence a little further on, but before we do, let's look at why exponential growth rates together with our failure to understand them well is very relevant to the block chain world today.
Characteristics of Digital Assets
Singularity Hub recently revived this[2] article from November 2016 due to its relevance to what is happening today. The article talks about the exponential growth rates of digital assets (such as cryptocurrencies) and their ability to show explosive growth after a deceptively quiet start. The characteristics of exponentially growing digital assets is summarized in the 'Six D's' articulated by Peter Diamandes
I will quickly summarise them, but it's worthwhile checking out the full version here
Digitized: anything that can be digitised (e.g. photographs) can grow exponentially
Deceptive: exponential growth is deceptive because it seems to grow very slowly at first
Disruptive: digital technologies outperform 'solid' products due to greater effectiveness and cost. e.g. downloading MP3 files versus buying CDs.
Demonetised: copying digital assets is so cheap the products often become free
Dematerialised: physical objects such as maps or dictionaries are now apps on our phone.
Democratised: the Internet gives huge numbers of people access to digital technologies
For the remainder of the article I want to concentrate on the second characteristic of exponentially growing digital assets: they are deceptive.
Here is the same graph as above, this time including some of my scribbles on it to reproduce the graph given here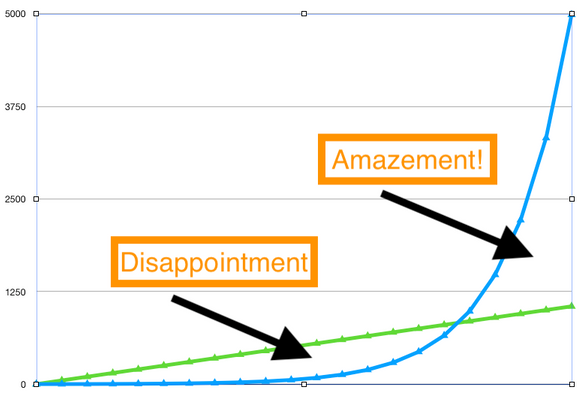 Source: Own Work
The disappointment area describes the area where exponential growth ( the blue line) seems to lag far behind simple linear growth( the green line). We can imagine a more careful version of Sessa who asked to be paid 1000 grains of rice every week for 64 weeks. After three weeks careful Sessa would have 3000 grains of rice and could make it rain all over exponential Sessa's seven grains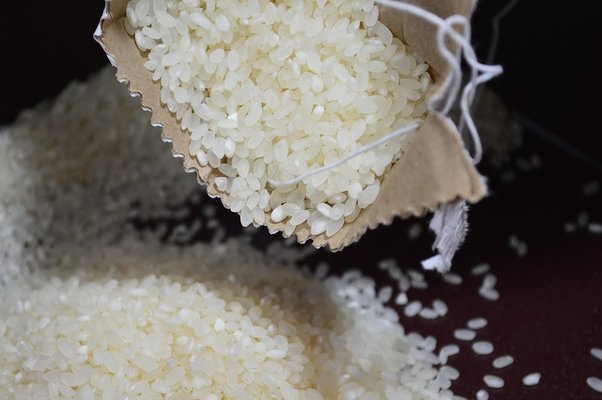 Source:
Pixabay
Exactly how much rice careful Sessa has after one week
On the right-hand side of the graph people are usually filled with shock and amazement as growth takes off.
Obviously no crypto currency is following a simple exponential growth rate. The point I want to make is it's very normal for people to be disappointed with early growth of a promising digital asset. If and when a cryptocurrency gains true mainstream acceptance growth is very likely to be explosive (due to the characteristics expressed in the 6 D's above) - much faster than the majority of people would expect.
I think the blockchain community sometimes is guilty of a little too much cheerleading. So to temper my predictions of explosive growth with a little negativity, I don't think most of the cryptocurrencies today will survive to benefit from the latter stages of exponential growth. A few will take-off. I think Steem has a good chance to be one of those, mostly due to the successful use cases it has shown.
What is the evidence that people really do misunderstand exponential growth?
Failure to understand exponential growth is so widespread it is a recognised bias in psychology, going by the name of, as you might expect, Exponential Growth Bias. This bias takes the form of expecting exponential growth to take more of a linear form. People underestimate the gains from exponential growth in the medium to long-term[3].
In Levy and Tasoff (2016)[4] subjects had to answer a series of questions involving exponential growth. After answering the questions, subjects were surveyed on how confident they were that their answers were correct. Subjects overall did very badly at answering the questions correctly- as predicted in exponential growth bias they underestimated how fast exponential values can increase. In addition the subjects showed a high degree of overconfidence that they could answer the questions correctly. One striking finding was that the group of subjects with the least correct answers were among the ones with the highest degree of confidence in the accuracy of their answers.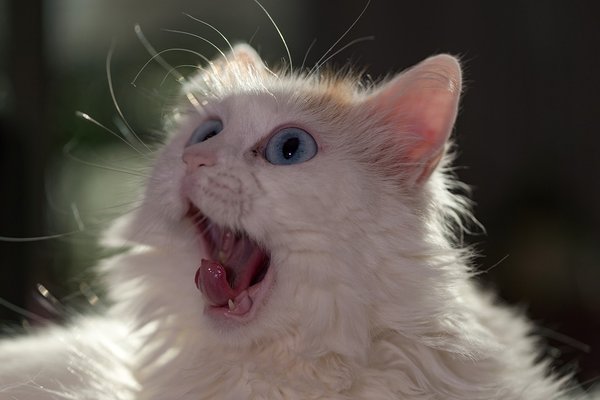 Source:
Creative Commons
Exponential growth can be surprising
This last finding was consistent with the finding in Kruger and Dunning (1999)
[5]
that the least skilled people were the most likely to hugely overestimate their ability. The researchers explained this finding with the increased 'metacognitive skill' that comes with increased knowledge. Once people gain a certain amount of knowledge in an area they are able to recognise what good and bad performance is, and become aware of the deficits in their own performance. The least knowledgeable are unaware of what good performance even looks like, making them unable to assess the performance of themselves or others. They fall back on the illusionary superiority bias, believing that they are a bit better than average.
[6]
Exponential growth bias combined with the hugely inflated estimations of their own ability by the least knowledgeable has a lot of consequences in the financial world. People routinely make large mistakes in financial planning, underestimating future values of a compounding asset [3]. In addition, the people most likely to make the worst mistakes are also the least likely to seek help in investment decisions.[4]
Why are people so prone to exponential growth bias?
For most of human existence, the world that we have been aware of has been almost strictly linear. There has always been some bacteria around us growing at an exponential rate, but only recently have we become aware of them. Thinking in terms of exponential growth doesn't come naturally to us
Conclusion
What does this all mean for digital assets today with a currently low value but large potential? Due to exponential growth bias there is a good chance that this type of asset is undervalued. People are disappointed by relatively small initial returns and underestimate the speed and size of returns that are possible in later cycles of compounding.
REFERENCES