What does an experimental particle physicist do: Measure particles!
One of the most important parts of my work is to measure particles. Loads of particles. The particles I typically measure come from the collisions of the Large Hadron Collider. However, elementary particles are all around us, and particle physicists work in all sorts of other environments as well, for example measuring particles from the cosmos (then it is called astroparticle physics), or particles that are the result of medical research as in medical physics.
Today I am for example in a PhD jury for medical physics, the subject of the doctoral thesis is how to measure and optimise (really: minimise) the radiation dose that radiologists receive during to work. And yes, particle physics also affects you when you have medical treatments such as PET scans and X-ray photos.
So, how do I measure these genuinely tiny particles? The size of a typical particle (let's take a common one, a proton), is 0.00000000000000085 meter! The trick is that for most practical interactions, we use the fact that the particle has charge, not size. And a charged particle will ionise (loosen the electrons around) atoms when it passes by them. For a solid and a minimally ionising (so relativistic) particle, this is tens of thousands of electrons/ions per mm of material traversed, but that kind of depends on the material.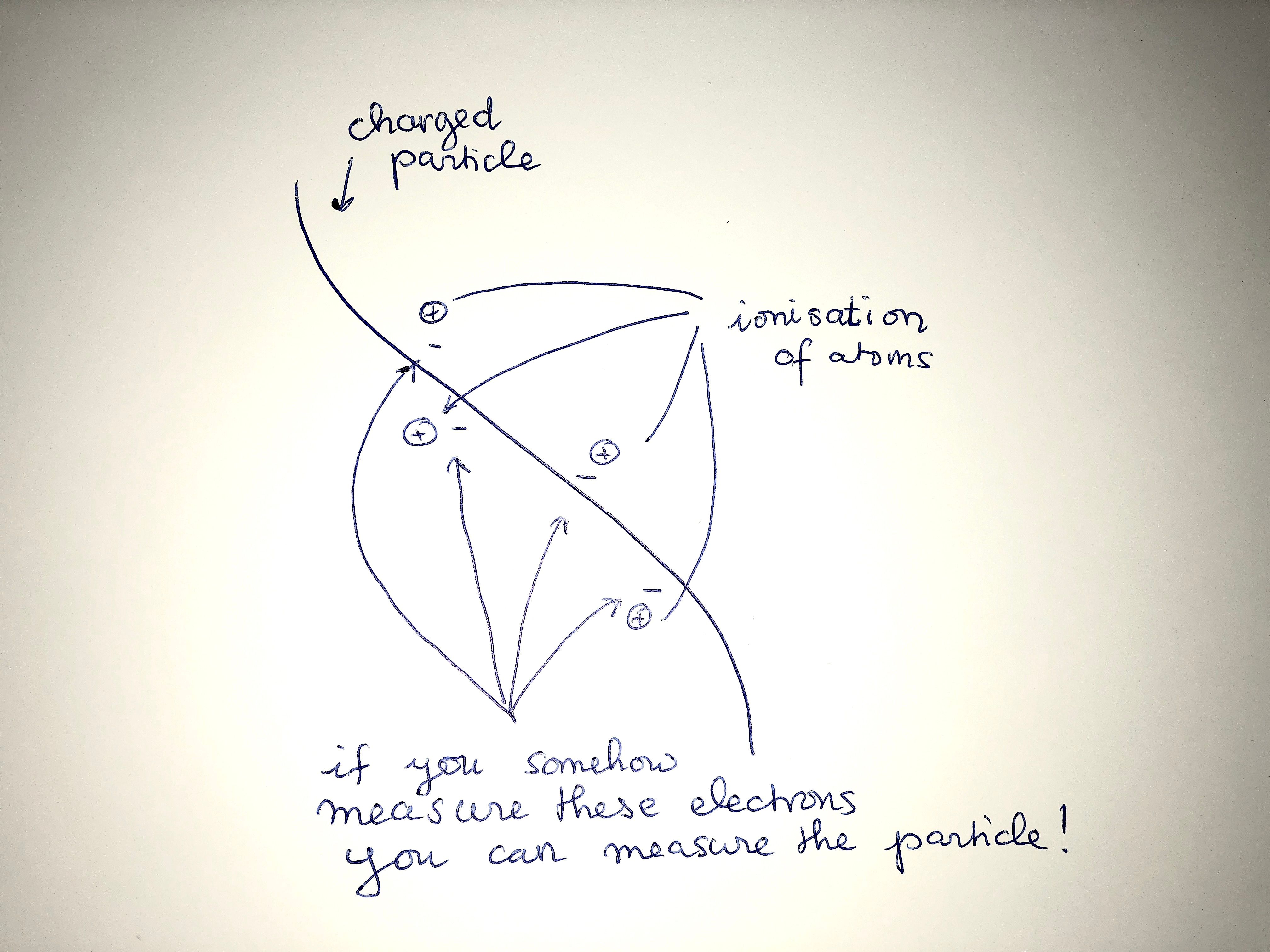 A charged particle traverses matter and hits electrons off the atoms
Normally those ions will recombine. But if you design your detector to measure that tiny, tiny charge, you can measure where the particle was. And if you can convert all of its energy to charge, you can even measure its energy.
Different particles however leave different challenges. For example, how would I measure a particle that does not have charge? The answer is actually rather practical:
just make sure it gets stopped by some material and creates particles that do have charge. And then measure those charged particles.
In particle physics, we use this principle for many different particle detections. As long as a particle has charge or will interact with other particles, this principle will work. This means that by now there are many different methods available.
Examples of the more common ones used in particle physics are:
Don't stop the charged particle but check where it left a tiny trail. These detectors are typically called tracking detectors and are used in combination with magnets to measure the momentum of particles, as particles with low momentum will bend much more in a magnetic field than particle with high momentum. There are many kinds of tracking detectors, those deserve a whole blog by themselves!
Stop the particle, design your detector material such that it changes to detectable particles and then measure the number of charged particles. This kind of detector is intended to measure energy. In the olden days energy was measured in calories, not Joules, and this is why this kind of detector still is called a calorimeter .
I now have to go back to the PhD defense, let's hope the candidate knows how to detect elementary particles ;-)
note: as I am going slowly through the material, those who are interested in more advanced topics are highly recommended to read @lemouth's excellent recent blog on particle detectors