How Good Enough is Goodenough's Solid State Battery?
The quest for more robust batteries is one which many people in the energy industry continuously research and finetune it. Recently, the search seemed to have been met with the lithium-ion batteries which have more energy density than the conventional lead-acid batteries.
In fact the difference is so much that if not for the higher cost of lithium batteries and scarcity of its raw materials that people may no longer opt for the lead acid batteries which is the go-to batteries for the past one and half centuries, when you compare the downsides of lead-acid batteries which include its limited available power. For example, typical lead-acid batteries can only offer approximately less than half its capacity even though most of these batteries are ironically marketed as "deep" cycle batteries. Discharging 100% of a lead acid battery's capacity is a sure way to kill the battery. So, if you happen to purchase a 12V 200AH battery, at best deep discharge what is available for use at any given time is about 100AH. On the other hand, a lithium-ion battery can safely deliver up to 80% of its rated capacity.
Apart from the usability problems, there is the longevity drawback. The charge and discharge period are also known as a cycle are significantly reduced in a lead-acid; the average cycle in a lead acid battery is between 300 to 500 cycles while the lithium-ion battery has cycles in the range of 1500 to 5,000 cycles and higher.
No one wants to wait for hours to get their devices fully charged which is a common feature in most lead-acid batteries. Today, we are in the era of fast charging technology, and lithium ion is here to withstand the insanely large amounts of current that makes a battery charge to 80% in less than an hour. The Tesla Motors Electric Vehicle Superchargers can charge full an 85 kWh Model S EV from 0% to 100% in 75 minutes or get to 50% in about 20 minutes as the charging algorithm tapers as it nears full charge to protect the battery.
Looking at the above, one would think we had arrived at the peak of battery's efficiency and usability. But that performance was not good enough for Dr John B. Goodenough (pardon me, I could not resist the urge on that pun!)
Goodenough, the nonagenarian is a professor of mechanical engineering of the The University of Texas in the USA. The solid-state physicist is no stranger to batteries as he was credited to the discovery of lithium-ion batteries from his works on achieving a high-density energy storage system through the use of lithium cobalt oxide as the cathode in a lithium-ion rechargeable battery nearly two decades ago in 1979.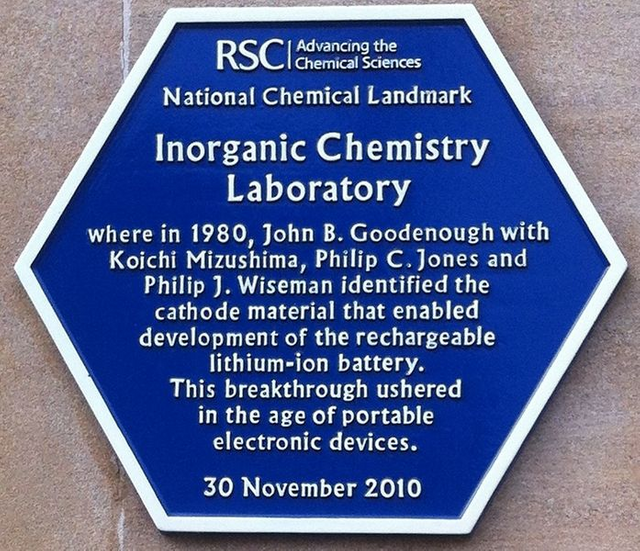 Image credits: WIkipedia By CC-BY-SA-3.0 from Oxford Lab Plaque]
Today, even as a 96-year-old professor, Goodenough is again looking at how to get a better battery, and this time around using only solid-state materials. But what is a solid state battery? Lead-acid and lithium-ion batteries have their electrolytes either made up of gel-like (or polymer material) substance or in the case of flooded cell lead acid batteries a liquid. In the situation of a solid state battery, this electrolyte is neither liquid or gel but rather a solid-state material like lithium sulphide, sodium, glass eletrolyte, ceramic, etc. Therefore ionic transfer occurs between cathode and anode via the migration of ions through a solid instead of the conventional liquid, But we should bear in mind that such a material may not be all-solid in the real sense of the word. This is because the production of an all "dry" battery without a trace liquid phase with the current technology is available.
Presently large research teams are working tirelessly around the clock to develop the best material for this solid-state electrolyte. Some of the project partners interested in this are the Dyson Limited, Jaguar Land Rover, Johnson Matthey, Nexeon Ltd and a host of others. You can view the details of grants here which runs in millions of dollars for the different project partners.
But research in solid-state battery dates back to the 1950s as is evident with the journal submitted to The Electrochemical Society in 1959. But if we already have lithium-ion batteries, graphene-powered batteries, supercapacitors, etc., why do we need solid batteries?
Lithium-ion batteries come with a risk of explosion, this dangerous nature of it is aptly demonstrated by the Samsung Galaxy Note 7 explosions which are a result of overheating.
Lithium metal has a peculiar trait of growing dendrites or tiny fingerlike deposits as the battery degrades. The cathode and another of every battery are separated by a separator, but these dendrites can overreach and cross the separator (by piercing it) leading to the anode touching the cathode. That results in a short-circuit and hence battery overheats and becomes flammable.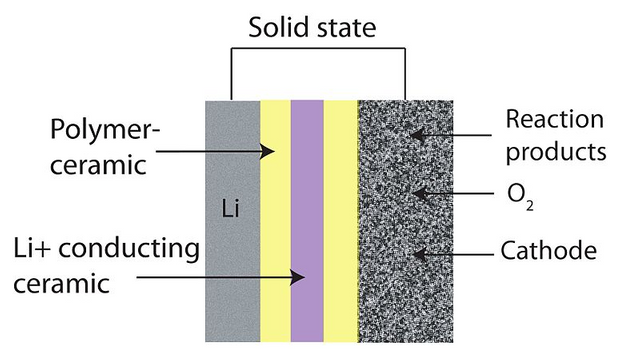 Image credits: WIkipedia By CC-BY-SA-3.0 from Lithium-air solidstate battery]
Solid promises reduced fire risk, record fast recharge times, more energy density per kg and are more flexible so can be shaped into any form, a feature which most electric vehicle manufacturers find essential.
But John B Goodenough and team is working on the annealed glass matrix as his choice of electrolyte. So you now have a longer shelf life, batteries will not spill any contents and non-inflammable as constituents are not liquid. Also, we can now have up to three times the capacity of the best lithium-ion battery currently in circulation. Since the electrolyte is not lithium, there is no risk of dendrite growing when you push too much current through it. Think of charging your batteries in half the time it takes to charge your conventional battery.
While we wait for Goodenough and a host of other researchers to come up with a marketable solid-state battery in the next year or so, we can always have him to thank for coming up with a lithium-ion battery which we enjoy to this day.
References