Frequently Asked Questions regarding SteemSTEM
Please note that this is not an official steemSTEM post. I have only gathered information that are in a variety of different spots, so that they are all at one place - for all of us to have easier access to them.
---
In the last few weeks there has been an ongoing increase of new steemit users who are joining the Discord server of @steemstem and I am happy to welcome most of them!
Taking under consideration most of the questions I/We receive, I have created the below list of questions that might be helpful for new members who wish to join us!
For any additional queries, feel free to comment below or ask on SteemSTEM Discord
Thank You for dropping by!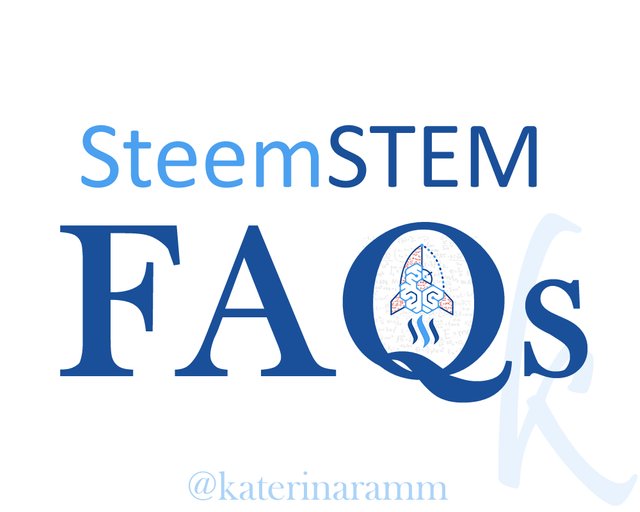 What is SteemStem?


@SteemSTEM is a community on Steemit that supports & focuses on topics related to Science, Technology, Engineering or Mathematics.

How can I become a steemstem member?
Everyone interested or writing about science is welcome to join steemstem.
There is no official membership; however do keep in mind that steemstem is a community, and as such, it encourages engagement, writing stem content, supporting and commenting stem posts and interaction with other members.
---
I strongly recommend that you read the old but always current post by steemstem Being A Member of the SteemSTEM Community where you can be informed about what it takes to post about STEM content and the minimum objective requirements that you need to be aware of.

---
What does it mean to be a SteemSTEM Member?
SteemSTEM is a fast developing initiative. By being a part of it, you get to both enjoy a community of like-minded individuals as well as contribute your own value in return via posts, discussions, comments and other forms of engagement.


Where can I read other steemstem posts?
What is Distilled?
The steemstem team goes through hundreds of posts which have tags such as steemstem, biology, science and more.
Some of the best ones in terms of information provided, research and creativity are picked and presented at a weekly or bi-weekly Distilled, published by the official @steemstem account
I am using images CC0 licensed. Should I include the link?
When citing an image we should cite to the link that also refers to the license. If for instance we are posting a wikipedia commons image our reference should look like this
*Image Description* [Created by NAME](Link if applicable) - [Link of image](link here) - [LICENSE Public Domain](link to license)
Even if no attribution is required (i.e. for images in the public domain or with a CC0 license), a link and a mention is recommended. First of all because it is only fair to the creator of the image (you are using their work for commercial purposes) and secondly, the curators that will go through your post will have one less aspect to cross check.
More information about images here
Please keep in mind
There is no such source - reference as image found in google
If you are not sure about the license of an image, you probably don't have the right to use it. Find an alternative one or ask a Mentor for assistance at the Discord channel
Is there an Etiquette?
Good Manners & Respect is about applying common sense practices in our real life and online interactions. However, common sense is not always so common.
Please read here some important guidelines to take under consideration as you enter the SteemSTEM Community & Discord Server
Please be respectful to other members.

Be respectful to yourself and publish content you feel proud of.

Be honest to yourself and to your readers.

Do not drop any steemit links on Discord. Read the pinned posts in the channels and if you are unsure about something, all you have to do is ask.

Do not beg for upvotes.

Do not DM the management for upvotes.

Use the server rooms according to their purpose (for e.g. do not chat in the ideas and complaints room).

Important: There is no Promotion Channel on SteemSTEM Discord. The curation is done manually (see more details below)

How does SteemSTEM find posts to support / upvote?
Our curation team scours the Steem blockchain for original and quality content related to the STEM fields in five different languages (English, German, French, Spanish and Italian). Using the #steemstem tag is recommended to facilitate our work, but not mandatory. After having found a post, a curator decides on the voting strength it should be voted (small, medium, standard or high).
source
How many languages are supported?
Currently 5 languagues are supported. English, German, French, Spanish and Italian. Please be informed though, that there are sub-language communities on the steemstem discord server with separate chat rooms for Italian, Spanish, French, Nigerian, South Asian members.
How is a post evaluated?
When your post has the tag steemstem (or other relevant tags, such as science, technology, math etc) the curators are looking for quality, well researched posts that meet certain standards.
You need to write correct English, original content, reference all your sources, not plagiarize, use image credits for images that are eligible for commercial use.
A variety of other factors are taken under consideration, such as the member's engagement, commenting behavior, creativity, post length, style and more.

---
Please take a look at the below useful posts
How can I evaluate my post | Everything about Images | The Ultimate MarkDown Guide | Synthesis of a Blog Post

What is the process of SteemStem Upvoting?
The curators of Steemstem will primarily scour the #Steemstem tag. This is the most likely place to be discovered. However, curators are expected to go out into the wilderness of other STEM-related tags such as science, biology, chemistry, engineering and more.
When your post meets the standards, it will be added in the channel Discord-curation-bot where a voting trail will be triggered, upvoting your post with the decided vote weight.
The Channel is public for everyone to see as a read-only-channel
When should I use the SteemSTEM tag?
Whenever you write a post of an academic nature which meets the standards set by steemstem guidelines. You may also use the tag if you simply want the community to consider or discuss a certain topic, or debate on related philosophy, for example.

I followed the guidelines but my post was not upvoted. What now?
First of all, you need to ask yourself. Did I write a good, original, interesting post?
Secondly, have you re-read your post (yes, again) to make sure it looks all right and reads (more than) fine?
If the answers to the above are yes, some of the reasons could be:
The curators are all human, and the number of posts about science is constantly increasing. Give your post sometime to breathe, be seen and appreciated.
You did not meet the guidelines.
Your images were not free for commercial use
There were no references
You copied - pasted from another article
You simply translated something from internet (yes, we can discover that too), you transcribed your post by a video (yes, this too)
Your post lacked of creativity, originality, looked just like a wikipedia article
Note that as the number of stem authors and posts increases, so does the quality of the content produced.
You need to keep up and constantly strive for original & meaningful content.
Also, please remember there is no post promotion channel. The SteemSTEM tag functions as precisely that, so there is no need for another equivalent. If you haven't been upvoted, your post either fails to meet our standards or it has simply been missed.
Curators are unfortunately all human so this happens from time to time, and we suggest you just keep writing - for passion, not for money. If your posts are good, you will eventually be noticed.

What is StemAssistant?
StemAssistant is a browser extension (currently available for Chrome & Firefox) that will automatically provide the most up-to-date blacklist and make it painfully obvious when you visit a blacklisted user.
Where can I read more about StemAssistant?
Click here for the recent post by @mobbs
Where can I find StemAssistant?
StemAssistant Extension for Chrome | StemAssistant for FireFox
For any questions or issues regarding this extension, please contact steemstem on Discord
I have heard of a so called Black List; What is it?
See more about stemAssistant
I am blacklisted but want a chance for redemption. How can I do that?
Being blacklisted means that you have violated the rules, so there is no chance for redemption. If however you feel you deserve a second chance, keep producing quality - stem content and get in contact with one of the Honor Members.

How Can I Support SteemSTEM?
Write quality articles and be an active member of the community
Follow the curation trail of steemstem (via steemauto or send your posting key to @anarchyhasnogods)
Delegate some of your SP to steemstem Read more here
For any questions or clarifications you can ask at the Discord Server and contact any of the Honor Members (in green color - see below)

Is there an upcoming STEM meetup?
Yes!
As you probably all know, the last Nobel prize in physics was rewarding the discovery of gravitational waves (see here for some physics).
For this reason, it is natural to move from the Large Hadron Collider at CERN, where our first meetup was organized, to VIRGO, one of the three detectors currently probing spacetime for gravitational waves.
As can be seen on the official VIRGO agenda, our visit is planned for September 21.
For this reason, we are happy to pre-announce the second steemSTEM meetup. We will meet in Rome, on September 20-22. Please save the dates!
More information will be provided soon.
source

Meet the STEM Team
Management
@lemouth (Co-founder), @justtryme90 (Co-founder), @suesa (Public Relations) @mobbs (General Manager), @anarchyhasnogods (Bots & Maintenance)
Curators
Reference Scientists
@mathowl, @scienceangel, @simplifylife, @Sco, @alexs1320, @iamphysical, @JustTryMe90, @lemouth, @aboutcoolscience, @tking77798
Honor Members
@alexdory, @anevolvedmonkey, @bachuslib, @dexterdev, @chloroform, @christinaa, @Egotheist, @gra, @JPederson96, @katerinaramm, @kingabesh, @lesshorrible, @mathowl, @Mountainwashere, @noble-noah, @physics.benjamin, @pangoli, @Pearlumie, @Rharphelle, @sakura1012, @samminator, @scienceangel @simplifylife, @terrylovejoy, @Tristan

Discord Channel Rooms
Start-here-useful-links (read only): All important announcements as well as the new Distilled Posts are in this channel.

Steemstem-general-chat: For general chit-chatting

Ideas-room: Got a new idea for steemSTEM? Share with us here.

Complaints-room: Got Something to Complaint about? Share it here but make sure to read the pinned posts
Chat Rooms
stem-espanol-general-chat

stem-french-general-chat

stem-german-general-chat

stem-italian-general-chat

stem-nigeria-general-chat

stem-southasia-general-chat

Community Discord Servers
https://discord.gg/vMGmDSm (DaVinci Witness Project)
https://discord.gg/B82JBf5 (Nigeria)
https://discord.gg/qNB5uq (Spain)
https://discord.gg/dA2XX2Q (France)
Community Steemit Accounts & Tags
---
Here are some useful links you might want to visit!
---
Useful Links
STEM on Steemit | STEM on Discord | Convenient delegation links

Being A Member of the SteemSTEM Community | How can I evaluate my post

StemAssistant | StemAssistant for Chrome | StemAssistant for FireFox

Everything about Images | The Ultimate MarkDown Guide | Synthesis of a Blog Post
May I use SteemSTEM banners in my posts? If yes, which ones?
https://steemitimages.com/DQmPtnKZW6cQWBAzpA8yiqTDXSsVH9zEUyxFiek2kGEoA8g/bear.gif



*https://steemitimages.com/DQmeJgsbM5K3pUC8kPBToDKRxE2gijUXvgvX6oUiBgaaiyk/atom.gif



https://steemitimages.com/DQmecufxEjbsrjrCLHDzeXNUvTXaCoWbVvhWtHmWjURcnuC/red%20atom.gif


https://steemitimages.com/DQmYBoR7ZbyjB5B5Fws8EqiNd9YxD6sEHNMPEFH9dBcwxBr/test%20tube.gif


https://steemitimages.com/DQmU7Xv1NnXmSE1MAYNN1eM6R5Xs2Cdtczp9DpaopmzopGE/rocket.gif


https://steemitimages.com/DQmeqXkd5iiKxkeTXDhAX3MW7V8bL59TF28pTtf57toNvDz/gear.gif



https://steemitimages.com/DQmWy4Kn1oiix2iq2Wdfc6pZ81sCq7UkfDv1U3FsNxkYao6/gear2.gif

![line2.jpg](https://cdn.steemitimages.com/DQmcaBMfKGsKRqxLs931UturJsxPnpbQYqZsqAvmLUkitCP/line2.jpg)
Don't Miss!
Make sure to read the more recent Summer Update by @steemstem here


That was all for now, if you have any further questions feel free to post below so that I can include the answers in this or in a future FAQ post.
Thank You all for visiting and reading!