Scorpion Investigations, How do They Live?
My husband has a new job which takes him away from us during the week, because it is a six hour drive away. He currently doesn't have anywhere to live, so he's been camping in woodlands next to a river; one of the few free places to camp in the area. Last Friday he came home with a lump on his head, like a large mosquito bite and a scorpion in a tub. It seems that's what you get for camping in Australia with separate ground sheet, instead of a sealed tent!
Being a homeschooling family, we're not ones to miss a learning opportunity, so the first thing we did was try and find out what type of scorpion it was and what it needed to survive.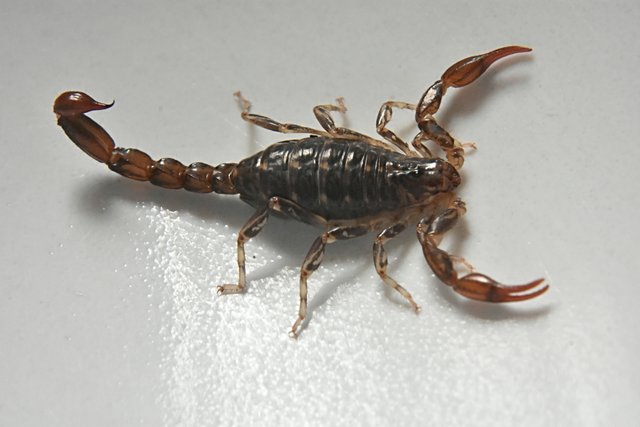 photo courtesy of @izzydawn
Identification
When it comes to scorpions Australia doesn't have any deadly ones, which is somewhat surprising for a country renowned for some of the deadliest creatures in the world and with a reputation for everything trying to kill you! By process of elimination, we figured out that Mosquito (as it is now been named) was either a type of marbled scorpion or a wood scorpion. Where it was found ruled out it being a desert or rainforest scorpion. In fact most scorpions are located in arid areas, so habitat was the quickest way to eliminate most possibilities, even if they were visibly similar looking.
The marbled scorpion is the most often encountered scorpion, because it can live in urban areas, but it's also found in gum forests, which would certainly have matched the surroundings of my husband's camp. While Mosquito's patterning isn't very marbled, the legs seemed very similar, but the longer length of the pincers in the pictures of many of the marbled scorpions made me keep searching.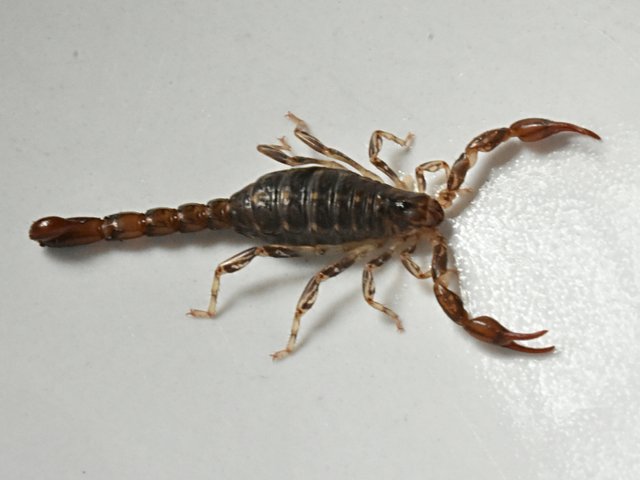 photo courtesy of @izzydawn
Further searching brought up the new candidate, the wood or forest scorpion. Not all the photos seemed to match Mosquito, but many of them did look very similar. Sizing range for both the marbled and the wood scorpion were about right; habitat was looking about right for where both came from so once again, it was location which made us think that maybe it was more likely the wood scorpion, because it looks like the marbled scorpion doesn't range where my husband was camping.
Scorpion Habitat and Diet
There is plenty of advice on caring for scorpions online, but some common sense was needed to figure out what was pertinent to this type of scorpion. The woodland scorpion apparently likes a habitat with high levels of moisture, which Mt. Gambier certainly provides with its high rainfall. It's the only scorpion to be found in Tasmania, so really quite well adapted to cooler climates. So a heating pad would not only be unnecessary, but probably unwise too. The ideal temperature range for this type is actually between 20°C and 30°C and outside of that they tend to burrow into the ground.
On the evening that my husband brought it home, the main concern was food and water. A quick search yielded the advice that rather than a bowl of water, keep the substrate damp and they will take moisture from there. Alternatively a ball of soaked cotton wool would provide them with what they need. They also eat insects and arachnids up to half their body size. So for that night I soaked a tissue in water and dropped that in the tub along with an earwig and a weevil collected from the garden.
The following morning Mosquito was under the tissue with the weevil and there were only the tougher remains of the earwig. Another hapless earwig that made its way into our house ended up in the tub while we figured out the best set up for Mosquito. We came back later to observe how scorpions make a laborious meal of their catches.
After stinging their prey to immobilise it, their mandibles chew their food into smaller pieces and mostly the soft parts are eaten. It takes time to chew through to those soft parts, however, so it's a slow process. I'm guessing this is why Mosquito had no interest in the armour plated weevil. It did enjoy a small cockroach later, though.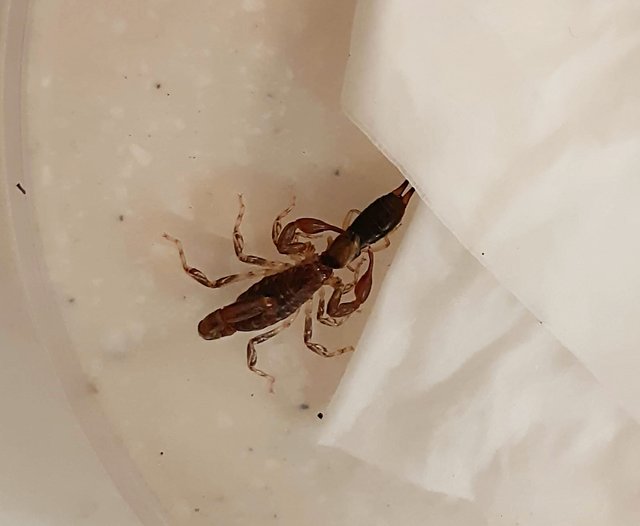 Moving on to the construction of the habitat, most of the pet scorpion advice caters to desert scorpions and the substrate would generally be sand for them. We thought mimicking a forest floor would be more suitable for woodland scorpion and did finally find advice on a set up more like that. We have lots of sawdust and wood shavings from firewood preparation, so we moistened some of that with a bit of soil for the bottom of the tub and found a piece of bark for Mosquito's new daytime hiding place. Scorpions are nocturnal, so they hide during the day.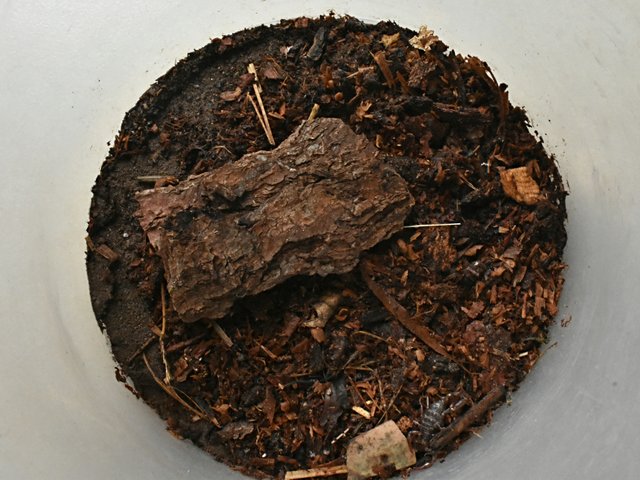 photo courtesy of @izzydawn
Mosquito blended into the substrate beautifully and it was a perfect environment for prey like earwigs too. If Mosquito wasn't hungry that night, then they could live off the detritus in the substrate. As it happens, they rarely last a night.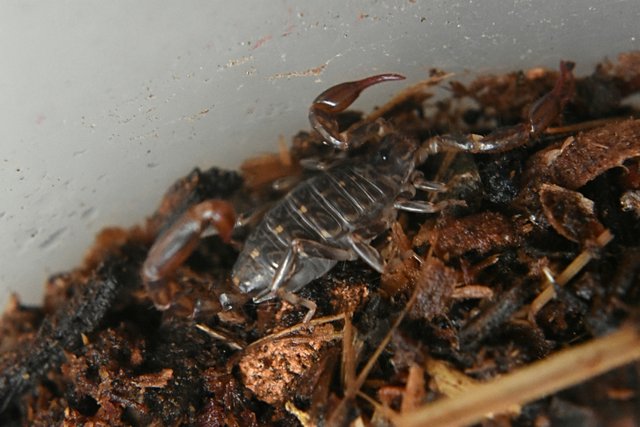 photo courtesy of @izzydawn
After further reading we discovered that scorpions supposedly only eat once or twice a week, yet this one eats daily. We're either going to have one fat scorpion soon, or the fact that it's adapted to cooler climates means that this particular type does need to eat more frequently.
Scorpions can live for over 5 years, but I don't think we'll keep Mosquito for that long. As cute as it is, I know interest will be lost in it and we'll probably look at finding a nice woodland area to release it, or maybe send it back to Mt Gambier. There have been suggestions of feeding it to the chickens, but I don't think I can bring myself to do that.
~○♤○~