Toxic Dust Stopping Moon Missions?
Will the Moon's Dust Put a Screeching Halt to Setting Up Moon Bases?
There is continued talk about going back to the moon and even settling it. Afterall, it's been around 42 years since we step foot on this rock. But what hazards exist on the moon that can harm humans, and what has been done to alleviate this? What is this moon dust and why all the fuss?
Moondust (seen below) is made up of almost 50% silicate which comes from past meteoroids hitting its surface. A dangerous aspect of the moon dust is that it's sharp as glass. Due to low moon gravity, dust inhaled could cause considerable damage for months while inside a lung. A less dangerous aspect is the sneezing and nasal congestion experienced by the Apollo astronauts. The smell is not that pleasant either which is described as burnt gunpowder (European Space Agency, n.d.).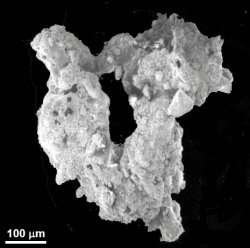 [Image Credit] European Space Agency
Solution?
To research a potential solution, NASA sent up the Electrodynamic Dust Shield for the Materials International Space Station Experiment-X, or MISSE-X, to determine if an electromagnetic field could be used to shake off this dusts. By embedding an electrodynamic dust shield within the material of space suits, an electric field could be generated which might remove the lunar dust. As seen in the image below, the experiment was successful and they determined that most dust was removed. This application could also be used on future Mars missions where blowing dust could create similar issues (Granath, 2012).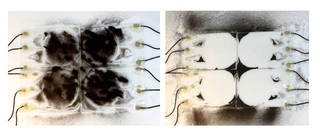 [Image Credit] NASA.
With various private companies and nations vying for a place on the moon, it's clear that minor aspects for such a mission could become a major problem. It will be interesting to see what is published as a final mitigation to this problem before such missions take off. Will new space suits be designed to handle these issues? What new technology is still being developed to improve mitigation on this problem? It is also hoped that private companies are keeping informed of such dangers and are actually taking mitigation actions to prevent such hazards. This is why it's important to stay informed with space-related issued. Thirty years from now, some private company trying to make a quick buck could overlook such hazards and put people in danger. What are your thoughts?