Announcing a SteemSTEM Witness and Seed Node
For the past few weeks, we at SteemSTEM have been running a witness (@stem.witness) quietly as we continued to become familiar with necessary processes and performing updates during the Hardfork 20 transition period.
We are now ready to officially announce our entrance into the witness list.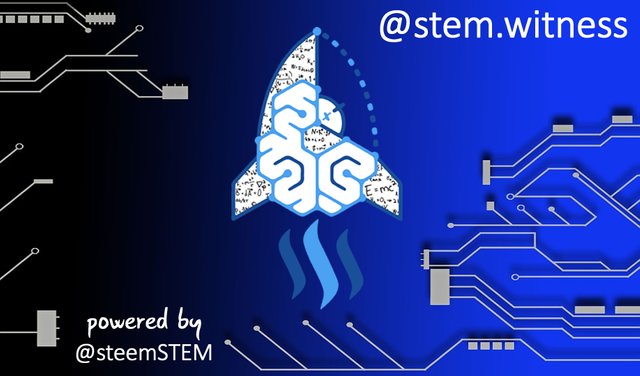 The stem.witness configuration
The SteemSTEM witness (stem.witness) is being run on a Hetzner server hosted in Germany with the following specifications:
Intel® Xeon® E3-1275 v5 Quad-Core
64 GB DDR4 ECC RAM
2X 512 GB NVMe Gen3 SSD
1 Gb/s Bandwidth
With sufficient room to expand both ram and storage space as Steem's needs continue to grow with time.
We are also running a broadcast node (with the same server specifications as described for stem.witness) to assist others who would like to have access to the blockchain.
Please have a look to 159.69.58.17.
[OK, maybe in a few hours as we are currently replaying, after the upgrade to 0.20.5 earlier this morning.]
Why Is SteemSTEM Running A Witness and a Node?
We have been and continue to be dedicated to growing a community of STEM posters and supporting the creation of high quality STEM content on the Steem blockchain.
Our plans include the upcoming - very soon ;) - release of the official SteemSTEM app enabling us to grow our userbase to new heights. With this app in hand, we hope to reach research institutes from all over the world and bring them on Steem as primary sources of scientific information on the Web. In other words, we aim to utilize the Steem blockchain as a STEM communication medium.
The success of the SteemSTEM project is deeply linked with the success of Steem as a whole and as such we wish to do our part in maintaining the security of the blockchain as well as to continue to show our dedication to Steem.
With the issues that have been on-going with the HF20 transition, we have also thought about the way in which we could help better. And it is all about testing. Being a community of several hundreds of active Steemians, our best option is incontrovertibly to make use of this size to participate in the testnet efforts, trying to assess how a relatively large number of users could make Steem behave.
How To Vote
To vote for the SteemSTEM witness, please go to https://steemit.com/~witnesses and type stem.witness into the box at the very bottom of the page:
We thank you for your support and continue to thank each of you for the opportunity you all provide us to grow and develop a STEM community with the potential to change the very nature by which cutting edge information is shared on the Internet.