The steemSTEM & utopian-io meetup in Italy - Important for the Steem community or not?
When I first started writing under #SteemSTEM, I actually felt like an impostor. I didn't see how my contribution could help anyone. After all, I am not a researcher, nor can I come up with something new and original, something never before seen.
Having a little reading experience with the tag before, I started writing, I was sure that circle-jerking must be present in a form or another. It took me a while to actually find something that I could sustainably do, write about the less known science. As a friend later said, there are enough posts about how a washing machine works.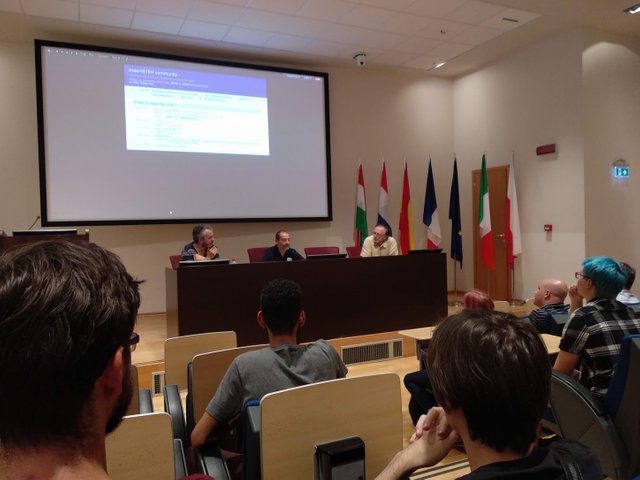 A lecture held at Virgo by people we look up to.
Fast forward a few months and I could see that SteemSTEM is actually a well-oiled machine, capable of delivering high-quality content through a double and triple check filter, consisting of Honor Members, Curators, and second opinion Curators. Plagiarism is almost eradicated but it is time-consuming. Circle jerking is non-existent, but it helps to be a regular poster and it is a little bit harder for new authors to be spotted. This is why us, the Honor Members, make sure to help new authors exclude the quality issues from the equation when expecting recognition from SteemSTEM.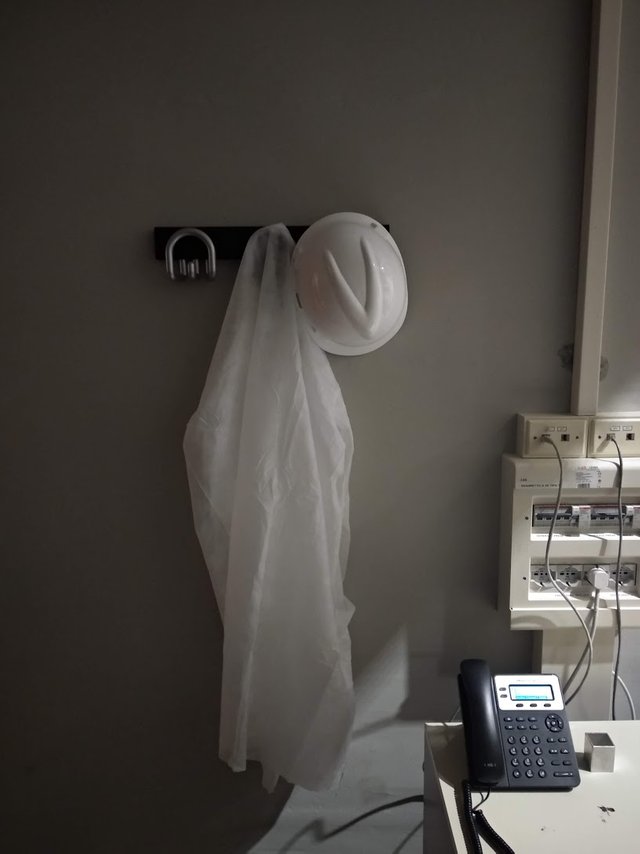 A quick shot of the equipment present at Virgo.
Fast forward to the meetup.
I was not sure I wanted to go. I have a busy life, and staying away from my GF in that already limited time we both spend at home is not something I take lightly. I, however, wanted to take the pulse of the group, to see if and what we can do together. I also wanted to share some of my ideas with everyone else and also to see how we can improve the way we support people. And I would get to see Virgo - The European Gravitational Observatory. So I bought a plane ticket and off I went.
There I first met with @suesa and @raggaemuffin, who I met a month before when I hosted them through a very short tour of Romania. Both of them reminded me of myself, each in a different way, willing to change the world one step at a time and starting the long way to becoming a successful entrepreneur.
Then I met @egotheist and @scienceangel. I was always sure that his profile image was his own and I was right. Also, he got my vote of trust way before the meetup as he is literally in all of the SteemSTEM channels and always vocal when decisions are being taken. @scienceangel is already successful at what she does and having her share her knowledge with others is very valuable to the group. And I am not only talking about her professional knowledge, few are the people who come "the-right-side-up" all by themselves (let alone know what real Vegeta is). Some would say that she likes to help others, although she won't admit it :P
Then, @lemouth. Even funnier than online, full of ideas and unreleased secrets he had in his sleeve. Planning things is much easier in person after all. After putting up with some of my boring talks (I am known to be a super boring person), we moved on to meet the whole lot.
@sco and @monie were a lot of fun, were both funny and inquisitive about the people around them, which of course is essential in a teambuilding event. My first #SteemSTEM read was from sco, so he is at fault for bringing me "in".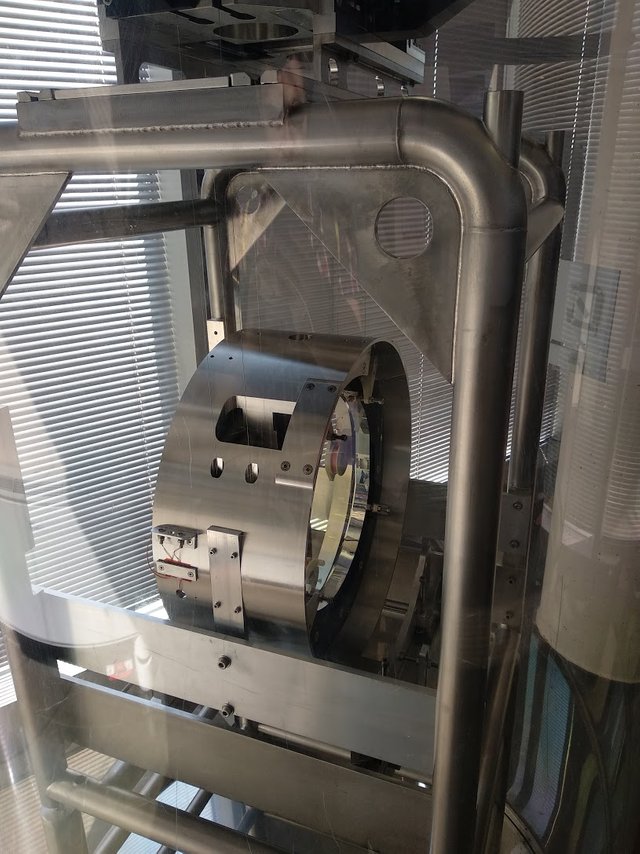 One of the high-end mirrors used to bounce the rays in Virgo.
@nicniezgrublem and @xara were also present and we chatted about the things in our little side of the world. @robotics101 supplied us with 3D printed name badges and was very interested in contributing more. He also has good ideas that we could probably discuss and implement.
The visit to EGO - Virgo was filled with new things to see and do. A lot of valuable science is done there, probably more than we can understand. A lot of passionate people working there showed us around, allowing us access to where I wouldn't have allowed us to be:). They answered our questions and it even made me think that they actually need the popular science channels to get that information distributed to the usual science consumers. Anyway, deep inside we know that the people in the observatory are secretly brewing beer and engaging in karaoke.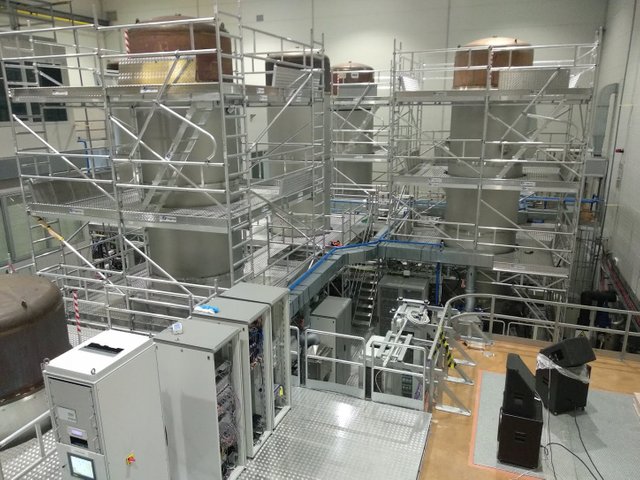 The proof of brewing and karaoke :)
@galotta and I talked about science and fiction and then @bendelgreco, both of whom I first supposed were Utopians (write guys, write, so people know you), were also very nice and I bored them to death with my ideas so don't expect any of them to write again.
I also found out more about @fredrikaa and his project, although very popular, still going to be much more than that. @techslut, @jedigeiss, and @poet are lovely, the first just like in their podcasts, down to earth and very easy to discuss pretty much anything with. This also includes @poet and his way of being.
So all in all, we do seem to have a team. I know the team is bigger than who was able to attend, but judging from who I met, I think that we can create good things in the future. I can't imagine a more diverse team to cover all spectrums of problems we might encounter as a group and the fact that we were able to cut time from our own lives to meet and set a few pins to the future roadmap, is an enlighting conclusion.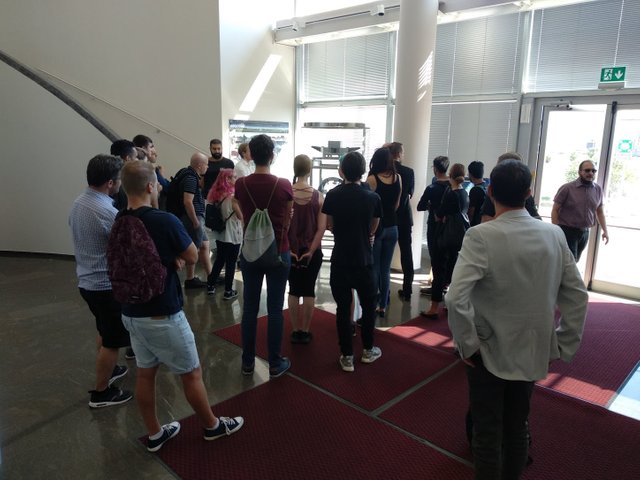 Image of a group of people at Virgo.
So maybe it is not a "traditional" meetup article, but one which covers a little about our people. Young, open-minded, hard-working, future-oriented, over-achievers.
Looking forward to the next meetup, maybe we can gather even more and in the meantime convince others to join by proving that we can push things forward and make the group even more relevant on the platform.
Greetings to @steemSTEM and @utopian-io and until next time!