I think the biggest challenge we will have is bringing Singers and Musicians to the Community. Reaching out for more Singers to come and join the Steemit Community.
#steemtalent - Scouting for more Singers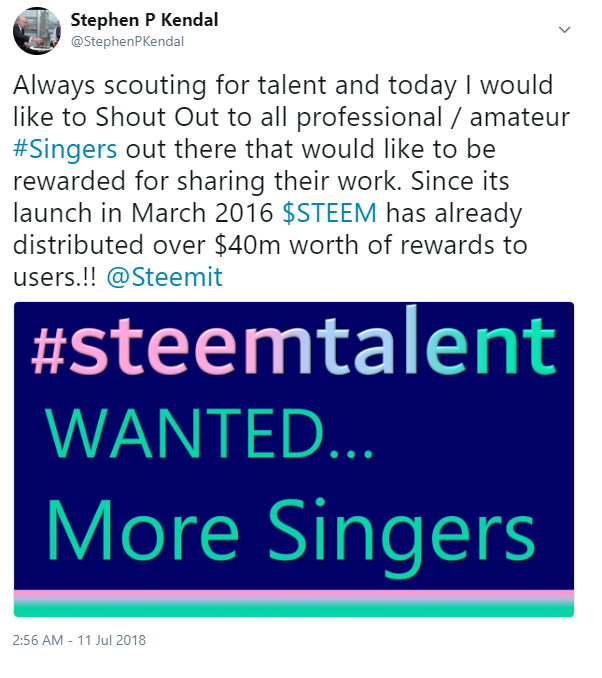 Scouting for more Singers
Since launching the #steemtalent project three weeks ago, it has been amazing to see just how much talent is out there, oozing to be found.
One of the things I have noticed very quickly is which artistic and creative group of people are going to be the most challenging to find.
....... Singers..!!
Scouting for Singers
There are plenty of #Bloggers, #Writers, #Photographers and #Artists out there, but not so many #Singers.
To continue in the series of new "Scouting Tweets" that was kicked off yesterday, I thought it would be great to follow on from #Photographers yesterday with #Singers today.
Here is the tweet that has just gone out today.
Always scouting for talent and today I would like to Shout Out to all professional / amateur #Singers out there that would like to be rewarded for sharing their work. Since its launch in March 2016 #STEEM has already distributed over $40m worth of rewards to users.!! #Steemit
https://twitter.com/StephenPKendal/status/1016984476151369731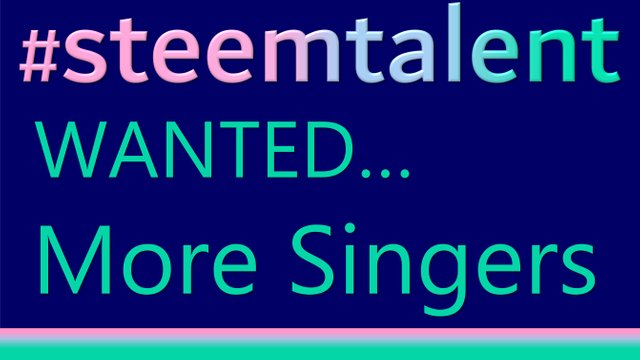 Not that there is a lack of talent out there
Based on the first three weeks since launching #steemtalent, I think the most challenging group of people that I think we will be the most difficult to find is Singers and Musicians..!!
Not that there is a lack of talent out there, on the contrary, but because those that are good have already been snapped up by a management team and have already put in place a Social Media execution plan.
What I am talking about is finding those with a gifted raw talent that are still very much unknown and unheard of.
The "Best of the Best" ready to be catapulted into the spotlight..!!
Looking for needle in a haystack
Finding this sort of unknown raw talent is like looking for needle in a haystack and one that I am excited to take on.
A challenge like this just makes it more exciting to pursue and one that I see as the most rewarding once they are found.
Thanks again for reading.
Stephen