A message to the #Tron army: Show Up.
I tweeted this a couple hours ago, and it's starting to go viral: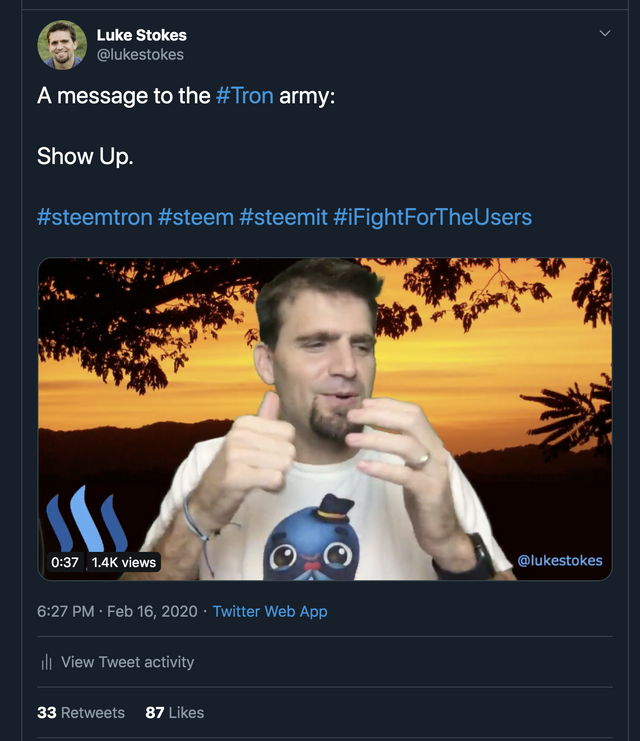 1.4k views already? Cool.
You know how much Twitter will pay me for this 30 seconds of my time?
Nothing.
The Steem blockchain, however, will reward me with some tokens based on the stake-weighted vote of Steem Power holders who like to support my content with their upvotes. That is pretty cool.
If you'd like to see the Tron community show up here on Steem, get some skin in the game, and follow @justinsunsteemit's lead and buy some STEEM then feel free to retweet that one and let's see what happens.
Also, there's still time to get your thoughts in on a good hashtag for this Tron/Steemit (and potentially, Steem, if the Tron community is worthy of us) merger. So far, it seems like #steemtron is in the lead. Vote on Twitter or on chain with dPoll or better yet, create your own poll and spread it far and wide.
If you are new to Steem because of this Tron business, be sure to say so in the comments.
---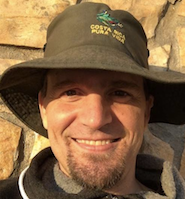 Luke Stokes is the Managing Director for the Foundation for Interwallet Operability as well as the Interim Executive Director for the EOS Foundation. He's passionate about voluntary systems of governance and has been involved in bitcoin since early 2013. He's been a witness for the Steem blockchain since early 2018 and a custodian for eosDAC, a community-owned EOSIO Block Producer and DAC Enabler, since its inception. With a computer science degree from UPENN, he built, bootstrapped and co-founded the shopping cart software company FoxyCart over a ten year period and is now focused on blockchain technology as a means to create a world we all want to live in. He currently lives in Puerto Rico with his wife and three children and enjoys discussing everything from philosophy, to consciousness, to voluntaryism, to love and awakening. lukestokes.info UnderstandingBlockchainFreedom.com fio.foundation eosdac.io







I'm a Witness! Please vote for @lukestokes.mhth