Possible New Defi Project With a Wrapped STEEM Token on TRON
Hola Steemians!
As the marketing train is going, we like to discuss some options when the STEEMJ token becomes available on the TRON blockchain. I know, we are not there yet, but let's imagine it is deployed. :)
STEEM GOES YIELD FARMING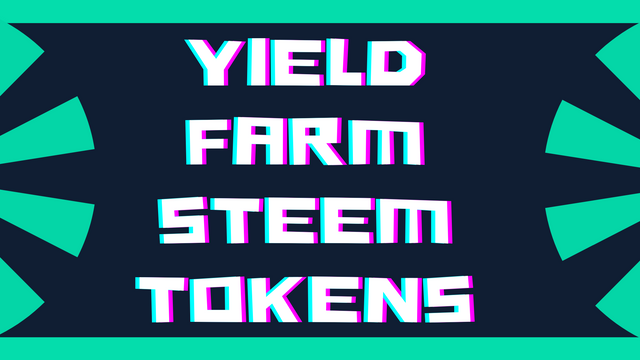 Some say Defi is dead, but the reality is that it is just getting started. The panic that is created the past days in the crypto market is pure manipulation of whales that like to eat your crypto for breakfast, lunch and dinner. Hold on and fill your bags!
What is yield farming?
I will try to explain it, that at the end of this paragraph, you are able to educate your granny about yield farming. You stake tokens on Dapps to get other, or the same tokens for free. Same as on Steem, so for us this is as easy as 123.
If we can get the STEEMJ token to get listed on one of these platforms, there will be increased demand as people will buy our token to yield some kind of veggy-, fish-, or fruit -token. These yielded tokens can be sold, or staked to earn more yield.
Let me know what you guys think!
HE Devs, can You build This?
I like to ask the Dev's (I will contact them personally as well) if we can build this type of dapp, once our STEEMJ token is listed on JustSwap? We can invent a wierd token name, and let people yield farm that with wrapped STEEM!
We as Steemit community can chill the F out this project to get a massive exposure to the project. This will soar our price, plus people will get to know about STEEM and Steemit in general!
Some Examples of Yield Farms on TRON
THIS IS NOT INVESTMENT ADVICE! THIS IS ALL RISKY BUSINESS AND YOU MIGHT LOSE ALL YOUR CRYPTO.