Adventures in running a Steem based business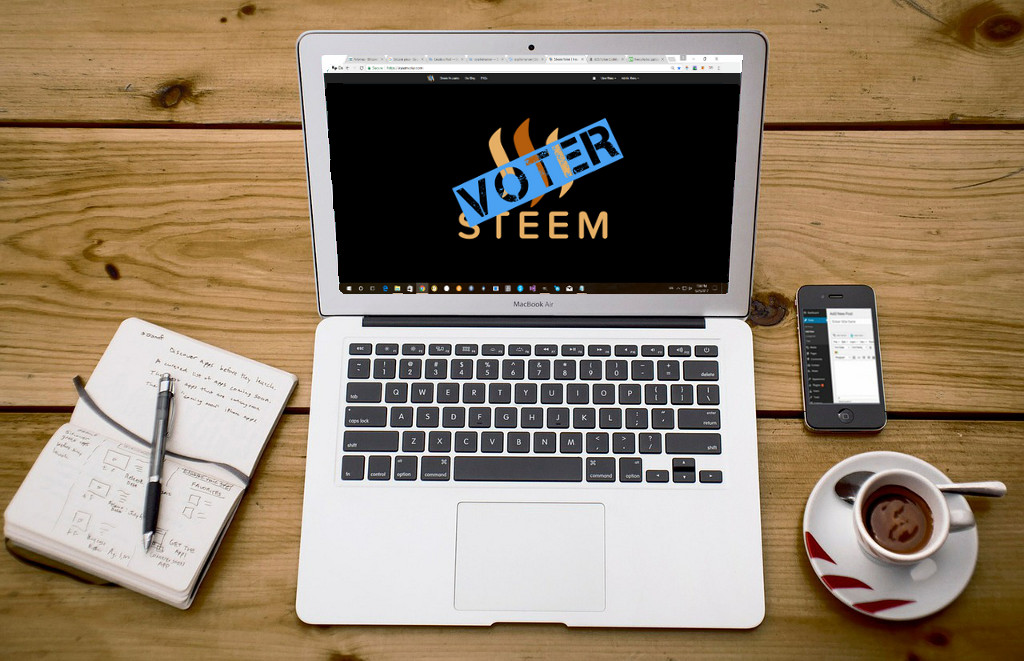 It's been a long time since I've written a post for my sadly neglected blog. That's not a sign of laziness mind you. Rather it's indicative of how much time I've been sinking into my new role as the co-owner of Steemvoter.


A lot of people think of web sites as turnkey businesses. Set it up, turn it on, sit back and let profits roll in. I assure you that's not how it really works, at least not unless you want to crash and burn in a short-lived blaze of questionable glory. As with anything in life worth doing, from writing a blog to having a successful career in a Fortune 500 company, running a service-oriented web site takes hard work and dedication.
That's especially true when the service you provide involves Steemit, which is still in beta and undergoing many changes that would have been difficult to predict even a few months ago. It's a constant challenge to keep Steemvoter up-to-date with advancements in the Steem network, making sure everything continues to run smoothly and ensuring we can scale up operations with a rapidly growing userbase. Some days it feels like I'm running around playing whack-a-mole instead of actually accomplishing anything useful. And that's not a complaint; it's merely the nature of the business.
How did you get involved with Steemvoter?
Steemvoter was originally created from the ground up by @marcgodard. At the time, I wanted to build my own voting bot but felt daunted by the steep learning curve involved. I felt the curation game was rigged, with an unfair advantage going to the tech savvy programmers who knew the arcane arts of bot coding. So when I learned of Steemvoter, a free service that essentially leveled the playing field by putting the power of a bot in the hands of everyone, not just the techie elites, I recognized its vast potential immediately.
I signed up right away, becoming one of Steemvoter's earliest users (user #24 to be exact). Even though I was still a minnow, I saw an immediate uptick in my curation rewards. And I loved being able to give more support to my favorite authors, since I didn't have nearly enough free time to manually read & vote on every good post that flowed through my feed. I came to rely on the service more and more, fine tuning & adding to my voting rules over time. Now I can't imagine living without it.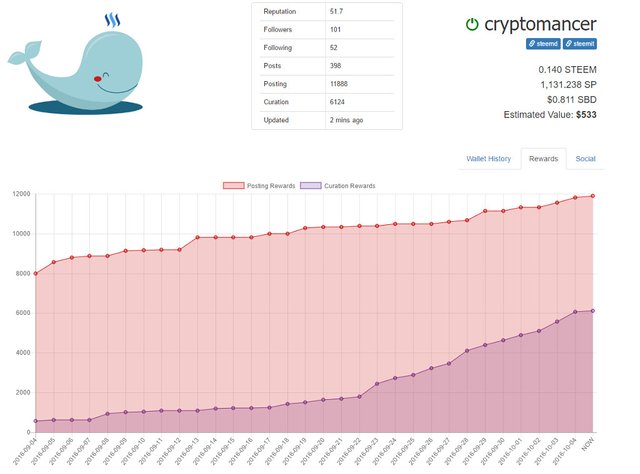 This graph shows how my curation rewards starting increasing almost immediately after I signed up for Steemvoter on Sept. 19, 2016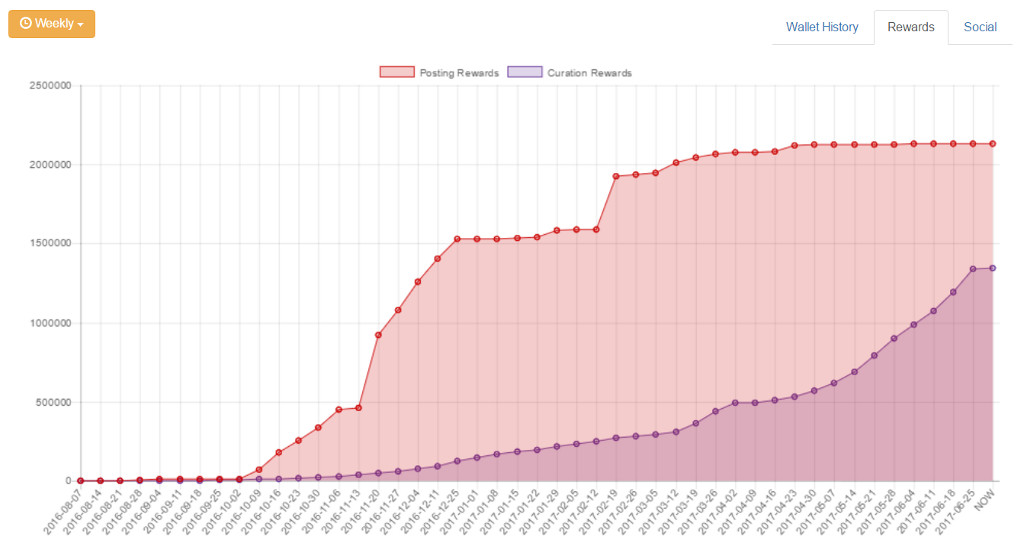 Here's a weekly graph showing my entire account history up to today. If this trend continues, my curation rewards will soon exceed my posting rewards (which have been flat since I haven't written a new post for a long time).
Thanks to Steemvoter, I am now listed #219 for curation rewards on https://steemwhales.com, out of 106,306 Steemians being tracked by the site:

Okay, we get it, Steemvoter has been quite beneficial for you. Can you get on with the story now?
Roger that, sorry for the digression.
Let's fast forward a bit to November 2016. Imagine my dismay when I read a post by @steemvoter, stating that Marc was looking to sell Steemvoter to the highest bidder or shut it down if no buyers stepped up. It was consuming too much of his time without enough of a financial return to justify spending that time. No way was I going to let such a valuable service die! So I put in an offer to buy the site, not knowing that @thecryptodrive was also doing the same.
I lost that initial bid when Marc decided to stay on, accepting @thecryptodrive as his partner & co-owner to reduce the burden of solo ownership. With the future of Steemvoter seemingly secured, I lost interest in pursuing ownership and went on my way.
Everything changed a few days after hard fork 17 went live around the end of March 2017. Steemvoter stopped working due to a bug introduced by the hard fork. One day passed, then two, then three. I started getting worried. And then, like a bolt out of the blue, I got a message from the @thecryptodrive when I was on the train heading home from work:
I knew I couldn't hesitate. The matter demanded an immediate decision, and you guys all know how it turned out. After some discussion with Marc, I ended up buying out his 50% ownership share in Steemvoter and entered into my current partnership with @thecryptodrive. The rest, as they say, is history.
So how's it going so far?
Running Steemvoter is literally like having a second part-time job. After I come home from my day job I eat a quick dinner, spend some time with my family, and then jump on the computer to work on Steemvoter for a couple hours before bed. I'm most productive on the weekends, when I can often dedicate a whole afternoon to accomplishing some development objective.
I'm lucky to have an amazing and business savvy partner in @thecryptodrive. Together we make quite the dynamic duo. He is the idea man and handles the business end of Steemvoter, smoothly navigating the sometimes messy internal politics of Steemit that I mostly can't be bothered with. That frees me up to handle the technical side of things, like maintaining the web site & voting scripts, fixing bugs, and developing new features.
I'll admit, it's been rough at times. Especially for the first couple weeks, when I didn't understand any of the back-end code and was under a lot of pressure to get service restored quickly following the HF 17 breakdown. I had to feel my way around and figure things out as I went along, with only an occasional word from Marc to point me in the right direction. It was much like being tossed in the deep end of the pool for the first time and told to swim or drown.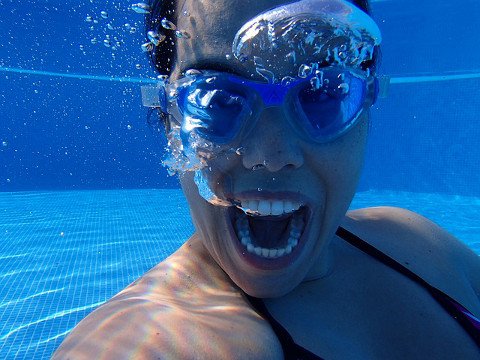 This is how I felt for the first few weeks of my tenure as the new co-owner.
But the learning curve has lessened over time, and I'm gradually becoming more comfortable in my new role. The one area I'm still not familiar with is the front-end user interface code for the Steemvoter web site itself. So tackling that final frontier will be what I hope to spend much of my summer on, gradually rolling out a series of improvements to make the web site easier for people to use.
What's your biggest challenge at the moment?
One thing we're really focused on right now is ensuring we can scale up our operations smoothly. Since the start of May we've seen a huge influx of new Steemvoter users. Just to give you an idea, when I started as co-owner we had on average one or two new sign ups per day. Yesterday alone we had 50.
That's great for business, but it comes at a cost. Our hardware is showing the strain as more and more system resources get consumed, with the voting scripts working ever harder to churn out votes according to a rapidly increasing number of user voting rules (over 40,000 total rules now!). This has unfortunately led to a lot of delayed votes and in some rare cases votes were skipped altogether.
Happily we've come up with a workable scaling strategy that involves adding more servers and splitting up our userbase roughly evenly among them. The idea is to have each server running voting scripts in parallel, resulting in faster throughput and hopefully better curation rewards for our users. I've spent a lot of late nights putting this plan into action, and I'm excited to report that last week the first 2 new voting servers came online, with more planned over time.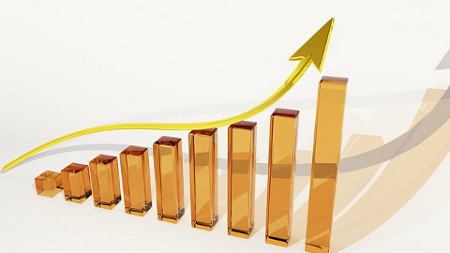 Onward & upward baby! Hoo yeah!
So where do you see this going in the long term?
I haven't thought too far ahead yet. For now I'm mostly concentrating on just keeping Steemvoter running, fixing bugs & ensuring our infrastructure stays healthy. But I'd like to see the service expand with both more users and more innovative features in the months ahead.
Let's be clear about one thing: I'm not running Steemvoter out of the goodness of my heart, you know. It is a for-profit business, and purchasing my co-ownership was a strategic investment decision. Happily, what's good for our users is good for business, so my interests are aligned with those of the wider Steemit community. With Steemvoter we all win!
Ultimately, I would love to quit my day job and have the freedom to earn a living entirely from Steemvoter and my other investments. And the way business is booming lately, it's not inconceivable that Steemvoter could replace the bulk of my regular monthly salary by the end of the year. However, there are a few reasons to hesitate before throwing away my career in the finance industry. Any one of these things could bring the whole happy venture to an untimely and unexpectedly sudden end:
Some big hard fork breaks our service completely and beyond repair.
Steemit does away with curation rewards entirely and thus removes the incentive to use our service.
Steem price crashes and the business becomes unprofitable.
The third possibility is what keeps me awake at night. Steem price has traditionally been so volatile that it's hard to predict what Steemvoter profits will be from month-to-month, and the nature of our business model makes for even more uncertainty. When you've got a family to feed and bills to pay, uncertainty in monthly income is anathema. What I crave above all else is stability and predictability, and Steemvoter can't provide that. Yet.
In Conclusion
Running Steemvoter is a lot of hard work. But it's the kind of work that feels more like play than work, which is the best kind! It's been a wild ride so far, and I expect that will continue. As an investment it's already worked out quite well, and is rapidly turning into an essential part of my efforts to one day free myself from the stifling shackles of my corporate overlords.
This is the first business I've ever had an ownership stake in, and I consider it both a privilege and a great responsibility to uphold. Thank you all for your trust in me. I hope I never let the community down.
For now it's sunny skies & full Steem ahead!
---
Links for more info
Original announcement of my promotion to co-owner of Steemvoter:
https://steemit.com/steemvoter/@steemvoter/introducing-steemvoter-s-new-co-owner
For a more detailed update about our infrastructure scaling plan, see the Steemvoter Week In Review for June 19 - 24:
https://steemit.com/steemvoter/@steemvoter/steemvoter-week-in-review-for-june-19-24
My review & introduction of Steemvoter for new users:
https://steemit.com/steemit/@cryptomancer/steem-voter-review-bringing-bot-power-to-the-masses
For more posts about cryptocurrency, finance, travels in Japan, and my journey to escape corporate slavery, please follow me: @cryptomancer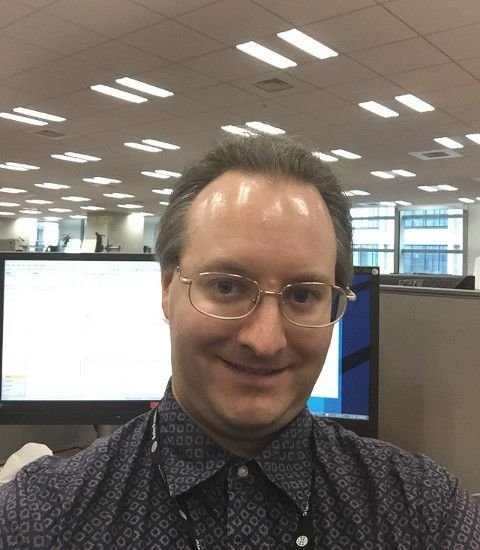 ---
Image credits: graphics in this post are a combination of screen shots from my desktop PC and clip art taken from Pixabay, which is used under Creative Commons CC0. The photo at the bottom of the post was taken with my iPhone. Steemvoter logo courtesy of the Steemvoter team.

Achievement badges courtesy of @elyaque . Want your own? Check out his blog.