The Survival Game They Play
On March 22, 2019, A 16-year-old boy was killed in a fish bombing explosion in Pulau Gaya waters, the boy from Kampung Pondo Pulau Gaya, did not have any identity documents, lost both his legs and hands in the explosion and died at the scene.
Today, approx four months later, another explosion takes place at semporna near kalapuan island as claimed killing two china tourist and one local dive master. While fish bombing are being blame as the cause of death, it is yet to be confirm.
Nevertheless, the threat and concern regarding fish bombing is real. It is not a new problem, it is an old and an unsolved problem for the dive industry in the state.
There has been so many effort that was done in the past, awareness program on danger of fish bombing, alternative livelihood program for targeted communities, acoustic fish bombing detection installation, and various kind of community engagement and program to see the end of fish bombing, the problem remain in the state.
One thing for sure, to create one is pretty easy. It is homemade using artificial chemicals from fertilisers, put into used beer bottles. The fuse is lit and the bottle thrown into the water. When the charge explodes, it create shock waves which kill or stun fish. The fish then float to the surface or sink to the bottom. Then it's easy collection form then onward for the fishers.
When I was station at semporna 12 years back as senior program officer for WWF, one of the latest reported fish bomb technique then shared by the fishers community during a workshop is the speed bomb techinque where the fish bomb is tied on a rod with weight attached resemble a missile so it sink deeper and faster to target the lower part of a reef. However, such technique is not practise by all fish bomber. I recalled I came across diving on these impacted site , looking at how a large brain coral is ruin, from this technique. As sad as it was yet it is quite fascinating how they became so innovative and evolve due to challenges that is self made. They practically do whatever they could as the concept is clear, its survival of the fittest and makes money the faster way possible.
Ultimately, the big question is, how much of intelligence work has been put in to see the end of this destructive fishing method. The item needed is pretty specific, especially the fuse, it is also known that the supply comes from neighbouring country. How does the supply enter the state? Who are the main players?
It comes to a point that we got to look at the fish bombing issue more than just destructive fishing method but more so a threat to national security and put more intelligence work and enforcement into it to end this threat once and for all.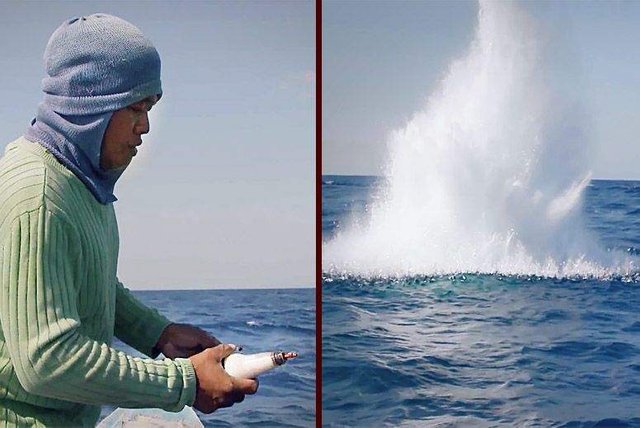 Posted using Partiko Android