A: Is there a more systematic approach to classical mechanics than Newtons second law?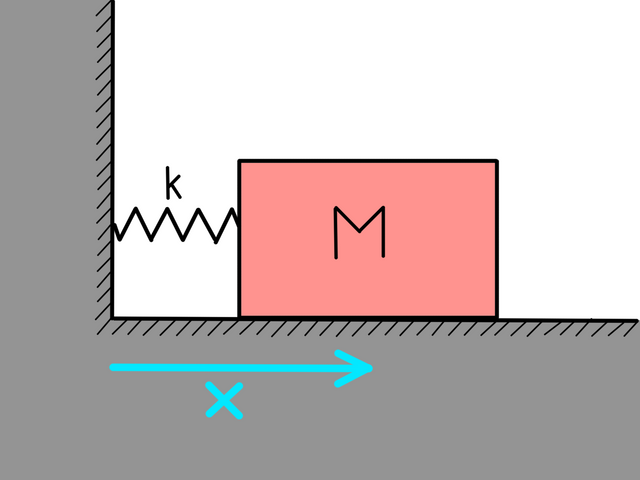 Hi guys. Today I am back with a whole new topic I have never talked about. I intend to do a lot of posts like this as I think it is very educational and I personally love solving problems in classical mechanics. A lot can be done analytically which is a true joy!
So let me answer the question I posted earlier. There is a simpler more systematic way of describing systems of classical objects and it is called The Lagrange Formalism. I wont talk about what it is as it is a very well described topic that you can find on the internet, but I do intend to showcase its strength in this post and some more posts coming in the future.
The central object of this formalism is the Lagrange function that is a generalized function of the coordinates of the objects in the system - qi - and its first time derivatives - qi,. It is defined as:
L(qi, qi,) = T(qi, qi,) - V(qi, qi,)
The T(qi, qi,) is the kinetic energy of the entire system and V(qi, qi,) is the potential energy of the system. Once you defined your L for your system, you can very easily get your complete set of equations of motion using:
d/dt(δL/δ qi,) = δL/δ qi
I am sorry about the weird notation but Markdown is not very math friendy. δ stands for a partial derivative, while d/dt is the total time derivative.
Lets look at a simple example of a mass tethered to a wall with a spring with its coefficient being k and its mass m. You can look at the sketch in the first picture above. The spring has a natural length of l. The kinetic and potential energies of such a system is:
T = 1/2 m (x,)2
V = 1/2 k (x - l)2
L = 1/2 m (x,)2 -1/2 k (x - l)2
Here we remembered that the velocity is defined as the first time derivative of the position - v = x,. Usually dots are used as time derivatives but it is impossible to use them here. For the next post I will think of something else. If you now use the recipe of how one derives the equations of motion you get:
m x,, = -k (x - l)
You get the well known second law of motion derived by Newton. The Lagrangian formalism works. Yaaaay. Now we can use it for a more interesting case.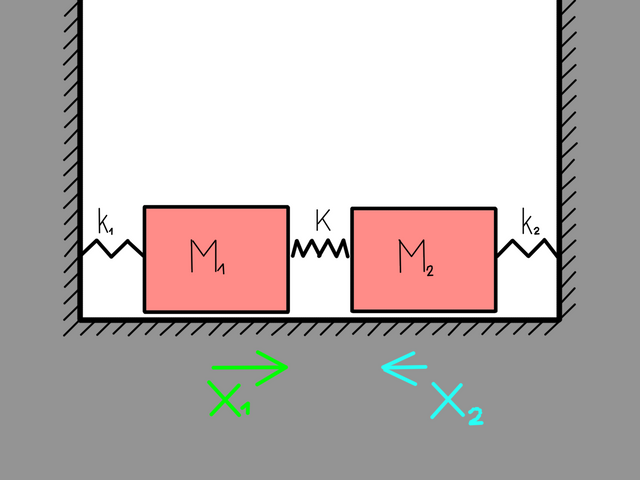 Lets look at a more complex system that contains two bodies with masses that are coupled together. Similarly as before we can easily write the Lagrange function for the system as:
T = 1/2 m1 (x1,)2 + 1/2 m2 (x2,)2
V = 1/2 k1 (x1)2 + 1/2 k2 (x2)2 + 1/2 K (x1 - x2)2
L = 1/2 m1 (x1,)2 + 1/2 m2 (x2,)2 - (1/2 k1 (x1)2 + 1/2 k2 (x2)2 + 1/2 K (x1 - x2)2)
The kinetic energy part is pretty self-explanatory. The potential energy is also not overly complicated but still a bit more thinking goes into it. The first two terms are the potential spring energies of the wall-mass couplings while the last term is the mass-mass coupling. If x1 = x2 then the middle spring didnt stretch. This is why there is a minus in the last term. If we again use the recipe we get the equations of motion:
x1,, = (-k1/m1 - K/m1) x1,, + K/m1 x2,,
x2,, = K/m2 x1,, + (-k2/m2 - K/m2) x2,,
Although there is a formalism that easily deals with such equations I will solve these equations using some magic. But first lets make a simplification just for calculation (and animation) sake. Lets say that:
k1 = k2 = k
K = 2 k
m1 = m2 =m
This means we can define a characteristic frequency ω02 = k/m and we can write it to write a set of beautiful equations:
x1,, = -3 ω02 x1 + 2 ω02x2
x2,, = 2 ω02 x1 - 3 ω02x2
So here comes the magic so pay attention. We notice that there is a symmetry to the equations, which is why we define two new coordinates (x1 - x2) and (x1 + x2). We can write the equations of motion for these new coordinates by subtracting the old differential equations for the first of the new coordinates and by summing up the old equations for the second case. If we do this we get:
(x1 + x2),, = - ω02(x1 + x2)
(x1 - x2),, = - 5 ω02(x1 - x2)
We recognize these equations of motion as equations of motion describing pendulums and similar harmonic oscillator things. We see that the sum has will oscillate with a frequency of ω0 while the other will oscillate with a frequency of about 2.23 ω0. But what are these coordinates actually representing.
Well let my gifs illustrate.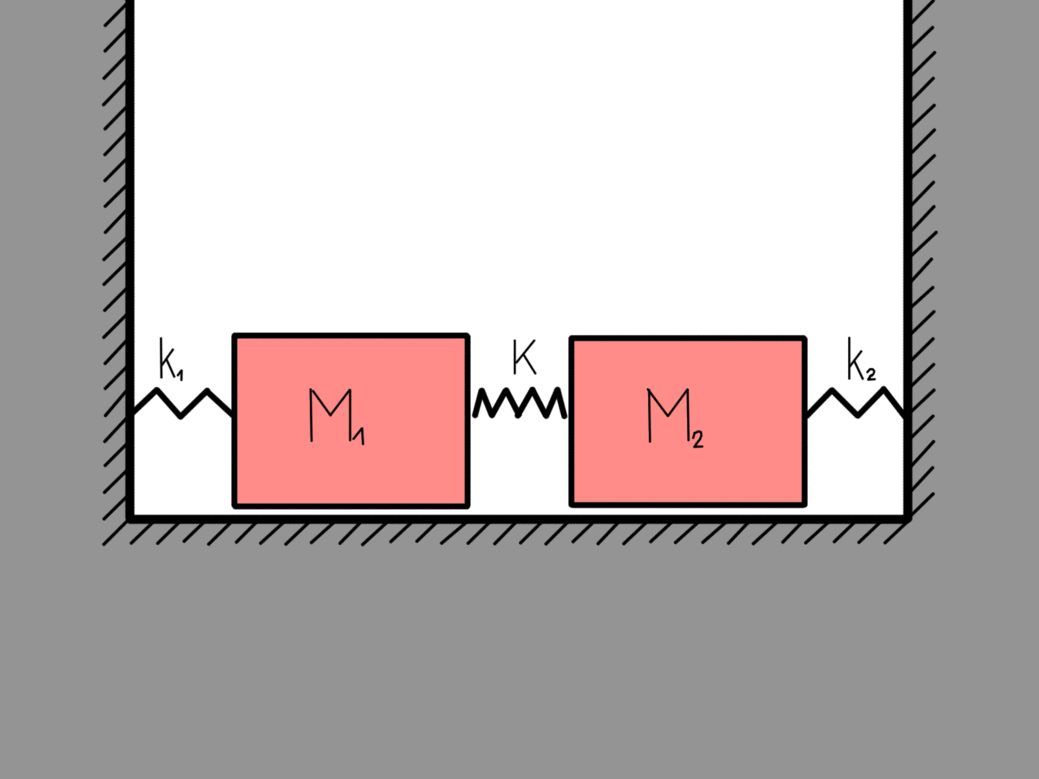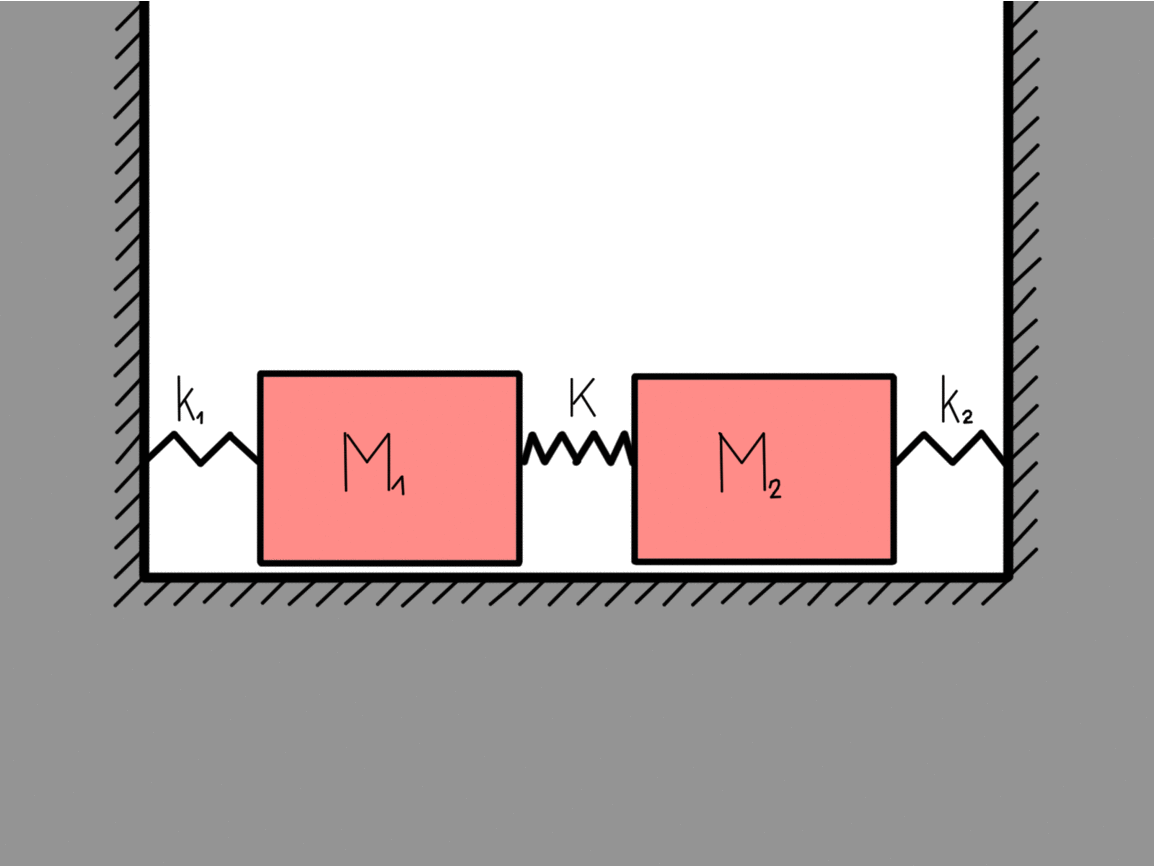 This is what we called the eigen-motions of a harmonic oscillator, which means that they are stable. If nothing disturbs them they will go on forever. All the other possible motions of this two-body coupled harmonic oscillator can be written as a linear sum of these two eigen-motions. The eigen-frequency ω0 is the frequency of the system when only the center of mass is moving (right figure) while the eigen-frequency 2.23 ω0 is the frequency of the system when the masses are moving towards each other (left figure).
Conclusion
I hope I was able to convince you that this is an easier way of deriving the equations of motion than using the classic Newtonian kinematics. Of course the results are the same and you still have to solve some differential equations, but the way of constructing the differential equations is more systematic. I suggest you do the calculations alone the old way and the Lagrangian formalism way I introduced here for the coupled oscillator problem. You will see it is much easier this way.
I intend to bring you more interesting systems of coupled "stuff". I think it is really fun solving such easy problems that are really rich with physics.


StemQ Notice: This post was originally submitted on StemQ.io, a Q&A application for STEM subjects powered by the Steem blockchain.