✅ THE STO SERIES :: part #1 :: What is an STO (in comparison to an ICO) ?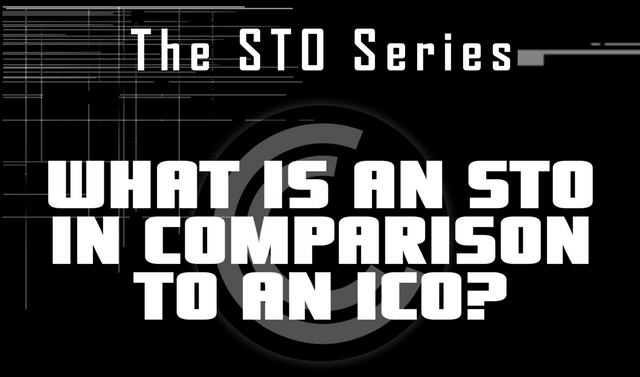 ---
Introduction
---
With the advent of Ethereum and the possibility of generating new tokens, we saw an explosion of ICOs in 2017. Getting this form of money in just minutes to financially secure a business or project was a complete success, bringing hype and euphoria to the crypto scene. Unfortunately, among the many projects, many frauds with empty promises appeared, which is why we witnessed a dramatic decline in ICOs in 2018.
Certainly, it was because it was very easy to promote a project and bring it to life. A website was created quickly and the necessary advertising as well. The regulations were hardly available. The end users were not in the least protected. Many people ran blindly in their misfortune. For some, the total loss even ended in suicide.
For some traders and investors it may have been more or less profitable and some fraudsters could unwarrantedly make a small fortune, but for the blockchain scene, this blind hype was anything but good. Their reputation had suffered as a result and the aftermath is still felt today.
The ensuing debate over how legitimate companies and startups can continue to leverage money while operating within a regulated and reputable framework is justified and necessary. For some months now, a miracle cure with three letters has been circulating in the crypto world: STO - but there are critical voices too and a closer look is needed. So what is an STO? What makes it different from an ICO? Could STOs be the future of the decentralized finance and startup world? What are the advantages and disadvantages?
WHAT IS AN STO?
---
Before we go into more detail on the questions above and look at an STO more profound, let's briefly summarize what an ICO is actually. An ICO is a method of obtaining the money a company needs to establish its product on the market. In return, investors receive tokens issued by the company, which investors hope will increase in price. ICOs are therefore so attractive to new projects because they are very simple to structure and not subject to strict regulations. An MVP or an already created product is not absolutely necessary. The costs of an ICO are low. Access for investors is simple and straightforward and usually anonymous by the blockchain. In fact, however, around 80% of all ICOs are scams. There is no protection for investors if the funds get stolen. Investors have no rights. The utility tokens often are unfortunately useless and without real value. The risk is high. The investment in an "Initial Coin Offering" - extremely speculative.
With an STO (Security Token Offering) it behaves differently, even if the underlying purpose of obtaining funds remains the same. In exchange, STOs do not offer "utility tokens" but "security tokens", which are subject to much stricter controls and regulations. These are real securities on the blockchain. These securities are defined as follows:
"In terms of finance, a security is a certification or some other financial instrument, that has an intrinsic monetary value. These securities can then either be traded by exchanges, who will broker the transaction or, they can be traded directly from peer-to-peer. These securities are then broken down into two subcategories, equity, and debt securities. This is in effect, owning part of a company, without actually taking it into your possession."
In terms of security TOKENS this means that they are backed up with certain real values and these inherent values are actually checked and verified. In exchange for a more or less long assurance of funds from the investors, they receive shares in the company and are entitled to receive a distribution of revenue in the form of dividends. With an STO, investors can expect real rights and much greater protection against fraud, which definitely benefits them.
However, since these are actual securities, the company must comply with the regulations of the country in which they are located AND the rules of the investors' countries. The company, the business purpose, the offered security and the entire structure of the management must be described in detail. Here are some disadvantages for the project that an STO wants to organize: the legal hurdles are quite high; as well as the costs of legal assistance and evidence. At the same time, a company that overcomes these barriers is gaining trust and seriousness. This of course helps the entire crypto scene to a better reputation.
Due to the fact that STOs must be verified by centralized institutions such as the SEC, STOs have also received criticism. The original idea of an absolutely centralized network or system is not ad absurdum but gets a bitter aftertaste for those who want to break away from old systems. After all the negative news about "ICO BANs" in various countries, etc., this seems to be the only way for the blockchain industry to continue to prevail. It therefore remains to be seen which model is established. The course is set and more and more platforms are working on sophisticated and simple systems for the introduction of an STO. Time will tell...
---
COMPARISON BETWEEN STO AND ICO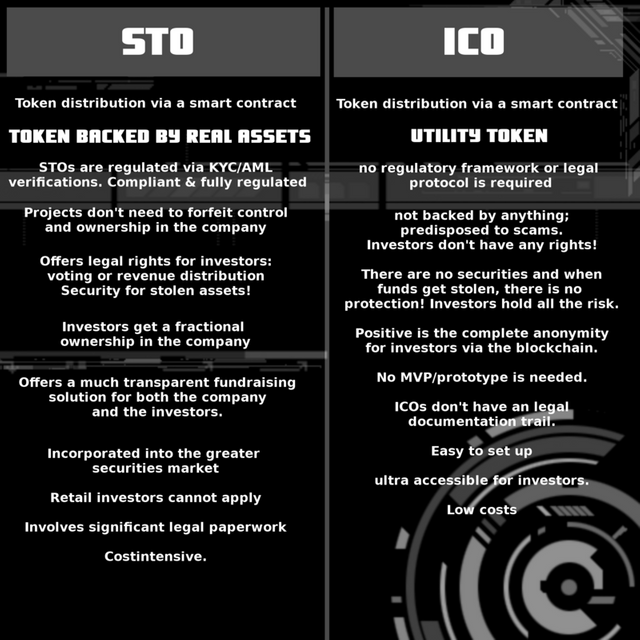 ---
Join the CHAINTRIBE Trail on SteemAuto to support this channel consistently (Click Here) and register to be a follower. Just search via "fanbase" @chaintribe-news - every support is highly appreciated!
---

Follow CHAINTRIBE on Twitter
Follow CHAINTRIBE on MEDIUM
---

---
Get your TREZOR cold storage wallet here