Fiction: Harsh is S.A.R.S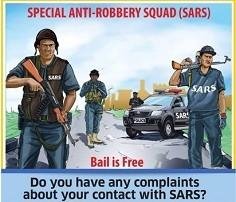 Nkem and I were strolling back home that day, it was a bright Saturday afternoon so we had decided to hit the GYM located at Lawani street here in Ogba, we weren't really dressed flamboyantly but I had my Diamond Rolex wristwatch on which dad had given me for my birthday, we were just at the bend that led to Coker's Street which happened to also be the street where our house was situated at when about three men clad in bulletproof vests and wearing face masks disguised with black shades popped out from the corner pointing their rifles at us.
At first I was quite scared and so was Nkem, we put up our hands in the air and they approached us silently not uttering a word, it was when they were finally close i noticed the imprint and logo of the Nigerian Police on their vests, "On your knees" the hefty one in the middle said, Nkem and I knelt down, "Sir, we are residents of this area, we are just coming back from the Gym, my dad...." I was cut Short by a smack on my head by one of the officers, this one was lanky, "Have I asked you to talk yet?" The hefty officer asked, He looked at me for sometime, I couldn't see his roving eyes but I knew he was examining me closely, "that's a nice expensive wristwatch you got there, how did you get it?" He asked gesturing at my Rolex, "Sir, I was trying to explain to you, my Dad got it for me, his name is ........" He cut me short again, "I don't want to hear the name of your so-called father and I don't care who he is, you might be lying, I suspect that you both are Yahoo guys" He said smiling, "No sir! We are not Yahoo Guys, and we are trying to explain who we are to you, if you'll only let us call our parents" Nkem said his voice rising steadily in anger, "Na me you dey give voice abi?" The hefty officer asked smiling, "No sir, let's just call our parents they are at home right now, we are not Yahoo Boys!" Nkem said angrily, "Relax oo, Nkem don't shout" I urged him...