I am WOMAN…hear me flush!?
What can I say about home-ownership? It's a blessing with a splattering of random curses. When you least expect it, usually when funds or timing seem all wrong to have something go astray…OK, so there really is no good time for anything to break or stop working but it is inevitable if you own a home, especially an old home like mine. I notice though, in my home, problems always seem to arise on a weekend when emergency service calls would cost a fortune.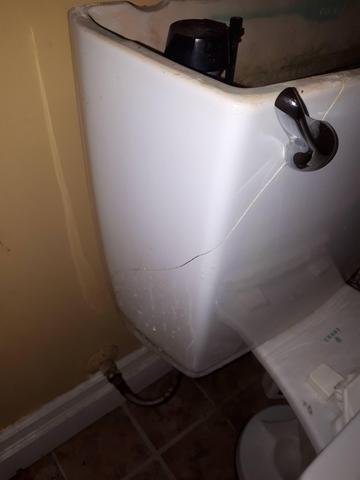 Two weeks ago, the toilet in my powder room cracked and leaked. This would force me into the renovation I have been wanting to do on this room for oh let's say four years and have never gotten around to because of how much of a pain I figured it would be to take out the sink and toilet to redo the flooring. Now, with no choice I figured, no time like the present. So I called up a man to do it for me while I went skipping off to the kitchen to bake some cookies……screech…rewind…this is where the story makes a dramatic flip….I decided there was no reason I couldn't tackle this project MYSELF. Big undertaking even though it's the smallest room of my house, great place to start.
I am and Aesthetician (albeit not an overly girly or high maintenance type) but if you have a cracked fingernail I'm your go to..cracked toilets however, are completely out of my wheelhouse. I recalled giving a pedicure to a female real estate agent who advised me that putting in a toilet really was a fairly simple job. OK, I'm going to test that theory and although, very nervous about what I was delving into, decided "I've got this!"
I started asking questions, checking the internet and losing sleep while planning the how to's because I'm an over thinker by nature.
Friday night came and my family trekked off to the store to "toilet shop" But I already had flyer in hand and a plan of what floor to get and toilet I was buying. My son picked out a different pattern for the floor than planned but it happened to match paint we already had at home, score! Supplies on hand, I started Saturday morning to deconstruct while the kids went ice skating with their dad and little did I know but it was best they were out of ear shot, as a few choice words flew about once I really got into the thick of it. I knew the toilet needed to come out first. Little did I know this is where I had to fight my biggest contender….RUST! Years of it…WD40 here we go…first part of my day was spent wrenching round and round wondering, is this just turning in spot or am I making progress here?? I freed it up enough and patience was running low, so I eventually was able to break the bolts off and pull the darn thing out…was heavy but I dragged it to temporary storage and now to clean up the mess…oh the mess, getting up all that wax off the gasket..sigh... My kids wanted a picture update, I thought "OK you asked for it" lol they were mortified and thought I was sloshing in poop. Rust..you nasty beast!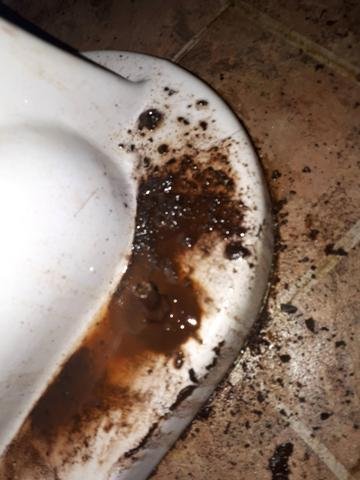 I quickly realized that if it's not broken you don't fix it. I.e. the pedestal sink. Getting in behind one of those to the plumbing is like squeezing an elephant into a mouse hole..anyways..not happening. I took off the baseboards and started to chisel back the two lovely layers of stick down tiles until it was just ply board. OK. Bare bones.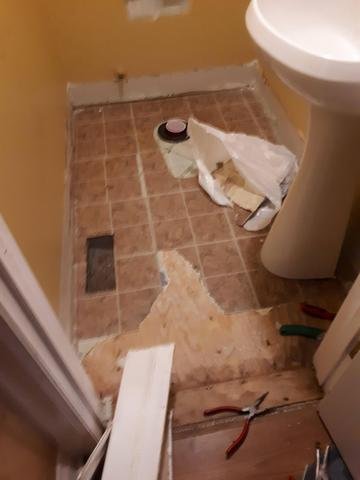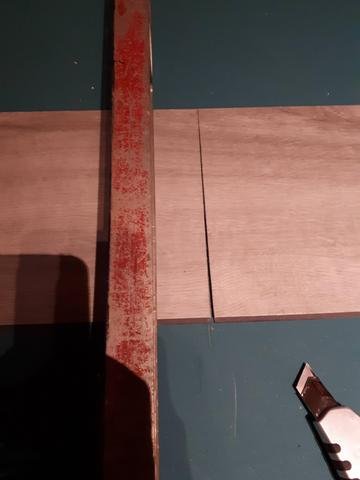 Cutting the vinyl tile was not as easy as the man suggested at the store "just a straight edge and a sharp blade" he said…By then all my muscles and joints were rebelling from hours of prying and wrenching but forging on I measured, cut and placed the boards until the floor was in place. Only felt like I did about 40,000 squats the next day from all the ups and downs of cutting and fitting the floor planks. I nailed the baseboards back in place and prepped for painting.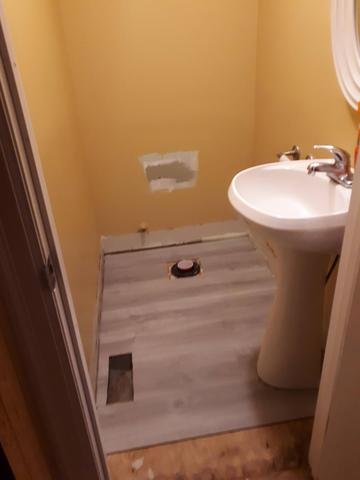 I recruited a little help here, actually, it was offered; my son loves to paint and my daughters do not like their brother doing anything they don't get to do so everyone took a turn on a wall. Onto Sunday after everything dried.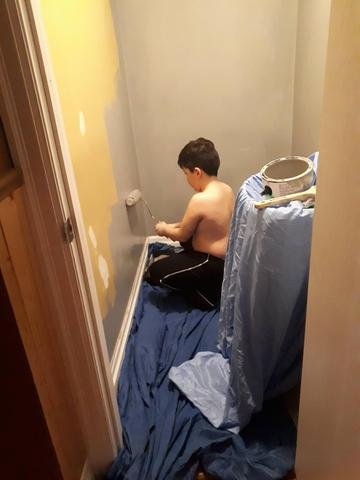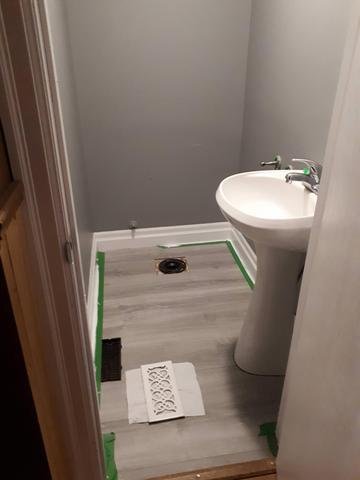 I was nervous about the toilet install, but my son was anxious for this project to be complete as he insisted on being the first to "christen the throne" so he pushed my procrastinating self to do it..NOW! I carefully followed instructions and then the moment of truth…turning the water source back on…I held my breath and turned the valve and nothing exploded. I double checked for leaks and we were ready for the first flush. Success!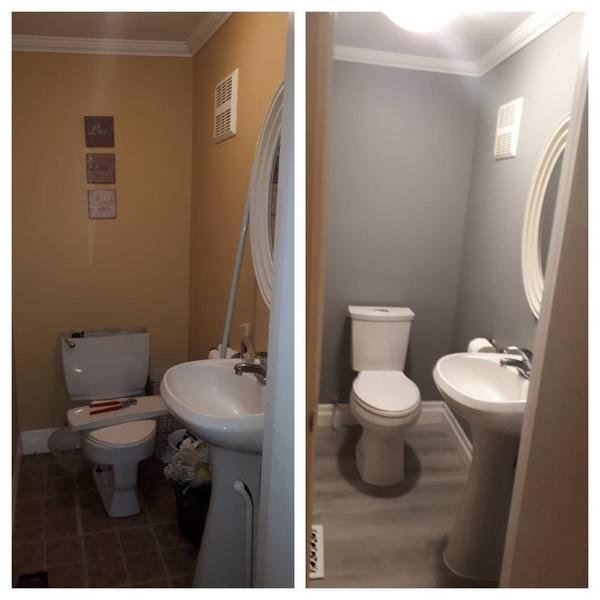 "Amazing" is how my family described my work..(brushes dirt off shoulders 😉)
Why did I share this story you ask? Who really cares about my toilet tales of woe and glory?
This is the message: I completed this task for around $400.00 Canadian dollars, I conquered and pushed through my self doubt and proved to my onlookers (kids) that I accomplished something I put my mind to and although viewing it as a challenge, met it head on and saw it through to completion. By no means is it perfect, but it is way better than it was and I'm very proud of it. Most importantly, I felt like a bad ass because although these days there should not be any real men or women "roles", I still like to keep on "flushing away" the stereotypes. So if you are reading this don't underestimate yourself in any way because if it's something you want to do there is always a way if you put your mind to it. Oh by the way…I also used to drive transport trucks!
Thanks for taking the time to read this and feel free to share with me moments when you made yourself proud by stepping out of your comfort zone to accomplish a goal.