The story from Miss Call to Marriage, ran away from home and saw each other for the first time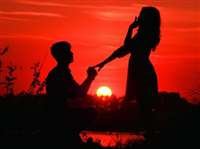 Real Love Story:)
The talk started on the mobile phone through Miss Call. Knowledge gained momentum and love affair. Without seeing each other, both of them decided to get married and got away and married. On the other hand, the families complained to the police station without informing the girl's house without informing the police. The matter was postponed after the police reached the girl.
The village girl of village Ghotia, five km away from the city, was identified as Badal Kushwaha, a resident of rural Dhananukpura village of Murena, Madhya Pradesh through Miss Call on mobile. After the arrival of Miskol on mobile, the process of interaction between the two started, which changed in love some time later.
The young woman used a normal mobile phone, which did not use Wattsup or other social networking site. Because of which both of them did not even see each other, but after having love, they decided to run away and get married.
On March 11, the young woman went to Raipur, sitting in a bus without informing her family members. On the other side, Badal also reached Raipur, where the two saw each other for the first time. Murray reached Madhya Pradesh on March 13, 2018, from both the buses in Raipur. Badal took his girlfriend and went to his sister's house and got married in the marina only with the young woman. After marriage, she went to her village Dhankhukpura.
Caught with the help of Cyber ​​Cell
Meanwhile, the relatives of the young woman informed about the loss of their maiden in the police station. On which police was searching for his address. In this case also took help of cyber cell. Cyber ​​cell traced the mobile location and gave information to the police station. The police team reached the village of Dhanunkupura in Murena village on 22 July and recovered the girl. The police also accompanied Badal Kushwaha to Kanker with him.
Young woman wants to stay with
Pradhan Prakash Pradip Yadav said that the girl is a grown man and after being brought here, he is talking about his intention to go with the young man. At the same time she still wants to stay with the young man. The girl has been kept in the Happy Forest Staff Center. Which will be sent to the SDM for a statement. The age-related documents of the youth were not available, on which their family members were informed. They are coming to Kanker with Aadhar cards, Marksheets and other documents.