Sunset and Moon IPhone 12 Pro Max edit With PS camera and Lightroom on IPhone.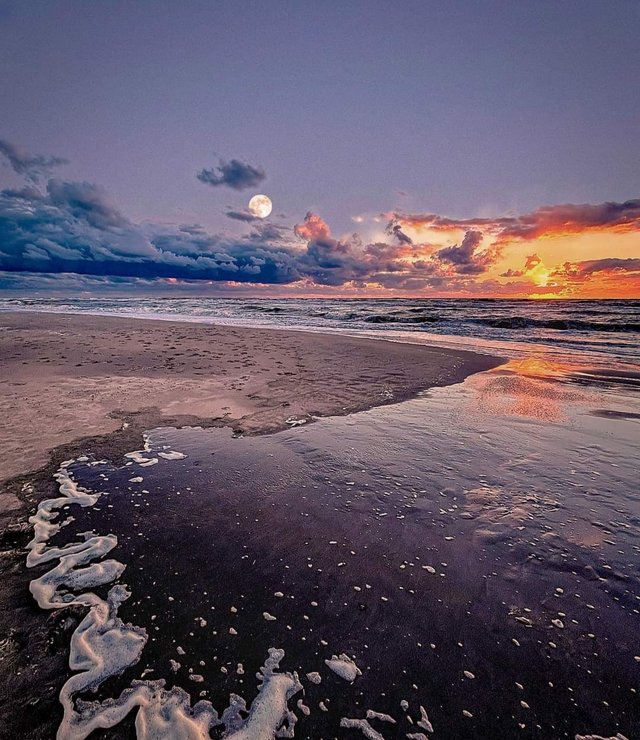 Sunset and Moon IPhone 12 Pro Max edit With PS camera and Lightroom on IPhone.
It's impossible for the moon to be at that location of the sky and that full if the sun is setting right next to it. I've seen a similar photo that went viral and it was proven to be fake.
It's a Fake shot/photoshopped - astronomically not possible - there should be about 180 degrees between the sun and the moon for you to see a full moon disk - ask any astronomer.
it says 'sunset And moon'. It doesn't say that it happend that way. Sorry - but I'm seriously losing faith/interest with this site - "iPhone Photography" - it should be about taking good photos using your phone
and the basic image editing that comes with it - not "how clever I am down loading images onto my computer and messing about with software
I bought on the internet" - there are plenty of other sites for that - this one should be about getting the best out of just using your iPhone !
there are lot of appications you can use on your iPhone to achieve this. 😉 no computer needed. but it's using software bought in - not what comes with the phone you bought ?
yes, like it's supposed to work. They made it for 😉 But this kind of discussions happens also with camera. Nothing new.
I think it's interesting seeing the different ways to play with photos taken on the phone.
For me it's about the clear high quality images you get from the iPhone's camera.
The little tweaks & creative mods to the pictures are fun & artistic license. I like getting ideas from them.
Beautiful manipulation… moon and sun on the same side by me, and how i line up with the water and the shore. It looks natural if you didn't know better 🙂
because it's not really there. It's impossible for the moon to be that full near the setting sun. That's the whole reason the moon appears full is when it's opposite in the sky from the sun.
IPhone is more than a just a phone or a camera . It is a little computer . I am using Photoshop Camera and lightroom on the iPhone.
that's fine but you didn't point that out in the OP
The reason I am being seemingly petty and pointing this out is because people with an iPhone who don't have much experience with photography will see an image like this and get very annoyed
that they cant get anything close to it because they do not realise that it is a staged photo. This also puts a false sense of capability of the iPhone camera into people's minds. That is the issue
Nothing wrong with a lovely photo but at least point out to people the facts.
[KR]
Sunset and Moon IPhone12Pro Max 는 IPHONE 의 PS 카메라와 Lightroom 으로 편집합니다.
태양이 바로 옆에 설정되어 있다면 달이 하늘의 그 위치에 있고 그 전체에있는 것은 불가능합니다. 나는 바이러스 성으로 간 비슷한 사진을 보았고 가짜로 입증되었습니다.
그것은 가짜 총/포토샵-천문학적으로 불가능이 있어야에 대해 180 도까지 사이에 태양과 달은 당신이 볼 달 디스크 어떤 천문학자.
그것은'일몰과 달'이라고 말합니다. 그것은 그런 식으로 일어난다고 말하지 않습니다. 죄송합니다-하지만 내가 심각하게는 믿음을 잃/관심으로 이 사이트"아이폰 사진은"-그것에 대해해야 좋은 사진을 촬영하를 사용하여 휴대폰
기본 이미지 편집 그와 함께 제공되는지"내가 얼마나 똑똑한 다운로드 이미지 내 컴퓨터에과에 대한 장난 소프트웨어
제가 인터넷에서 구입"-수있는 다른 많은 사이트는 이야기에 대한 최고의 그냥 아이폰을 사용하여!
이를 달성하기 위해 iPhone 에서 사용할 수있는 appications 가 많이 있습니다. 😉컴퓨터가 필요하지 않습니다. 하지만에서 구입 한 소프트웨어를 사용하고-당신이 구입 한 전화와 함께 제공 무엇을하지?
예,작동하도록되어있는 것처럼. 그들은😉를 위해 그것을 만들었지 만 이런 종류의 토론은 카메라로도 발생합니다. 새로운 것은 없습니다.
전화로 찍은 사진을 가지고 놀 수있는 다른 방법을 보는 것이 재미 있다고 생각합니다.
나를 위해 그것은 당신이 아이폰의 카메라에서 얻을 명확한 높은 품질의 이미지에 관한 것입니다.
사진에 대한 작은 비틀기 및 창조적 인 개조는 재미 있고 예술적인 라이센스입니다. 나는 그들로부터 아이디어를 얻는 것을 좋아한다.
아름다운 조작...달과 태양 내 옆에 같은 쪽,그리고 내가 물,해안과 어떻게 줄을 서는지. 당신이 더 잘 몰랐다면 자연스러워 보입니다.🙂
왜냐하면 실제로 거기에 있지 않기 때문입니다. 석양 근처에서 달이 그렇게 가득 차게하는 것은 불가능합니다. 그것이 달이 가득 차있는 것처럼 보이는 전체 이유는 그것이 태양으로부터 하늘에서 반대 일 때입니다.
아이폰은 단순한 전화 나 카메라 그 이상입니다. 그것은 작은 컴퓨터입니다. Iphone 에서 Photoshop 카메라와 lightroom 을 사용하고 있습니다.
그건 괜찮지 만 당신은 OP 에서 그것을 지적하지 않았다
이유는 나는 겉으로는 사소하고 가리키는 이것 때문에 사람들과 아이폰을 누가 많은 경험을 가지고 있지 않으로 사진이 표시됩 다음과 같은 이미지와 매우 짜증
그들은 그것이 무대 사진이라는 것을 깨닫지 못하기 때문에 그것에 가까운 것을 얻을 수 없습니다. 이것은 또한 사람들의 마음에 아이폰 카메라의 기능의 잘못된 감각을 넣습니다. 이것이 문제입니다
사랑스러운 사진에는 아무런 문제가 없지만 적어도 사람들에게 사실을 지적하십시오.