Announcing Super 8 Ball Club V_1.0.5 - 3 New Features and 2 Improvements in Physics (Update the app now!)
Dear STEEM community,
I'm very happy to announce the version update of Super 8 Ball Club. As you may have noticed, I've been working actively on the development, doing manual verification of accounts, and verifying the gaming activity to filter the possible abuse. As a result, I've even warned users and permanently banned two users for trying to find exploits. Hopefully, it would help you see how hard I've been working. I've received the Steem resulted from the successful power-down and will be processing the accumulated profits of delegators shortly, as mentioned in our Super 8 Ball Club's Profit Sharing Program.
Back to the topic, I've developed some additional features in the game to enhance the user experience as well as gaining control over the overall game status (for example, maintenance mode). The following features are developed in this version update:
Ball in hand when the opponent runs out of time.
Improvement in balls rolling physics.
An easy way to claim coins earned with promotional offers.
New version message is updated.
Admin control for controlling the game's activity.
Announcing Super 8 Ball Club V_1.0.5: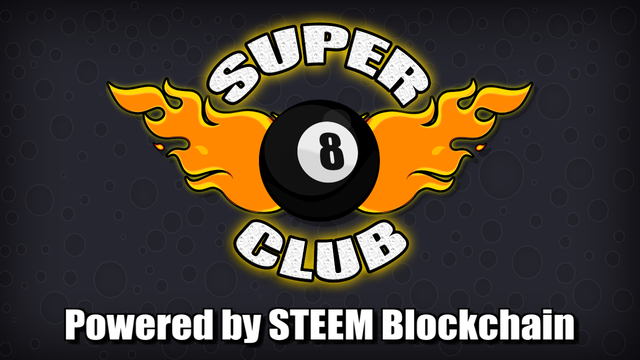 Go to Google Play Store and update the app right away.
Ball in hand:
It came to my attention that a few users were abusing the timer during the game. When they used to see that the balls are easy to pot, they would take the strike but when they would get the balls in undesired position, they used to let the timer run and at that time, there was no penalty for running out of time. It was due to the fact that I didn't expect people finding such methods to abuse a fair system, but well, there is no cure for greed.
In order to prevent those users for abusing it, I've now implemented a ball in hand penalty for running out of time. Now, if your opponent runs out of time, either intentionally or unintentionally, you'll get the ball in hand opportunity. That would not only prevent abuse but will also affect the psychology of a gamer, as he'll do his best to not run out of time even by mistake.
Ball rolling physics:
The physics part is always hard but I'm glad that I got it right. Earlier, the balls used to roll a bit more than they should, though not that much, but it used to make the next shot easier for you or the opponent. Now with this version update, the ball physics are completely realistic and your balls won't roll more than they are supposed to. Be careful when you play the shots now, as the rolling physics are improved and you'll have to use appropriate hit power.
An easy way to claim coins earned with promotional offers:
We are planning to run some promotions where we will reward in-game coins to the users for participating in them. With that vision, I've developed a feature through which you'll be able to receive the coins in future when participating in our promotional offers.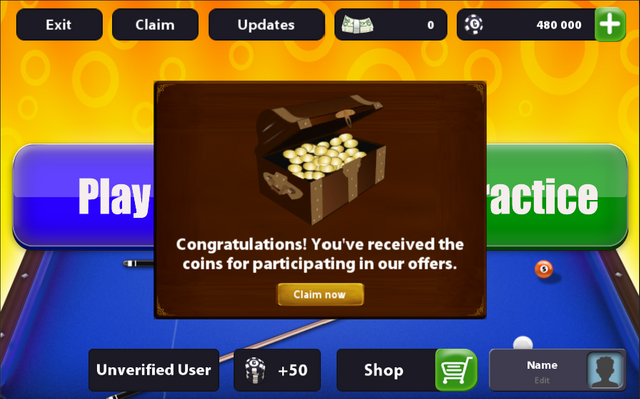 New version message:
The game had this message since the beginning but I've edited one of the lines of the message to convey that the new version is available and can be updated from Google Play Store. Not a big deal, though.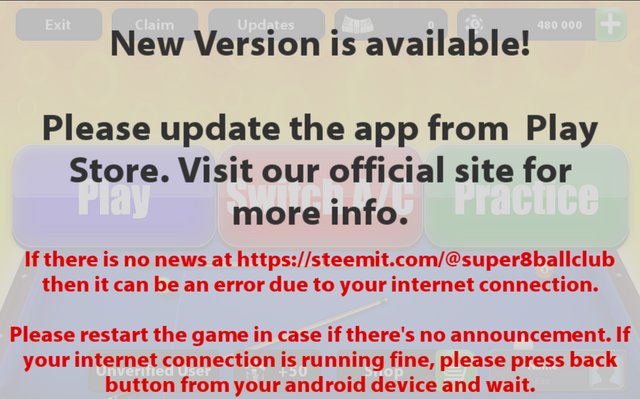 Admin control over the game status:
In the previous versions, there was no option for admin to temporarily pause the overall game for all users. There can be many occasions when an admin may want to pause the game like when the bugs are detected or when the service is unavailable. We can now remotely update the overall game status and also convey the custom message from our side on status change.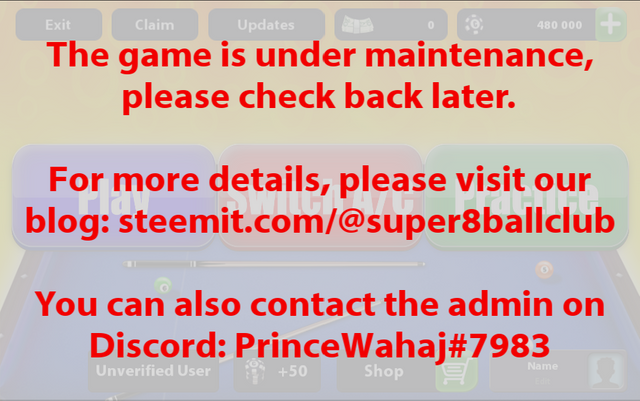 Information regarding the old version:
The old version will show a message to all players that new version is available. Please don't try to use any fraudulent method to get that version working once again or if you're caught doing it, we have the rights to ban you for life immediately. You've been warned!
Update the app from Google Play Store:
If you're seeing "New version is available" message, please go to Google Play Store and update your application to the new version 1.0.5. Hope you'll enjoy the new features.
At last, thank you for playing and supporting the project Super 8 Ball Club. Refer as many people as you can, and earn 1,000+ in-game coins for each verified referral. Refer 100 people and earn 100,000 coins which will let you play big matches (i.e higher rewards). More promotions are coming soon. Stay tuned!
Want to see your fellow steemians in action? Come join the club today. Download Super8BallClub from Play Store. Win the matches to earn STEEM/SP and lose nothing when otherwise. Powered by STEEM Blockchain. For more information, please read our announcement.