Please Welcome 1,000 Players - Delegate 25 SP To Get Verified - Post On Steemit To Earn Millions Of Coins - Super 8 Ball Club - The Multiplayer Pool Game - Powered By STEEM Blockchain
Dear STEEM community,
I'm very happy to announce that Super 8 Ball Club has reached nearly 1,000 players mark in less than two months with little to no marketing, and we're just getting started with the promotions. The thing worth noting is that we've done nearly zero marketing and yet the number of verified players are growing every day. Actually, you can expect many awesome things since we are targeting 100 Million Pool Gamers community with Super 8 Ball Club Android Game that's available on Google Play Store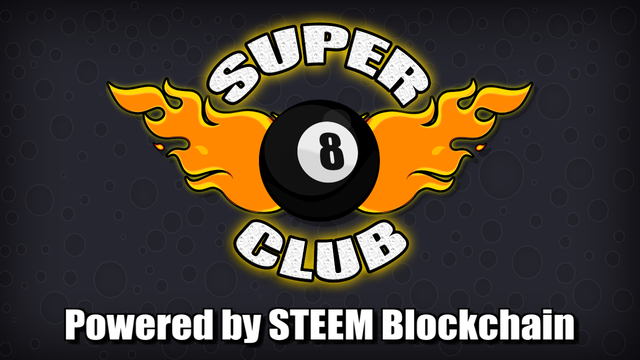 Super8BallClub's Official Website | Google Play Store
In case if any of you missed the announcement post, here's an important snippet:
What is Super 8 Ball Club?

Super 8 Ball Club is an android game that I developed in c# and javascript with my friend. It is the first ever multiplayer-based pool game which allows you to earn STEEM for winning the matches and costs you nothing when you get beaten by your opponent. You know what's the great part? All the players will be Steemians playing with each other in multiplayer mode.
In the last growth update, we posted the graphical data for people to see that we reached 500 members at that time. But this time, I believe that PlayFab Dashboard information will suffice as a graphical proof that we have 921 Players to be exact as of now. PlayFab is the database that we use for storing gaming related data and when you join us, you make a separate gaming account (which is made on our PlayFab database). If you want more detailed statistics, please don't hesitate to ask.

Delegation Request:
Please consider delegating to @super8ballclub. Through our Profit Sharing Program, We deliver nearly the same profit as bidbots. We give all the Author SP rewards to the delegators and we don't use any kind of lottery system. You get all the Author SP rewards based on your delegation. It is worth noting that Super8BallClub is the only project that gives all the Author SP rewards which are huge, no other project (except bidbots) give you such returns. By delegating to Super8BallClub, you get nearly the same return as bidbots (or more than bidbots, read the details here).
A lot of users felt discouraged during the market crash and many players stopped playing because of the decreased rewards. Thanks to @tombstone for his generous delegation of 25,000 SP that we are able to reward players, but since the number of players is growing, we need more delegation. We currently have 33,060 delegated SP which make us spit 8 to 9 SBD which gets divided among all the winners. It's nothing as compared to the activity. It's our request to all the whales to support this project. Look at the bigger picture and understand the scope. Help us reaching millions of audience as our target is big and achievable.
Delegate 25 SP To Get Verified - New Verification System:
Before this system, we had two options for verifying game accounts:
Post on steemit using #super8ballclub tag and write your game tracking name if your rep is => 60.
If your rep is less than 60, you are required to post a selfie while holding a piece of paper on which your steem username and game tracking name must be clearly visible.
These verification systems are designed to prevent/reduce any kind of fraud like multiple accounts etc. We've received many requests from users to give an easy option to get verified. We understand that not everyone feels comfortable when showing his face. Therefore, we are introducing a new verification system. Now you can delegate 25 SP to @super8ballclub and post on steemit using #super8ballclub where you should write your game tracking name.
If you are new and don't know how it works, here's a short intro:
We give you the ability to make separate game accounts using PlayFab database. It ensures 100% security to your steemit accounts. Your safety is our priority.
In order to create a game account, you need to download and install Super 8 Ball Club from Google Play Store. The game is only available for Android at the moment.
After installing the game, follow the steps below.
Step 1: Open the game. You'll see the Login page. Please click on "Register here" button as shown below: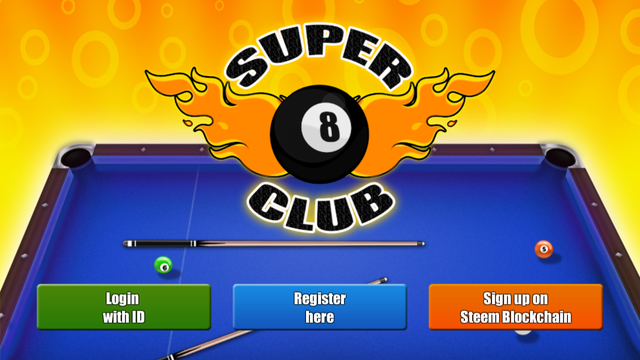 Step 2: Registration panel will pop up. Write the information correctly: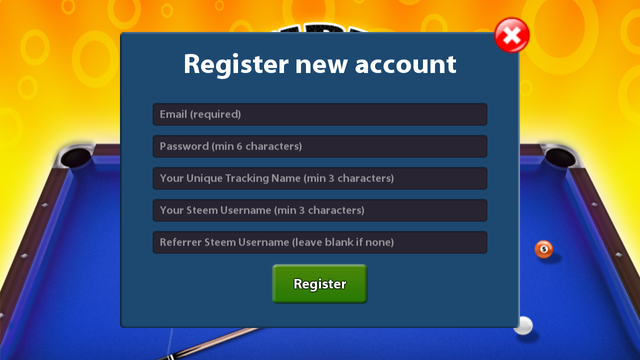 Enter your email address that will be used to recover the password of your game account when you ever forget it. We don't send confirmation emails so please write carefully.

Enter your password (min 6 characters). Please use the strong password only. (Note: Don't paste your STEEM account passwords, we don't need your STEEM password. This is a game account which is separate from STEEM blockchain account).

Please enter your unique tracking name. You will be asked to write your tracking name during the verification process. More information about verification process is available within this post.

Please enter your STEEM username without "@". (i.e princewahaj in my case).

If you're referred by someone, please write his STEEM username without "@". Leave blank if none.

Hit "Register" button.
Step 3: You will be redirected to the Menu. As you can see, the Play button is disabled by default and it says that you are an "Unverified User". You need to verify your Super 8 Ball Club account.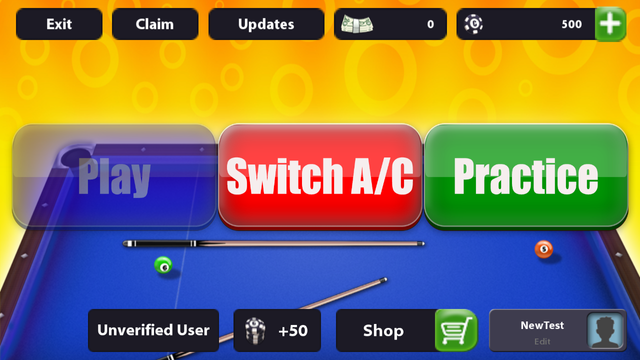 ---
Now you'll have to verify your account and for that, you have the following options to choose from:
Delegate 25 SP to @super8ballclub and post using #super8ballclub tag. Your post should contain your game tracking name so that we could identify which account belongs to you.

If your reputation is equal to or greater than 60, you won't have to delegate for verification. Use #super8ballclub tag when posting on steemit and include your game tracking name in the post.

If your reputation is less than 60 and you don't want to delegate to get verified, please take your selfie while holding a piece of paper on which your steemit username and game tracking name must be clearly visible and make a post using #super8ballclub.
Delegate 25 SP for verification using SteemConnect now.
Post Using #super8ballclub Tag & Earn Millions Of In-Game Coins:
I am excited to announce a new promotional offer for gamers and it's time to make a statement that we exist for real. Now you can earn in-game coins to play big tables and earn the high number of shares to win more SBD. Write any quality post related to super8ballclub or video or live stream using #super8ballclub tag and earn unlimited coins.
Rewards:
For every $1 your post generates, you will get 100 coins. If your post generates $100, you will get 10,000 coins. If your post generates $200, you will get 20,000 coins. In short, there's no minimum value. If your post generates $0.10, you will get 10 coins and so on.
However, if you manage to get your post in Top 10 of the trending page, you will not only receive 100 coins per $1 generated value but will also get 100,000 coins as a bonus. There are no hard rules, you can use any technique such as bidbots or trails. (For example, you managed to get the post on trending page and the final value of the post is $300, you will get 30,000 coins + 100,000 coins as a bonus for being in Top 10 of the trending page). That's a win-win situation.
Note: We have referral system as well. You will get 1,000 coins for referring each verified gamer, and the person using your name will get 250 extra coins. All you need to give your friends your steemit username to put in the referral field during the registration.
If you don't know what are coins and shares, then let me explain in short. A coin is an in-game currency at Super 8 Ball Club which is used to bet on tables, buy cues or buy chats from our in-game shop. Coins can only be earned and never be purchased since we don't allow gambling. Shares, on the other hand, are convertible to SBD and they can only be earned and never be lost. When you win the match against someone, you earn shares based on the table you played. Big tables offer more shares than small tables. When you win, you earn shares but when you lose, you only lose the coins but not the shares. In short, you can only win the shares and can never lose it. For more information, read our FAQ post here.
Here are the cues that you can purchase with Coins: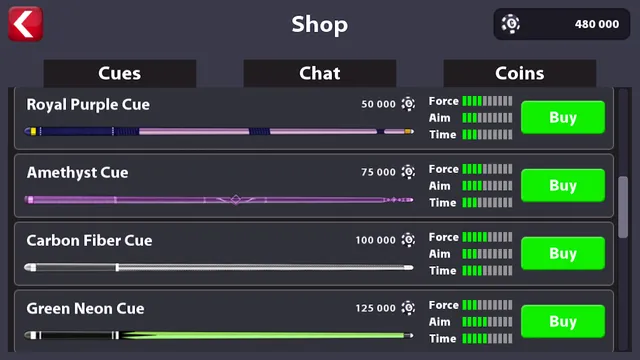 And the chat packs that can be bought with Coins: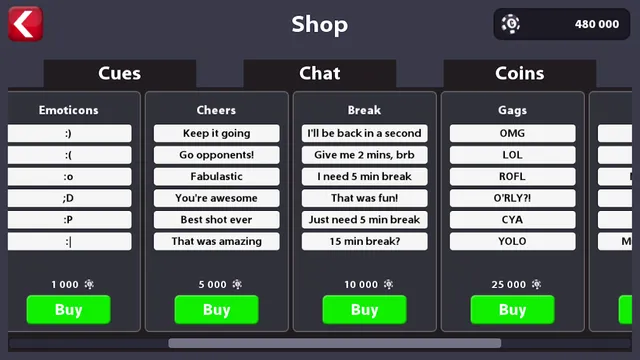 The tables that you can enjoy with a large number of Coins: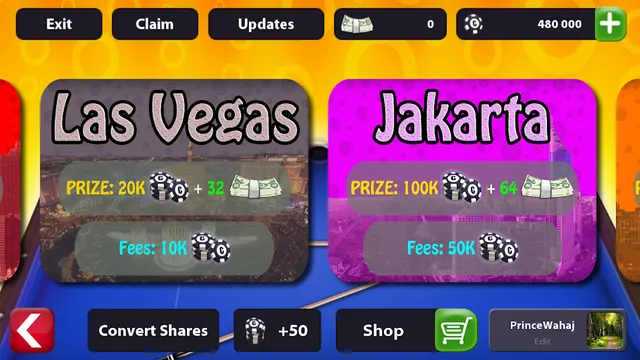 We have London, Sydney, Moscow, Tokyo, Las Vegas, Jakarta, Toronto, and Sheffield. The last one is the most challenging board but the most rewarding one too.
And the screenshot of Las Vegas table: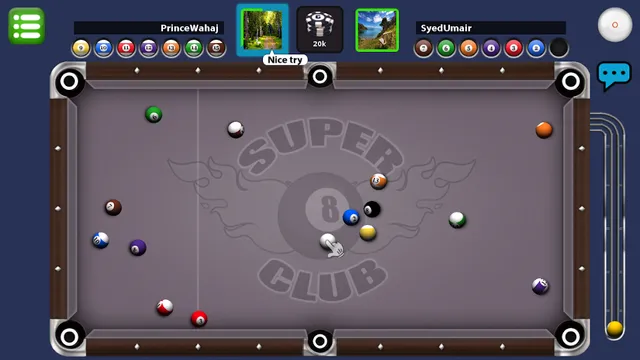 You can delegate to us by using the links below.

500 SP, 1000 SP, 5000 SP, 25000 SP, 100000 SP.
Be sure to leave at least 50SP undelegated on your account.
However, if you want to delegate more, please edit "25000" to the amount of SP you want to delegate without any special character (i.e 500000 for 500K SP) from this link:
https://v2.steemconnect.com/sign/delegateVestingShares?delegator=&delegatee=super8ballclub&vesting_shares=25000%20SP
Please consider delegating to @super8ballclub and help us attracting millions of users from the gaming community. Don't forget that the success of this project would be a success of STEEM blockchain overall. I'm sure that we'll be able to push the value of STEEM upwards through such projects which would be a huge victory for us. Look at the bigger picture and support us. At last, thank you very much for delegating, supporting and taking interest in Super8BallClub. Looking forward to having you as one of the active gamers in our game.