The Explosive Growth of Super 8 Ball Club - A Call For Delegation - Frequently Asked Questions (FAQs)
Dear STEEM community,
It's been 2 weeks since the last announcement and guess what? a lot of things happened during that period. Do you know? We are continuously breaking records at Super8BallClub. We are growing not only in terms of members but also in terms of activity. Now we have nearly 500 members registered at Super8BallClub. That's a huge success for the project which had little to no promotions, considering that I only made two posts on trending but members kept coming even after those posts got buried. Scroll down for graphical details.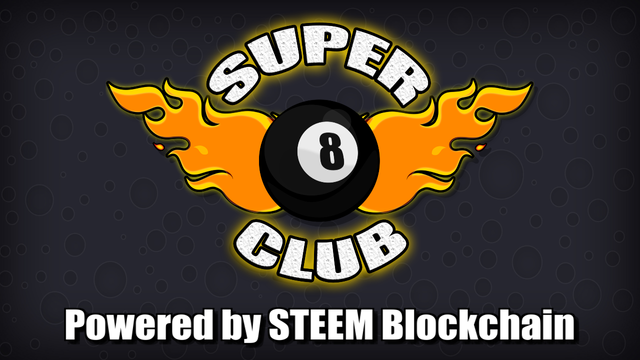 Super8BallClub's Official Website
Google Play Store
First of all, I'd like to thank our biggest delegator @donkeypong for generously delegating 5,000 SP to @super8ballclub which directly increased the reward pool. Not only that, he's been voting on the reward comments to increase it even more and I'd thank him again for that. The second delegation is received from @syedumair where he declined all the delegation rewards to support the project. Thank you @syedumair for supporting the project selflessly.
And last but not least, I'd like to thank our second biggest delegator of all time (till now) @lukestokes for delegating 2,000 SP to @super8ballclub. The great part is that he delegated prior to the announcement of delegator rewards system (without even knowing that there would be any reward for doing so). His delegation arrived when we were in need of delegation to kick the things up. Right now, we have the total of 8,000 SP delegation (including my delegation).
Introduction to Super8BallClub - Profit Sharing Program & Referral Program.
The Explosive Growth Of The Project & Reaching 500 Members In Only 3 Weeks!
If you've been reading the posts created under super8ballclub tag, you'd be amazed that the project successfully managed to gain the popularity among some inactive accounts while some of them started to use their accounts just because of the opportunity of Super8BallClub. We have got a lot of reputable members in our game and thus reaching nearly 500 members in only 3 weeks. (493 members to be exact till now).
Here's a graphical view for you:

The above data is extracted from the official report of PlayFab. If you'd like to see a detailed report, here it is:


Not only we broke that barrier, On Thursday, we received the request of 3252+ shares conversion to SBD in total. Guess what? We managed to attract the Steemians and our Discord group (mainly gamers-chat) is always active and searching for opponents to play. Let's not forget that we only made two announcement posts and pushed it to the trending page with the help of bidbots and successfully managed to grab the attention of members consistently.
Delegation Request To Everyone:
With that massive increase in the activity, the current delegation is not enough to reward the time of gamers. It is the first ever gaming project on STEEM blockchain which is targeting more than 100 million gamers. How do we know? This game is developed to give tough time to 8 Ball Club of Miniclip which successfully attracted more than 100,000,000 downloads from Google Play Store (let alone the fact that there are many sites where that game is available to download). Would you not like to welcome 100 million gamers on Steem Blockchain? If so, how can you let this project die that way? Don't forget the impact of CryptoKitty on Ethereum Blockchain, and well, don't forget the current success of Super8BallClub.
At Super8BallClub, we offer all the SP rewards of the author to the delegators. If you curate the content through the STEEM official system, you get 25% of the post and that too after competing with other votes. But with Super8BallClub, you'll get 37.5% profit of the post (since 37.5% of author reward comes in SP). That's roughly 12.5% more than STEEM official curation system. Oh, let's not forget that this is just a "minimum" of what you'd get. If our posts manage to attract votes from other voters, your rewards will increase too, and there's no max limit.
But considering the daily activity and increasing members, 8,000 SP is allowing us to distribute only tiny amounts to the winners. Since the project Super8BallClub gives everyone a fair chance to win and earn, the rewards are no longer reasonable for the time being spent. At this point, I am requesting all the delegators to delegate good amount of SP to @super8ballclub. Delegators receive all the author's SP rewards which mean 37.5%. That's more than what other projects may be offering.
We are not bullying the official curation system, it's good enough. Rather, we're offering a better opportunity on the same blockchain in good faith. The profits you'd receive with this project is far more than any other projects. There may be a lot of things unclear in your mind. That's why we planned to write FAQs part for our project in this post. Please read the FAQs below.
Frequently Asked Questions - FAQs:
What is Super 8 Ball Club?
Super 8 Ball Club is an android game where you can play with your fellow Steemians through multiplayer and earn SBD by winning the matches against real opponents. The great part is that you don't lose anything when you get beaten by your opponent but you earn shares when you successfully beat your opponents. The game uses two in-game currencies: Coins and Shares.
What are Coins in the game?
A coin is an in-game currency which can be earned by referring your friend, claiming the rewards from our daily rewards system for free, watching ads and beating your opponents. Coins are used to pay the board fees just like any other game but they are not convertible to SBD. When you choose the board, you pay the board fees in Coins and when beating the opponent, you get x2 of what you paid. But in case you lose, you only lose the coins which can be earned again using above-mentioned ways. Currently, there's no way to buy coins with money since we don't allow gambling.
What are Shares in the game?
Share is an in-game currency which can only be earned and never be lost. When you win the matches, you not only earn 2X of fees paid in Coins but you also get shares, and once you earn those shares, they can never be lost, they will never be at stake when playing the match. The shares reward for each board is different and is clearly written in the board's selection menu. Shares are convertible to SBD.
Who is trading Shares for SBD and where the reward comes from?
Coins and Shares, both are virtual in-game currencies. We use "Shares system" to track how much you've earned and in order to give you the ability to request your payout whenever you want, we had to use shares system. That way, you can accumulate as many shares as you want and request the payout weekly/bi-weekly/monthly or whenever you like.
When you send us the request of converting shares, we manually verify the gaming activity for possible exploits/pirated version/fake identity or any other abuse. If there's no such abuse, we include your name in the "Winners Announcement" list and make a public post on STEEM blockchain with @super8ballclub account. After that, we make a separate post for "Payout" and post 10 comments through @super8ballclub on that Payout thread on which we mention "Distribution of rewards to the winners. Voting round 1-10" and upvote all those comments through @super8ballclub. The SBD reward of these 10 comments is the reward pool of that particular day, and we do it every day.
In short, the reward still comes from voting activity. No one directly trades shares for SBD or SBD for shares. They just request the conversion to get their names included in our winners' vote list and get the share of their prize from our reward pool.
What is the value of 1 Share?
We use the following formula to calculate your rewards percentage from our total reward pool:
Your requested shares / Total number of shares requested by all players * 100 = Your rewards percentage
Our total reward pool is: SBD rewards of 10 comments below by @super8ballclub on which "Distribution of rewards to the winners" is mentioned. Whatever the rewards those comments generate in SBD, it will be included in the reward pool for that day.
Your receivable rewards = Your rewards percentage * total reward pool
Example: If comments generate $100, share requesters will get 37.5% since it is the rule on the blockchain. (37.5% comes in SBD, 37.5% comes in SP and 25% goes to curators). So that means from 100$, 37.5 SBD is in the reward pool. Let's assume that all people want 900 shares and you request 100, that's 1000 shares in total. So, with the formula above, we calculate like this: 100(your shares) / 1000 (all shares) * 100 = 10% (your pool percentage) That means if your 10% is multiplied by 37.5 SBD you get 3.75 SBD. and that's how you calculate your reward
Do we really play with fellow Steemians?
Actually, that's what makes this project completely unique on STEEM blockchain. You play with your fellow steemians and not only that, you can chat while playing in the same room. It would be a lot more fun to chat while playing the game. We also support "Rematch" feature. That means you can play as much as you want with anyone (if your opponent accepts your rematch request).
In general, things are operated in a similar fashion as 8 Ball Pool of Miniclip but there's a huge difference between 8 Ball Pool and Super 8 Ball Club. You get nothing when playing 8 Ball Pool but you get SBD when playing Super 8 Ball Club.
Is Super 8 Ball Club powered by STEEM blockchain?
Yes, the game is only accessible by steemians. You cannot play the game if you don't have an account on STEEM blockchain. Also, the reward comes from voting activity and winning details are posted on STEEM blockchain from the official @super8ballclub account. Therefore, it is powered by STEEM blockchain.
How secure is my STEEM account with it?
Here's the best part, we never ask your STEEM account passwords and thus offer 100% security for your STEEM accounts. We give you the ability to create game accounts on our database.
Do you have any running promotions to get more coins?
Yes, we're running referral program where you can get 1,000+ coins for referring each verified user to the game. Your referral will get 250+ coins for using your name as a referrer. In the near future, we're going to announce some exciting promotions. Stay tuned!
Is the game available for iPhone users?
Unfortunately, not at the moment, but that's our main priority. We'll be launching the iOS version soon. Stay tuned!
Can I play the game on PC?
Though we don't give any kind of official guarantee of the performance, you can install Bluestacks or Nox Player (android emulators) and play the game using any of them. Some active players are already using Bluestacks and Nox without any kind of issues.
How to get started?
Please follow the steps:
Download the application from Google Play Store (or search Super 8 Ball Club in play store).
Make sure you have an account on STEEM blockchain. If not, please make one.
Open the game and fill the registration form. Remember that your tracking name will be used for verification purpose. The registration form is already explained there. Please don't put your STEEM account password. This is a separate account and we never ask your STEEM account passwords.
Verify your game account.
To learn more, please read this post.
How to verify the game account?
If your STEEM account reputation is less than < 60
Please take your picture while holding the piece of paper/board (not anything special, just a blank paper). Write your STEEM username and game tracking name on that piece of paper or board. Your face, STEEM username and your game tracking name must be clearly visible. Write a post on STEEM blockchain and upload your taken picture (the one which meets the above requirements) in your post. Make sure to use "super8ballclub" tag when posting on steemit.
See the picture for an example. (It can be a piece of paper but you must be holding it in your hands).

If your STEEM account reputation is more than > 60
Please write a post on STEEM blockchain with your game tracking name. Make sure to use "super8ballclub" tag when posting on steemit.
However, if you don't want to show your face on STEEM blockchain, you can send that picture privately to me on Discord. Please join this server and find me from there: https://discord.gg/ykYtj9G
Once done, please wait for 24-72 hours and we will enable your account as soon as we verify your identity.
The verification process is hard, why is it necessary?
Unfortunately, there's no better way to prevent multiple accounts abuse than asking for a selfie. If we'd allow multiple accounts, there would be a lot of abuse in the game and we don't want to let that happen. We are here to stay for long and it's best to protect the project from the beginning. Some people suggested to use same IP detection system but unfortunately, it limits those people who use public wifi or shared internet connections. Selfie while holding the nameplate is the only reasonable solution, so far. If you have any suggestions, feel free to write them in the comments (or write in our discord suggestion channel).
How do I refer people?
Simple. Just ask them to write your steem username in the registration form of the game and both of you will get what you're supposed to get. Please note that referral rewards are only available for verified users. If you refer someone while you're unverified, you won't get anything. If you refer someone who is unverified, he won't get anything.
I want to delegate to @super8ballclub. Is there any reward for delegators?
Yes, we offer all the SP rewards of the author which means we offer the minimum of 37.5% profit of the value of our official comments proportional to your delegated SP. The comments can attract votes from other users which will undoubtedly increase your rewards, therefore, unlimited rewards potential. We don't use random selection systems nor we use the lottery-based system. We offer equal rewards for their SP to the delegators and as soon as you delegate to us, you're guaranteed to receive rewards.
We use the following formula to calculate your delegation rewards:
Your delegated SP/Total delegated SP * Author SP rewards = Your profit (from minimum 37.5% to unlimited)
Note: The minimum delegation to earn profits using our profit sharing program is 500 SP.
How do I receive delegation rewards?
Unfortunately, there's no direct and feasible way to deliver the rewards to delegators on the spot. The beneficiary system is limited and we can only add 8 beneficiaries. That's not scalable at all, considering the possibility that (hopefully) there will be many delegators.
To distribute the rewards to delegators, we'll power down every week and transfer your earned profits accordingly. Using power-down, we'll be able to unlock 1/13th of your profits every week. To get the most out of power down operation, we'll start a new power-down every week so that we could start transferring the latest earnings of delegators too. It will take 13 weeks for us to completely deliver your profits but we'll be transferring 1/13th of your profits every week from our @super8ballclub to your wallet.
When will I start receiving the delegation rewards?
As soon as you delegates to @super8ballclub, your rewards accumulation starts right away. However, you'll receive your first reward after 14-17 days from us. That's because we power down the amounts after the post pays out. The official time window of posts payout is 7 days, and the official time window of power down is also 7 days. Therefore, it takes some time to start receiving the rewards but you start accumulating them right away and you'll receive them with time.
You can delegate to us by using the links below.

500 SP, 1000 SP, 5000 SP, 25000 SP, 100000 SP.
Be sure to leave at least 50SP undelegated on your account.
However, if you want to delegate more, please edit "25000" to the amount of SP you want to delegate without any special character (i.e 500000 for 500K SP) from this link:
https://v2.steemconnect.com/sign/delegateVestingShares?delegator=&delegatee=super8ballclub&vesting_shares=25000%20SP
Please consider delegating to @super8ballclub and help us attracting millions of users from the gaming community. Don't forget that the success of this project would be a success of STEEM blockchain overall. I'm sure that we'll be able to push the value of STEEM upwards through such projects which would be a huge victory for us. Look at the bigger picture and support us. At last, thank you very much for delegating, supporting and taking interest in Super8BallClub. Looking forward to having you as one of the active gamers in our game.