Super8BallClub - The Most Profitable For Delegators On The Entire STEEM Blockchain - Comparison with Utopian, Steemhunt and DTube - A Call For Delegation!
Did you know that Super 8 Ball Club is the most profitable and the only project on the entire STEEM blockchain that gives massive profit to the delegators? Ever compared the profits of Super 8 Ball Club with all other projects on the STEEM blockchain? At this very moment, let me make it clear that I am referring to the applications built on STEEM blockchain, so please exclude the voting bots from your projects list.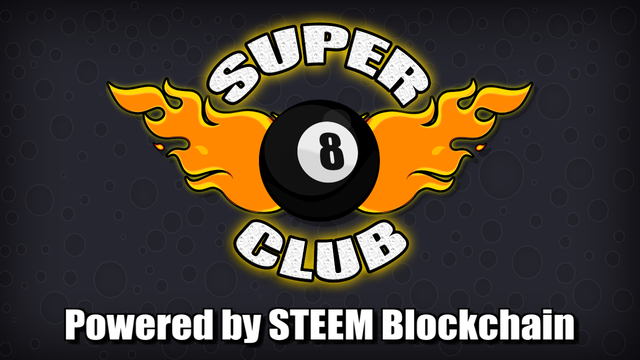 Super8BallClub's Official Website | Google Play Store
At first, a little introduction snippet of our project from our main post in case you don't know about us:
What is Super 8 Ball Club?

Super 8 Ball Club is an android game that I developed in c# and javascript with my friend. It is the first ever multiplayer-based pool game which allows you to earn STEEM for winning the matches and costs you nothing when you get beaten by your opponent. You know what's the great part? All the players will be Steemians playing with each other in multiplayer mode.
The game is multiplayer-based and can only be played against steemians. The game has an in-game shop and some of the gamers rated it as the most addictive game. There are literally 800 to 1,200+ games being played every day. If you're not the part of our club, read how to register and verify from this post.
The most important purpose of the game is to attract millions of gamers to the STEEM blockchain. Do you know that we are targeting 100 Million Gamers? Our game is similar to 8 Ball Pool of Miniclip which has more than 100 Million Downloads from the Google Play Store only and what's more? At Super 8 Ball Club, not only we are successful in attracting some gamers from that audience so far, we give everyone an opportunity to earn STEEM and SBD for their winnings. That's the most important part and that's how we could achieve MORE THAN 100 million downloads, but that's only possible with your support.
Since the project is built on STEEM Blockchain, we fund our game's reward pool through the votes. In order to make our vote valuable, we obviously need delegation. Thanks to @tombstone @donkeypong and @lukestokes for being the Top 3 delegators so far that contributed in 33,500 SP delegation. But those delegations came when the user-base of the game was small and there were little gamers, the delegations arrived when the STEEM price was stable. But now as the growth is exploded and we have around 1,000 gamers, the delegation of 33,500 SP is not enough to reward the time of gamers.
Back to our original topic, you may not have enough time to compare the profits of Super 8 Ball Club with other projects by yourself, and believe it, when I said that this is the most profitable and the only project that gives massive profit, I only did after a lot of research and proper calculations. Super 8 Ball Club gives around 300% more profits than other major projects such as @utopian-io, @steemhunt etc. Don't believe me, just believe in the numbers and feel free to calculate yourself.
Before moving to the comparison part, let us make it clear that we are not trying to make those projects look useless or talk crap, not at all. These projects have helped the STEEM Blockchain so much with their innovative ideas and we admire them for what they've done. This post is only an attempt to prove that Super 8 Ball Club has the most profitable Profit Sharing Program than any other project on the chain. If you're one of those project's owner, don't feel offended or something like that, there is no such agenda or intention.
Comparison Of Profits For Delegators:
We'll compare the delegation profits of @super8ballclub with @utopian-io, @steemhunt, and @dtube. It's pretty much obvious that all other projects offer fewer profits than the above three projects but we stand on the 1st rank in terms of being most profitable.
Super 8 Ball Club VS Utopian:
It's essential to pick one delegator from both projects and for the sake of simplicity, we are choosing @freedom from @utopian-io and @tombstone from @super8ballclub for comparison of delegation profits. First of all, let's find out how much they delegated:
Username
Utopian
Super 8 Ball Club
@freedom
1,230,000 SP Delegated
@tombstone
-
25,057 SP Delegated
Looking at the @utopian.wallet history (account from where @utopian-io sends sponsor rewards, it's pretty clear that they transferred 500 STEEM to @freedom yesterday for his delegation.
At Super 8 Ball Club, the profits delivery mechanism is a bit different than all other projects and takes some time but the accumulated profits that are to be sent are fixed. Last week, @tombstone earned around 42 STEEM for his delegation. Let's compare the last week's delegation profit through the table.
| Username | Utopian | Super 8 Ball Club | Profit |
| --- | --- | --- | --- |
| @freedom | 1,230,000 SP | - | 500 STEEM |
| @tombstone | - | 25,055 SP | 43 STEEM |
It's time to find out how much profit each delegated SP gives. In order to find it out, we can divide the last week's profit with the delegated SP and the profit of 1 SP will come out for both projects.
1 SP profit = Last week's profit/Delegated SP
The following table compares 1 SP Profit from both projects and the difference column shows the % comparison.
| Username | Utopian (1 SP) | S8BC (1 SP Profit) | % Difference |
| --- | --- | --- | --- |
| @freedom | 0.0004 SP | - | -300% (DOWN) |
| @tombstone | - | 0.0016 SP | +300% (UP) |
The above table shows that Super 8 Ball Club gives 300% more profits than Utopian since @freedom received 500 STEEM for 1,230,000 SP delegation in Utopian and @tombstone accumulated 42 STEEM for 25,057 SP delegation in Super 8 Ball Club. (For example: If @freedom would have delegated 1,230,000 SP to @super8ballclub, he would have accumulated 2,000 STEEM last week).
Super 8 Ball Club VS Steemhunt:
The same mechanism as above, we need to pick one delegator from both projects. Luckily, there is @tombstone in both projects as a delegator and he delegated almost the same SP to both projects. Looks simpler to choose him for delegation profits comparison. Let's compare the last week's delegation profit through the table.
Source of SteemHunt data: Sponsor Report 9
| Username | SteemHunt | Super 8 Ball Club | Profit |
| --- | --- | --- | --- |
| @tombstone | 25,053 SP | - | 12.55 STEEM |
| @tombstone | - | 25,055 SP | 43 STEEM |
It's unnecessary to find out the profit of 1 SP here as the delegated SP is almost the same. But if you want, let's do that:
| Username | SteemHunt (1 SP) | S8BC (1 SP Profit) | % Difference |
| --- | --- | --- | --- |
| @tombstone | 0.00047 SP | - | -240% (DOWN) |
| @tombstone | - | 0.0016 SP | +240% (UP) |
The above table shows that Super 8 Ball Club gives 240% more profits than SteemHunt since @tombstone received 12 STEEM for 25,053 SP delegation in SteemHunt and he accumulated 42 STEEM for 25,057 SP delegation in Super 8 Ball Club. That's 240% more than what he received from SteemHunt.
Super 8 Ball Club VS DTube:
As far as we know, DTube doesn't have any specific profit sharing program, they follow the curation rewards mechanism but manipulated the way the profit is delivered. They deliver the curation reward in STEEM rather than SP. So by default, it doesn't make sense to compare the profits of Super 8 Ball Club with DTube as the profits are obviously low.
Super 8 Ball Club gives out all of the Author SP Rewards to the delegators which are 37.5% of the value of post whereas DTube follows the curation mechanism from where a person can get more than 25% of the value of post but that too with the voting competition whereas we don't have to care about voting competition at Super 8 Ball Club.
But let's do a simple math from @tombstone voting history. He voted with 7% voting weight on this post. Based on the current power, 7% translates to around $3.23 in value. Looking at the wallet history of @tombstone, he received 0.534 STEEM. The current price of STEEM is $1.62, so 0.534 STEEM means $0.865 in value. It means he got 27% of the post value. The profit would be 38% higher with Super 8 Ball Club since we give out 37.5% of the value of the post.
The final output is that Super 8 Ball Club is 38% more profitable than DTube. Let's not forget that the profits from DTube depend on the curation timing and other complex things. Since the STEEM was pretty low last week (at around $1.25) and the STEEM reward pool calculated the reward of that post based on the average price feed, it gave more STEEM/SP in curation which resulted in higher profits based on the current value of STEEM.
Final Results:
Super 8 Ball Club is 300% more profitable than Utopian, and 250% more profitable than SteemHunt and 38% more profitable than DTube. The results are obtained by calculating the last week's sponsor rewards, and the source of data is mentioned everywhere. There could be a small error in the calculation for rounding things since all those calculations are done manually, but consider it 99% accurate.
Delegate to @super8ballclub and Get The Most For Your Delegated SP:
Please consider delegating to @super8ballclub so that we could reach more users and could work actively on the further development of this project. You know gaming is huge for any blockchain, and if it's on STEEM, it's more beneficial. There are more than 100 million potential users out there, waiting for your support on this project.
You can delegate to us by using the links below.

500 SP, 1000 SP, 5000 SP, 25000 SP, 100000 SP.
Be sure to leave at least 50SP undelegated on your account.
However, if you want to delegate more, please edit "25000" to the amount of SP you want to delegate without any special character (i.e 500000 for 500K SP) from this link:
https://v2.steemconnect.com/sign/delegateVestingShares?delegator=&delegatee=super8ballclub&vesting_shares=25000%20SP
No, we don't want you to un-delegate from those other projects, actually, we would encourage you to delegate even more to them if you like, since we all are trying to help STEEM Ecosystem to grow, without any exception. We just request your delegation to our project and try us out, since it's the most profitable and targeting 100 million potential users. There is a lot of idle SP in whale's accounts. Won't you like to accumulate more profits? Then there seems no point to keep the funds idle. Delegate it to @super8ballclub.
This is an important request and delegation is what decides our future. You won't like to see the project as dead which is targeting 100 million users and that too with an awesome multiplayer game, would you? If you have something to suggest, please don't hesitate. We'll do our part of cooperation and similarly, we request your cooperation.
Profit Delivery System:
As you know that we give all the Author SP rewards of the post to the delegators, it's pretty clear that rewards come in SP. We then power-down those SP and deliver 1/13th of the profits every week. For example, @tombstone last week's transaction was 18 STEEM, that's after summing up all the previous week's share + last week's share.
For the last week, his per-transaction profit was 3.33 STEEM, and to find an actual value of how much he accumulated last week, multiply 3.33 STEEM with 13 = 43.27 STEEM profit in the last week. But due to the power-down process, only 3.33 STEEM is delivered to him yet (out of 43.27). It takes 13 weeks for us to deliver the last cent of your profits and we do with complete honesty and punctuality. For more information about our profits delivery system and profit sharing program, please read this post.
Note: All the usernames are mentioned just for the sake of profits calculation, for giving simple examples.
Thank you for spending your precious time reading this post. We are looking forward to having your delegation. Let's work for the betterment of STEEM Ecosystem together since our vision is the same as you. The success of all of these projects would be the success of STEEM blockchain and that would be a success for all investors as STEEM will explode and reach the moon.