Tasteem Global is Officially Launched!
Tasteem is a curating platform for the best restaurants you've experienced, through our weekly Contests with new themes. We set Contest themes, such as 'A place to visit on a Wedding Anniversary', 'A great night out for a drink', and Tasteemers enter our Contest by writing their own guide to places that match our themes. Contestants with the most upvotes will be in the top ranks of each Contest. The most popular review will win the Contest and the biggest prize.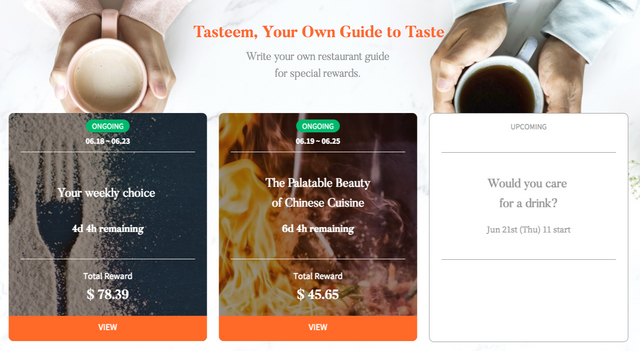 We really look forward to all the great guides from our Contests.
But we want to pose a question here. Why should you write for Tasteem rather than the other numerous restaurant review services on platforms including Facebook or Yelp?
It's because Tasteem is a new platform for restaurant reviews that differs from any other. Here's what we envision for Tasteem's future.
Credible Reviews
At Tasteem, you can see the whole of a poster's guide to restaurants, as well as his/her history of votes and stars. An abuser of the system will be instantly exposed. While other restaurant platforms suffer from fake reviews and manipulated stars, Tasteem guides are transparent.

Rewards offered
At Tasteem, we reward users who write their guides, and promise large rewards for the most popular ones. This motivates Tasteemers to write good posts, which in turn will draw more readers. More users will contribute to the value of Steem, and this means a larger reward for the same posts. Tasteem creates a virtuous cycle through its reward system.

The users' curation
While other restaurant guide platforms have selected everything from themes to listings, Tasteem suggests themes, leaving the users to write their guides. Tasteemers get to curate the best restaurant reviews. Through a new feature to be added in the future, they will be able to suggest Contest themes.
Would you like to enter a Tasteem Contest now?
How to Enter a Contest
Go to https://tasteem.io/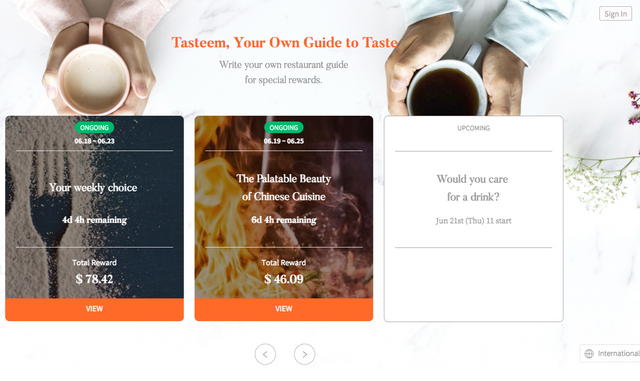 Choose a Contest theme, then log in through steemconnect.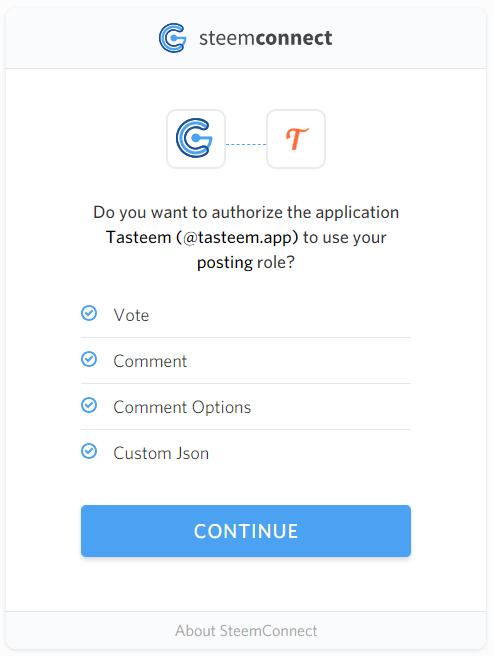 Let's say you want to enter the Contest for the < Cheap and Fabulous > category.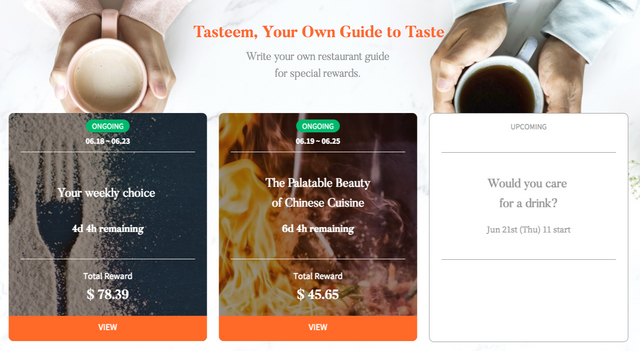 Click 'view' to see the description and current rankings of reviews/guides for that Contest. If you're unsure how to write your Tasteem post, check out some of the top reviews in the ongoing Contest. It's also a good idea to write just as you would on Steemit; no need to be extra tense!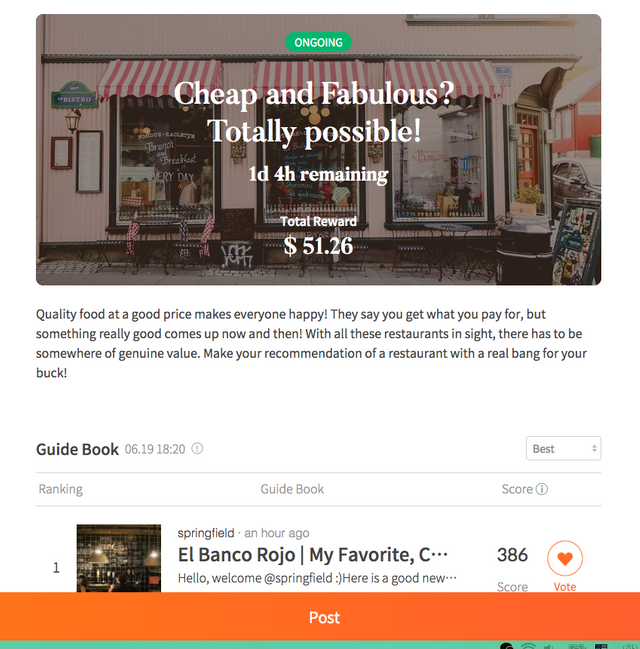 Now here's what shows up when you click 'Post'. After you follow through the steps, you'll have become an expert Tasteemer!

Upvotes by bots are excluded from the total score.
English is the main language to be used, but other languages may also be used in conjunction with English.
For any more questions you might have, check What's Tasteem!
---
Now it's really time to enter a Tasteem Contest.
We hope you'll win!