TavernGames releases 2nd Gamemode !
If you haven't heard of TavernGames before then check them out Here
TavernGames is a website that offers Gambling games on the steem blockchain.
Theyr first gamemode was "Gobling Prince" and now they released the
The Blind Rune Gamemode.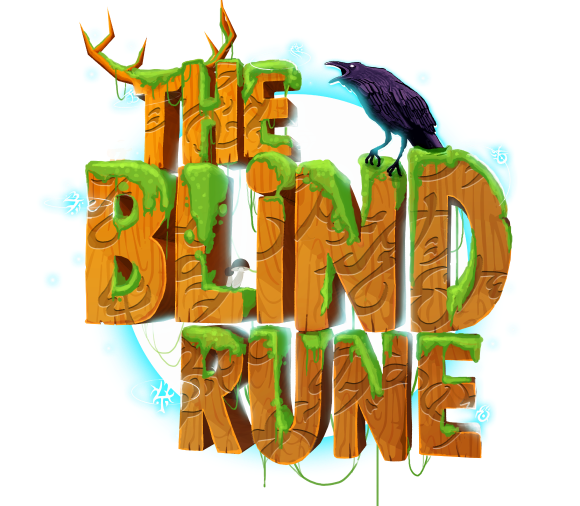 Let's check this game out
When you open up the game you are faced by a wizard that offers you different difficulty levels
Easy is numbers 1-100
Medium is numbers 1-200
Hard is numbers 1-300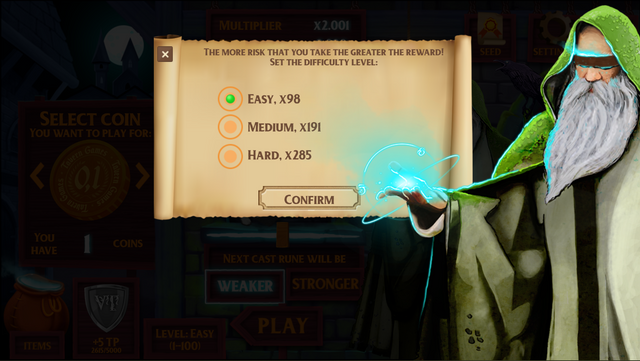 I decided to pick medium
So I hand drew these different colored sections to explain it to you.
Red
Here you firstly can select your coins that are ranging from 0,1 to 5 (Coins represent Steem, so a 0,1 coin = 0,1 Steem)

Then you see your current rank, and how many points you will get for each bet.
And also you see what difficulty you chose

Blue
This is where the main game happens.

In the top middle you see your multiplier and your steem you get upon winning

The Stone in the middle represents your chosen number which you can change by sliding the slider right below it

Under the Stone you will have to guess if the wizards stone will be either weaker or stronger than your chosen stone.

And the play button makes the bet with your activated coin

Green
Here you can check the Seed

From the settings you can change the difficulty

X Closes the game and brings you to the main screen

Get More Coins to get more coins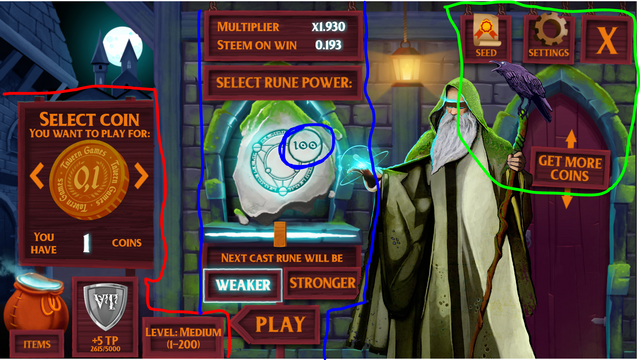 I went risky and lost, but hopefully you have better luck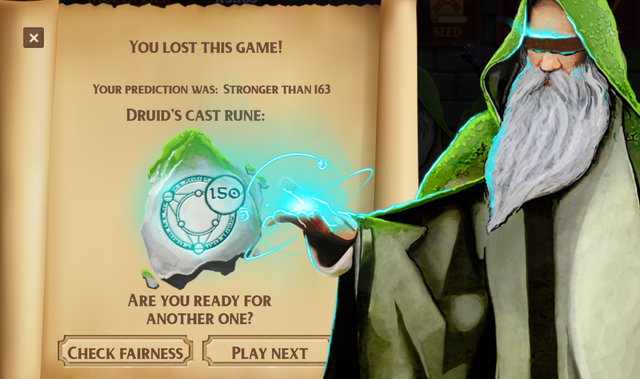 Don't forget that TavernGames also has Daily Quests !!
Quests can be completed on either Blind Rune or the Goblin Prince gamemode (it doesn't matter which one you choose)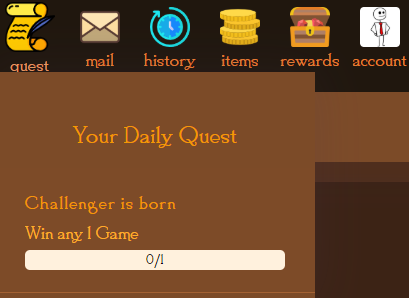 So to sum this all up TavernGames has a new gamemode which is really similar to typical Dice gambling gamemode.
So now TavernGames has Hi/Lo and Dice.
Thanks for reading and check out
TavernGames
Steemmonsters
Giveaways