Meetup with Steemit witness and Steemit Ambassador
Greetings my esteemed Steemians,
Imagine, just a little over couple of months ago, the total number of #teammalaysia community in Sabah was over 30.
Now, we have almost 200 steemians in Sabah and almost 1000 steemians in #teammalaysia.
Steemit witness and ambassadors.
It was a very informative meetup last night when we were visited by Steemit witness and ambassadors. They are @bitrocker2020 and @danieldoughty.
We were updated about news within steemit platform to cryptocurrencies and ICOs that is happening around the world.
We were also informed about the up coming event that going to be held sometime in September this year.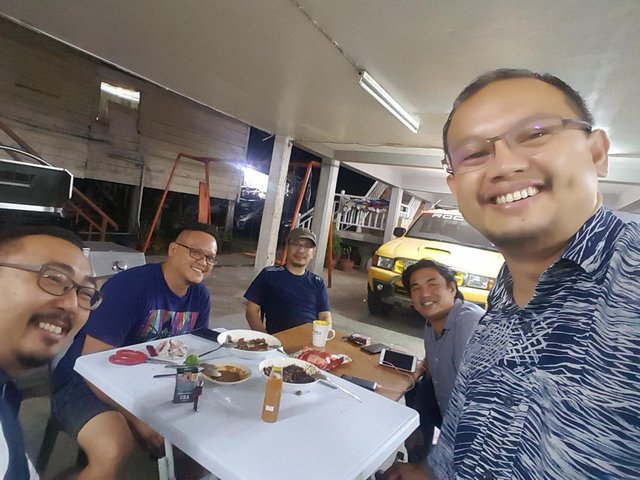 From L-R
@bitrocker2020, @wilsonkoh, @davidngtv, @danieldoughty and me @papanog.
---
@wilsonkoh was a very good host. We were served with very delicious foods and beverages
@davidngtv who are well versed in cryptocurrency as well as developing an Apps were also in the meetup.
What we learned from the meetup
Steem/steem dollar going to bounce back in April.
It is very possible to have fun while earning steem and SBD.
Keep on engaging with other steemians to get good coverage.
Approximately 80% of steemians around the world haven't cast their vote.
And many more...
Conclusion
I got so much info from @bitrocker2020 on his vision about developing the steemit platform.
I am grateful that I have appointed @bitrocker2020 as my proxy to vote 29 other steemians as witness.
I believe that we need a good steemit community representative as the top 20 witnesses and @curie is one of them.
I believe that their vision for a better steemit platform could inspire ordinary people to add value in it.
Thank you very much for reading and please dont forget to vote @bitrocker2020 your witness. If you believe in him, you can set him as your proxy.
Cheers
---
A practitioner who loves to talk about health. In his spare times, he will cook for his family. A new passion is to learn more about how to be a good steemit blogger and promoting steemit.com. Making sure that all contents are well written to add value to whoever visits and reads this blog post.