Presenting my project on satellites for emergency response and attending the EENA2018 conference
This week, I was sent to Ljubljana in Slovenia to present the project that I have had the pleasure to run for the past year. It's always nice when after spending a lot of time and effort creating something that you've taken ownership of, you get to present it and share it with the world.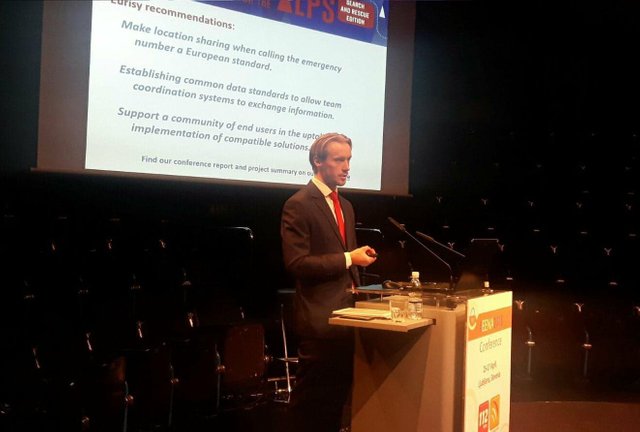 Me presenting the satellite applications for search and rescue in the Alps project.
The presentation looked at different satellite applications relevant to emergency response and search and rescue. This includes how satellite data can be used to provide risk profiles of avalanches in the mountains, where a flood will cause the most damage to houses and infrastructure in cities, or how after a natural disaster, satellite imagery can help provide useful information say after an earthquake, flood, landslide or forest fire. Other examples relate to how new and more accurate positioning satellites can enhance first responder's coordination platforms, or how GPS mobile location can (and should, in my opinion, be automatically shared with the emergency response centre whenever you dial the emergency number on a mobile device.
The presentation went very well and I'm looking forward to build on the conversations I've had with the people that listened to my talk and were eager to work on improving how these technologies are implemented and used around Europe.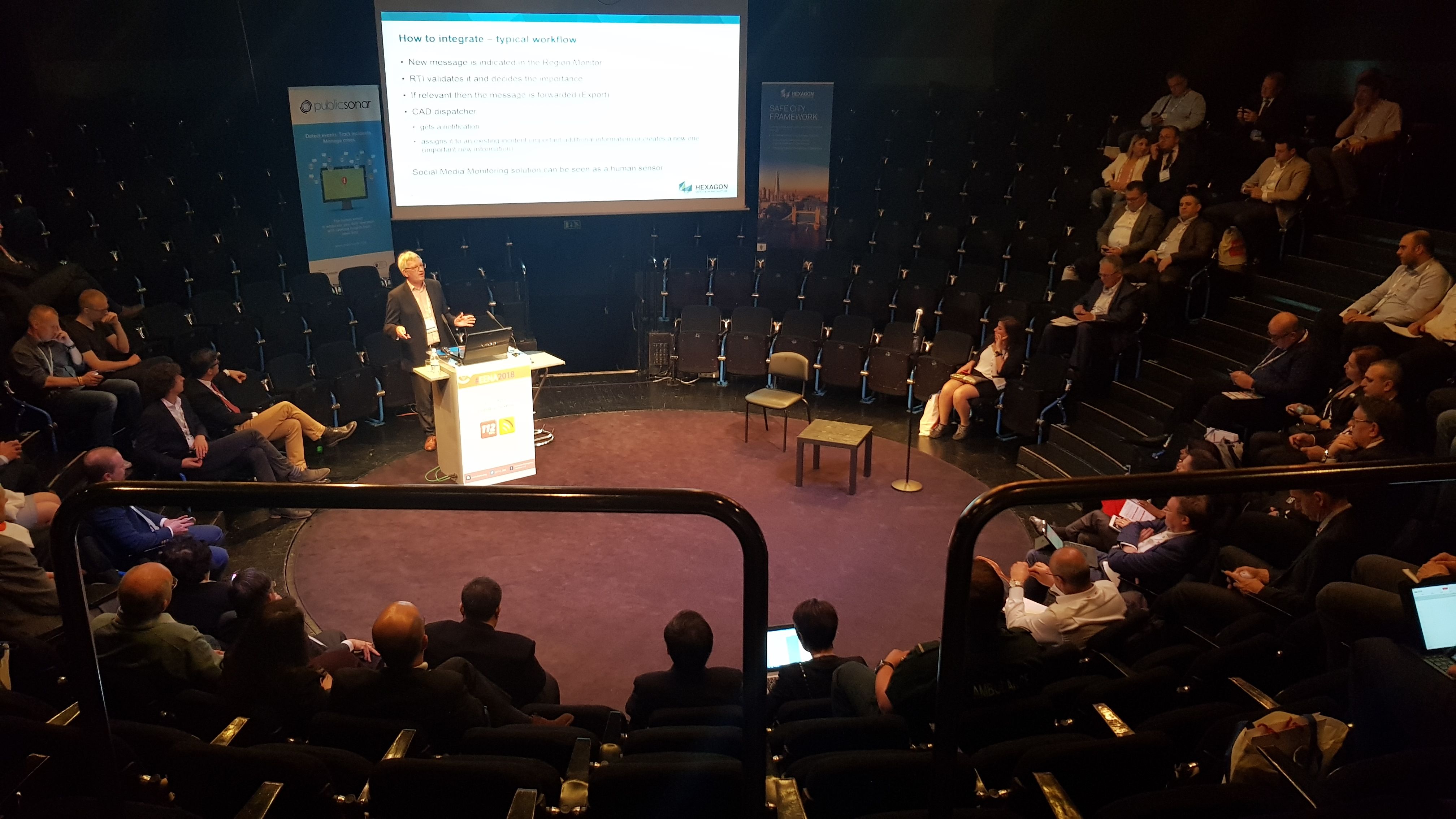 Picture of the next presentation held in the Innovation Theatre to give a better picture of where I was.
The Technology expo
Public safety is big business for many tech-companies providing IT infrastructure, handheld and mobile devices, etc. At the conference, companies such as Microsoft, Huawei, even Facebook, and numerous other SMEs working with drones, AI and different software packages were present to showcase what they got. As my main purpose besides delivering my presentation was to build new relationships with users and providers of satellite-based technologies, I got to visit all of the stands rather than listening to all of the talks held in the auditoriums.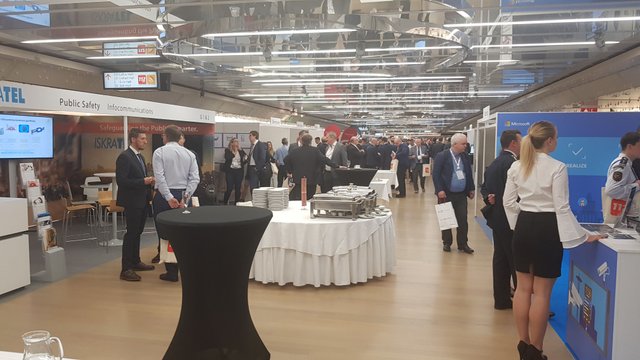 The hallway hosted 28 different stands by tech companies presenting their different solutions, let's have a look at some of them!
Augmented Reality for policemen
At Microsoft's stand, they were eager to sell the idea that a policeman arriving at the scene of a crime could benefit from using their hololens product. I got to try out the glasses with their augmented reality application. Basically, it allowed for numerous extra screens to be displayed within my field of vision showing the same information that the coordination centres would have on their screens. Thus, the policemen can see themselves the information that is being browsed and communicated on and add information as they see it in the field by sharing their view with the hololens camera.
Currently, this is not being used operationally yet but is being tried out in pilot projects in the health sector when first responders may need information sent by an expert at the hospital to view besides their patient in an ambulance or at the place where the emergency took place.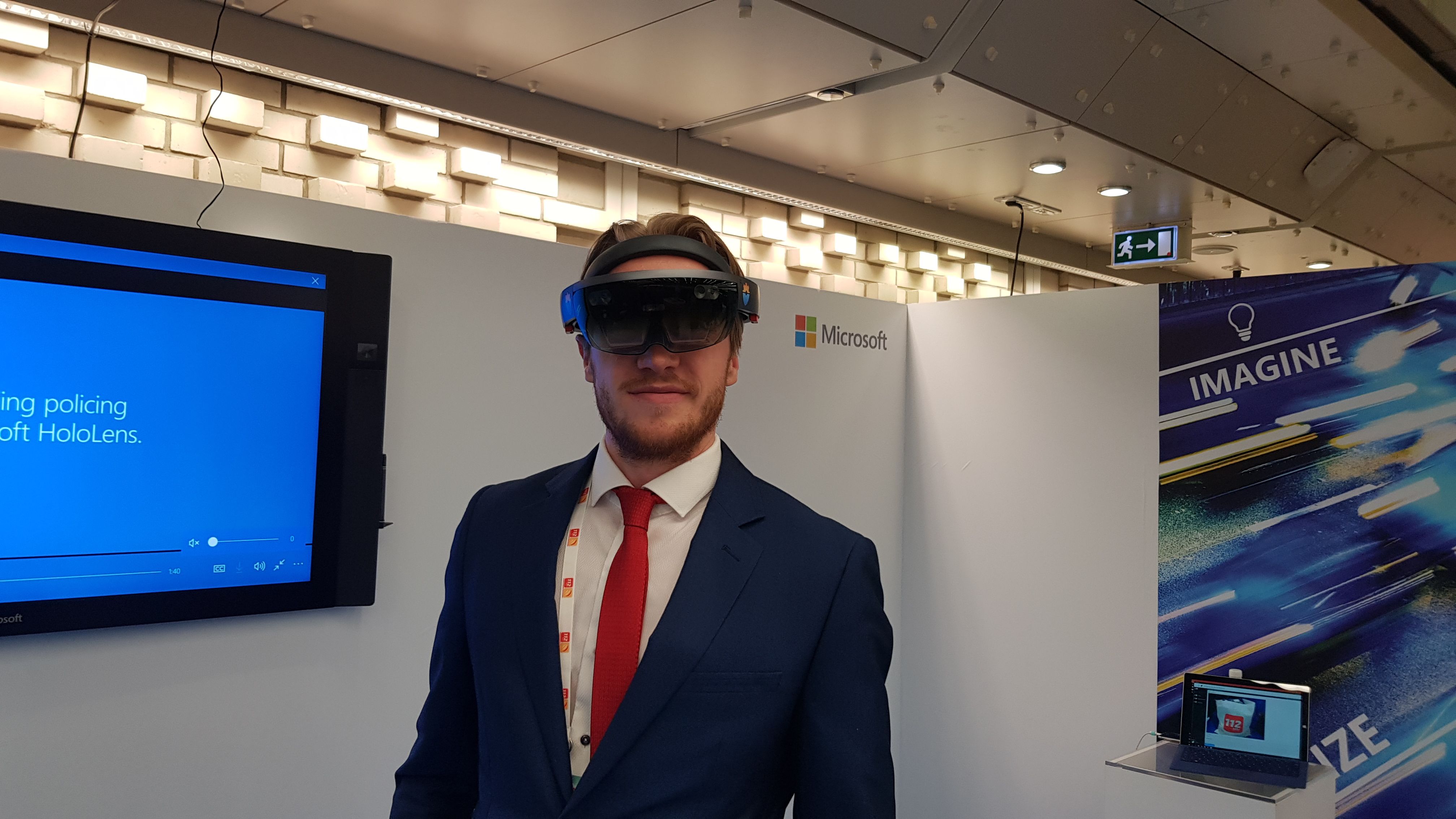 Me wearing the Hololense at Microsoft's stand at the EENA2018 conference
AI assistance for emergency call centres
Next, I tried out handling an emergency call with the help of an advanced AI assistant made by Corti!
The StartUp company had an advanced layer of your typical emergency call centre dashboard which provided AI-based assistance in handling emergency calls. The AI had been trained by listening to thousands of emergency call conversations to get better at determining what condition the person in need had based on the description and tone of voice of the caller. The AI had also grown better at providing the right suggestions of questions for the person at the call centre to ask the caller in order to determine if the accident was a cardiac arrest as quickly as possible. As an emergency call takes place, the program continuously analyses the conversation to note keywords that are stated by the caller and provides the optimal questions and suggestions to make the process faster. As you may know, every minute it takes for a person to receive emergency treatment n the case of a heart attack may reduce their chance of survival by 10-15%, so any help to reduce wasted time and increase the reliability of right response is key.
I got to try it out myself! Behind a curtain at their stand was a typical emergency response desk for a call taker equipped with an extra screen which displayed the recommendations and notes given by the AI. A call was then received by a desperate woman who had seen an older man fall over on the street and needed help. I was impressed by the quality of the voice recognition and the program (which is used for training of emergency call-takers) to understand my questions and make realistic responses by the caller.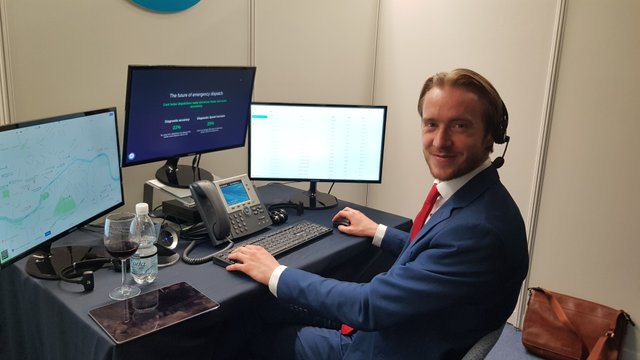 Me handling an emergency call of a person with heart attack at the Corti stand
The AI also made the process a whole lot easier, to the point where even I (although I do know the procedures taken in the cases of emergency calls with a suspicion of a heart attack) could carry out the job whilst having a glass of wine. I left the stand convinced that AI can and will help reduce the average response times to cardiac arrests which in turn will save hundreds of lives annually.
Facebook showing how they want to help communities organise in response to emergency situations
One main sponsor who surprised me by their big interest in the conference was Facebook. Now since the main topic of the event looks at emergency call applications, it is true that Facebook is now where many early warnings, reporting and documentation of crisis takes place. Indeed, the first persons at any emergency location are usually another citizen who possesses a smartphone with a social media account. Therefore, in many situations, the first and best intelligence available to a coordination centre may not be from a professional, but rather from the live streaming of someone at the place of let's say a terror attack or a big storm.
In recent years, many of us will also have seen our friends tag themselves as "safe" on Facebook when they are in the area of a terror attack or in a city hit by a hurricane. However, in the instances where someone is not okey, perhaps because their house is flooded or they need a place to stay for the night, Facebook can help them find people nearby who are willing to offer help.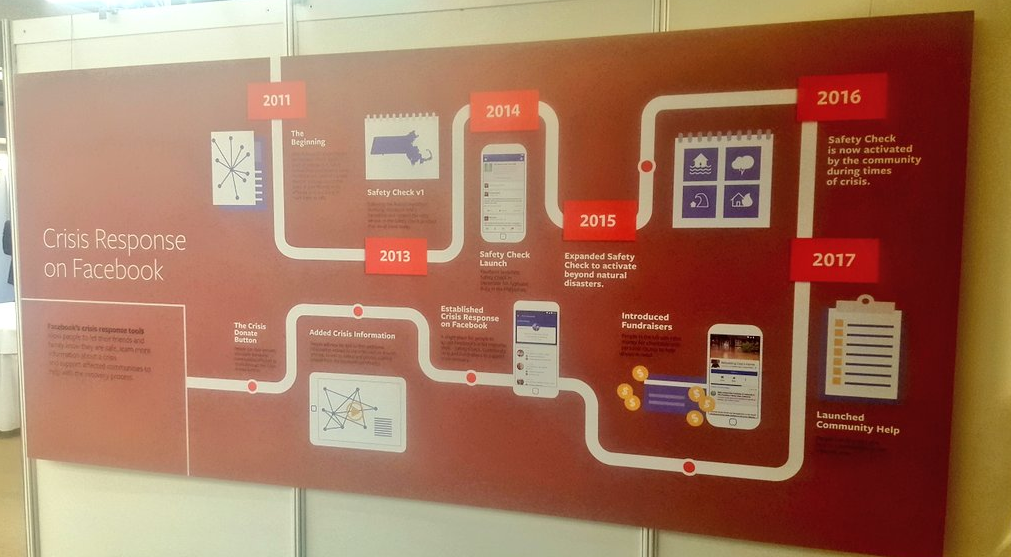 Facebook's roadmap from their first emergency response applications and until now
Social dinner in a medieval castle!
For the evening of the second day, the speakers and some delegates were invited to a social dinner in a medieval castle overlooking Ljubljana! Having seen the castle from down below during my walks around the city, I was really looking forward to this as it is one of the best-kept castles from the medieval era in Europe.
Upon arrival, we were greeted by a well-dressed couple ready to escort us inside! After keeping them for a bunch of obligatory pictures, our journey continued inside.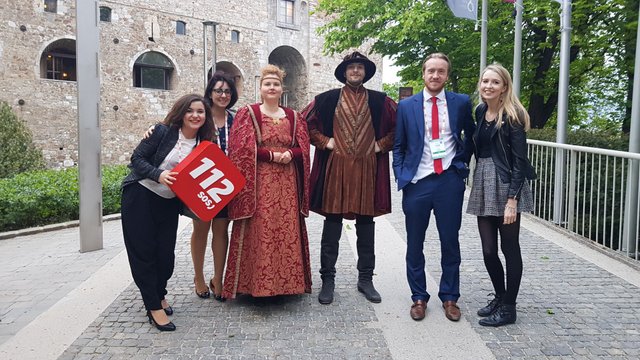 Me, my colleague and 2 of the EENA staff in front of the Ljubljana castle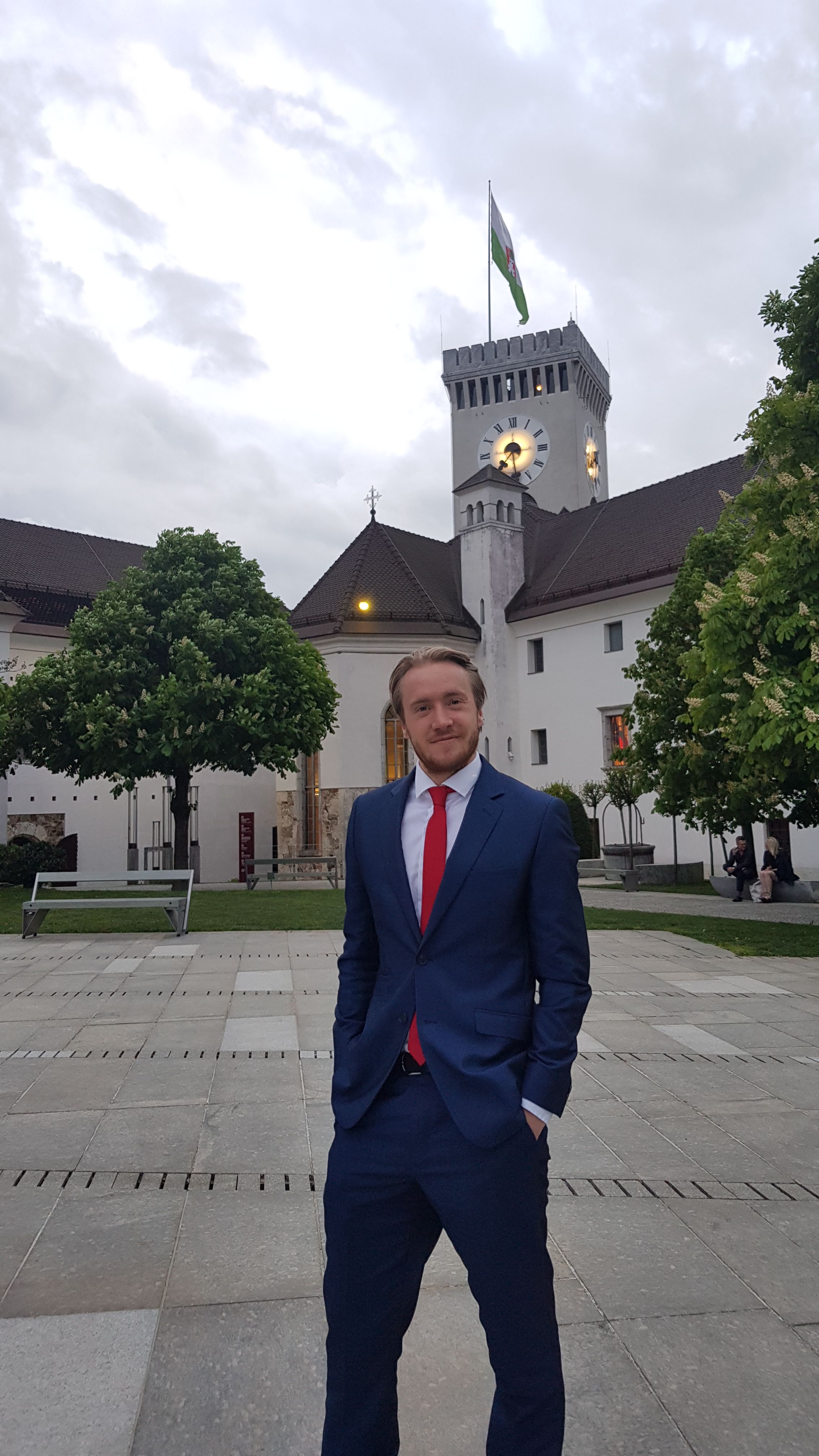 Me trying to find a good picture at the top despite the windy weather
In summary
New technologies are finding their ways more and more into the hands of first responders and public safety workforces both at their workplace and out in the field. While it is still a very conservative industry, as tolerance for failure is next to done and where the need for training has to be very low, fancy tech such as AI, drones and VR is no longer just buzzwords, but are being well understood and appreciated by the users.
As for the place, I would certainly recommend any travel addict out there to give Ljubljana a visit. Although it is a small city, it is packed with beauty, lovely bars and restaurants and gorgeous women!
I'm already considering if it could be the next destination for myself after Paris :)
I hope this has given you some new insight into what new technologies and data science are being used for good. It certainly gave me many new ideas!
As always, take care!
@Fredrikaa