dark.fail - a useful place to find .onion sites.
dark.fail is one of the best resources currently available for locating certain Tor Hidden Service addresses.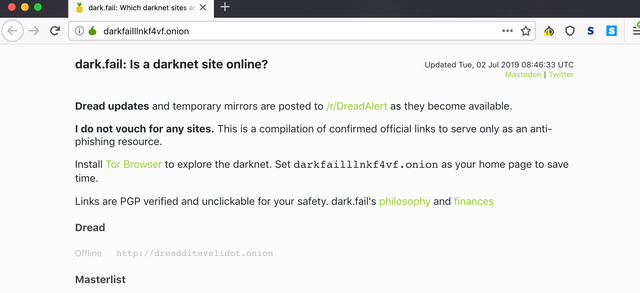 It regularly updates with the actual, verified Onion addresses for a variety of services, and really helps avoid phishing attacks if you are intending to use a darknet marketplace or similar service. These days, a lot of opportunistic crooks set up phishing pages targeting users of marketplaces and other services, with the intent to defraud them and steal their coins.
It also monitors the uptime/downtime of sites, which can be of interest for those monitoring certain sites (eg: drugs marketplaces, etc) - downtime may indicate ongoing denial of service attacks, hacks, or seizures of sites by law enforcement.
It is also available over Tor at darkfailllnkf4vf.onion as well as its clearnet address.
Some of the services it indexes are news sites, the .onion address of Facebook, various marketplaces, and some cryptocurrency services such as xmr.to.
Hopefully this has proved useful to someone, we very much look forward to going deeper on our journey and finding some interesting stuff to share with you all.