THE COOLEST SOLAR PANELS THAT I HAVE EVER SEEN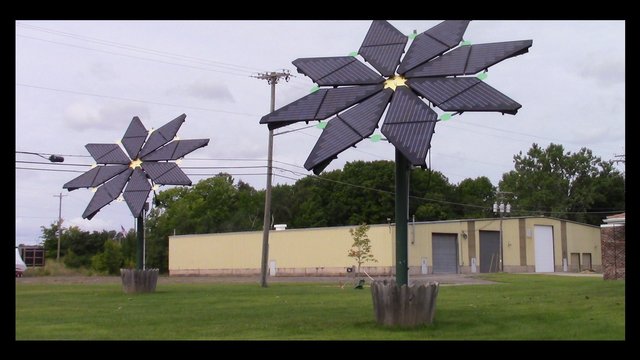 I've heard that there are some pretty creative solar panels out there, but this was the first time that I had ever seen any.
---
Obviously it is good to have options when it comes to the production of electricity. In recent years, solar panels have made quite a name for themselves, and they are popping up in more and more locations worldwide. This was the first time that I saw some popping up like this, though.
SUN FLOWERS?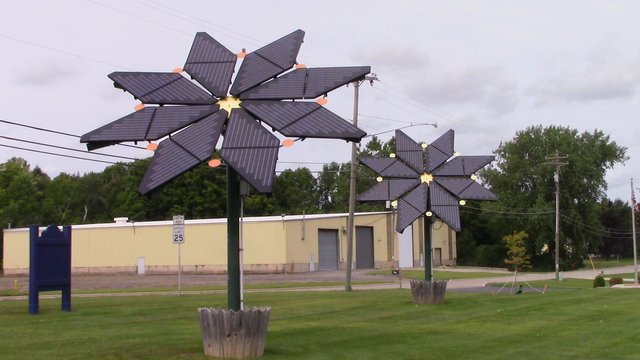 These three giant solar panel flowers are part of the City of Sturgeon Bay Solar Flair Project. I noticed them on our way back from Jacksonport, WI when we passed through Sturgeon Bay, WI. I thought that they were extremely creative and decided that it would be best to stop and check them out.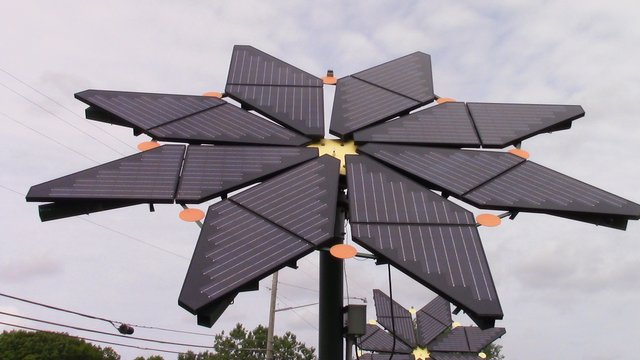 The actual solar panels on each of the units were shaped and arranged to look like petals on a flower. Eight of the "petals" were arranged around a central yellow circle. Some accent colors were placed in between each of the petals so that the "flowers" were three different colors: green, orange, and yellow.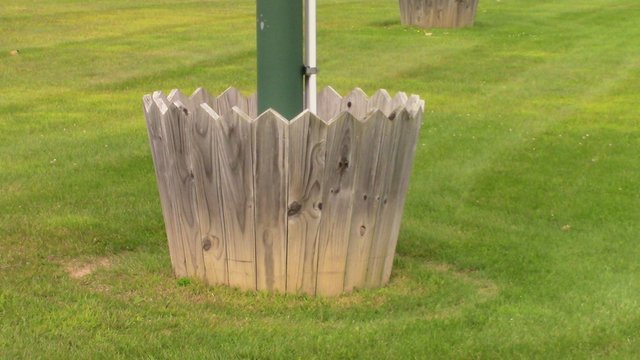 Moreover, the pole upon which each of these units was mounted was painted green, and ran down into a "pot." The final result was a very original and creative look. As I said previously, I had never seen anything like it. I also enjoyed the wordplay on solar flares, since they called this a "Solar Flair" project.
A LITTLE INFO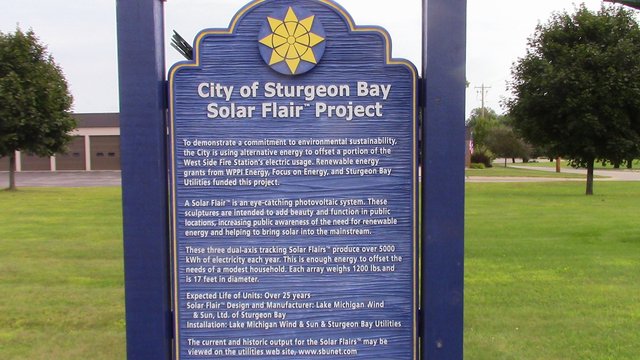 This informational sign was also placed near the "Sun Flowers." It included a web address where curious and interested people could learn more about the project. Find out more here : http://www.sbunet.com/
These three units can produce over 5000 kWh of electricity per year, and they hope that these particular units will function for over 25 years. Here are some larger photos of what it said.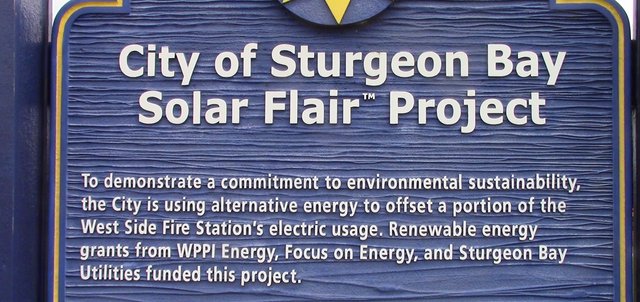 Have any of you ever seen anything like this before? I heard that there may be a palm tree one in Springfield, MO, but haven;t went to look for it yet.
As always, I'm @papa-pepper and here's the proof:

proof-of-sun-flowers
---
---
Until next time…
Don't waste your time online, invest it with steemit.com

---