EFFECT.AI -The Game Changer
Artificial intelligence is the hot and growing industry nowadays. By 2030, 30% of all audit firms will be moving towards artificial intelligence. As artificial intelligence reduces human effort and provide various services through different Applications.AI will be leaving less jobs and only highly graduate will be left. This is how most of the business will be doing in the future. AI has been one of the most popular tool nowadays. It exists almost everywhere. From a small project to a large scale such as from university research project to a large scale algorithms. It is also used in various types of bots such as image recognitions, audit reports, trades etc. Although the development in AI is moving rapidly. By 2030 AI will be going a gigantic industry that would contribute $15.7 trillion to the global economy.

As the world is moving towards smart things like smart phones, smart devices etc. Now the next level will be to have a smart services.Effect.AIis one of them which provide some great services. Let me give an overview about Effect.AI.Effect.AIis a decentralized platform that provides some great services in most rapidly growing market that is the artificial intelligence market. Effect.AIis offering some service with no fee it will provide various jobs to unemployment with reasonable fares .This service is run on the NEO block chain and an EFX is the token that runs the system. This platform is going to be the fast growing platform as it helps the business in many ways like fair payments with no chance of errors. On this platform any algorithm can be accessed and has a convenient way of receiving payments. This platform can also run popular deep learning platform.
Plan for the future:
According to the team of Effect.AI, the platform has 3 well planned phases for the future. Each of the phase has its own importance. The first phase which is the Effect Force will be oriented for now. Whereas the other phases will be oriented latter. I am just going to give you an overview about the 3-phases:-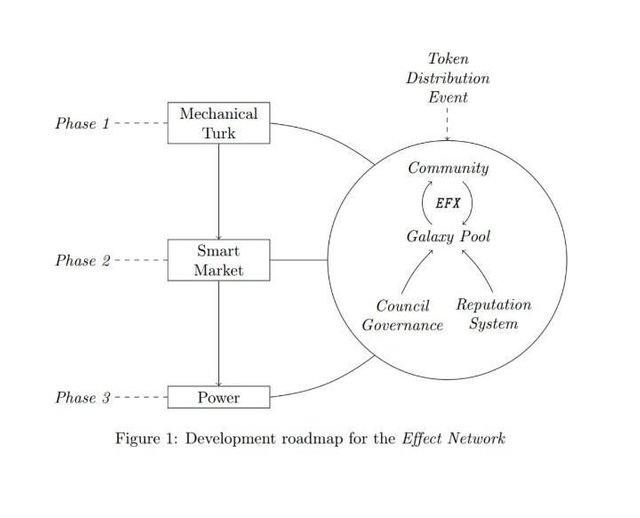 PHASE 1
EFFECT FORCE:
In the first phase there would be various tasks that requires human intelligence. There is a decentralized mechanical trunk called as the effect force. It helps the people to perform tasks and get a reasonable amount for that. For example if a worker works and complete his task he would get a good fare for that in the form of tokens.
Benefits
Fair and instant pay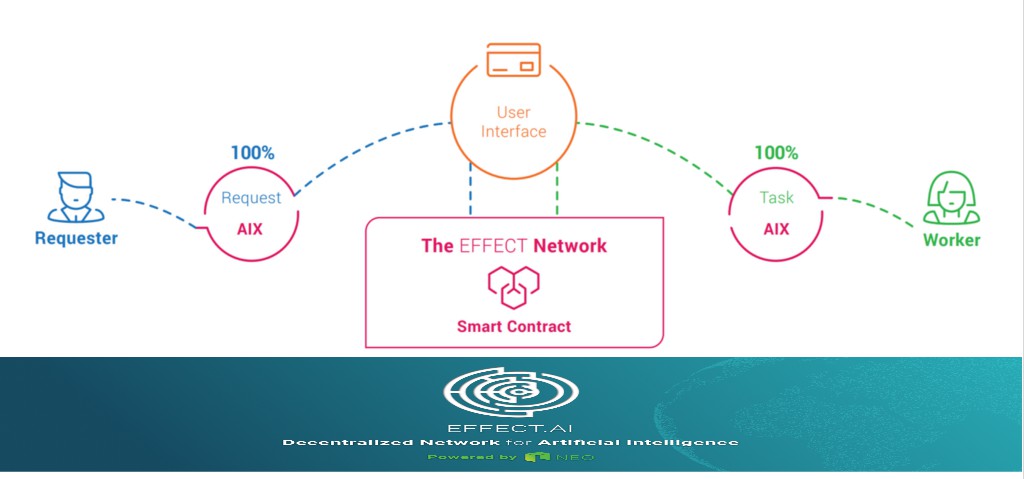 The Effect force will solve the problem of fares. As earlier the workers were forced to negotiate the fares for each task. But with the help of Effect force they would get a reasonable good fare for their task.
The Magic of Effect Force
As with the help of Effect force many of the unemployment people would get work with good fares. With the increase in task more and more people would get employment. As people would get good wages they won't be going towards bad things like crimes robbery etc.
PHASE 2
EFFECT SMART MARKET :
In this phase the people can offer and buy AI services. For example if a person runs a website that only accept flower pictures. Al will help in recognition of images and that will reduces human effort
PHASE 3
EFFECT POWER :
In this phase the platform runs a popular deep learning frameworks. We can also create our own frameworks through this platform.
SUMMARY
Effect.AIis a great platform that provide services that benefit people, help unemployed, make secure and fast payment, and help other companies & business in various ways. Platform like Effect.AIcan really bring various opportunities and has the ability to become a gigantic industry as now a day the hot topics among the people are block chain, crypto & Artificial intelligence and Effect.AIis the mixture of these all. Effect.AIis a platform that brings change and value to the human kind.
Effect.AIhas a great team which is headed by Chris Dawe who has Expertise and Experienced. The great team with great experience will led Effect.AIto success.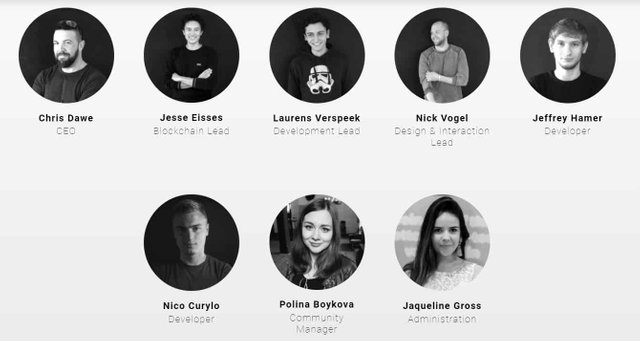 effect2018
Link