The Princess Kat-Leia Chronicles: III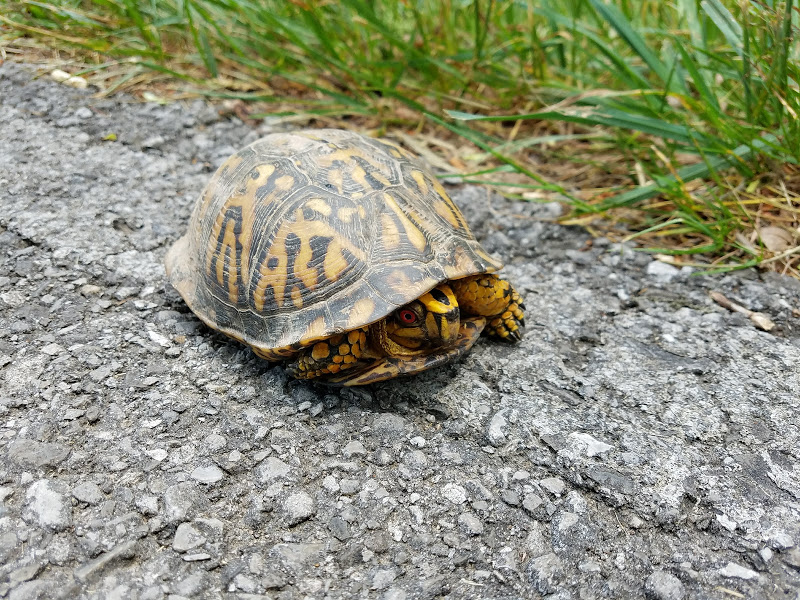 If you follow me, you are probably aware of one of my favorite photographers and long standing friend,
@tattoodjay
. The
#wednesdaywalk
was one of his notions for a Steemit tag, and it's stuck pretty well. All these photos were taken yesterday (Wednesday) and were the
first
part of the day with
@katrina-ariel
. It actually was a walk/short hike to a quiet inner-city waterfall. Ok, that's great Witty, but what's the deal with the turtle?
The Box Turtle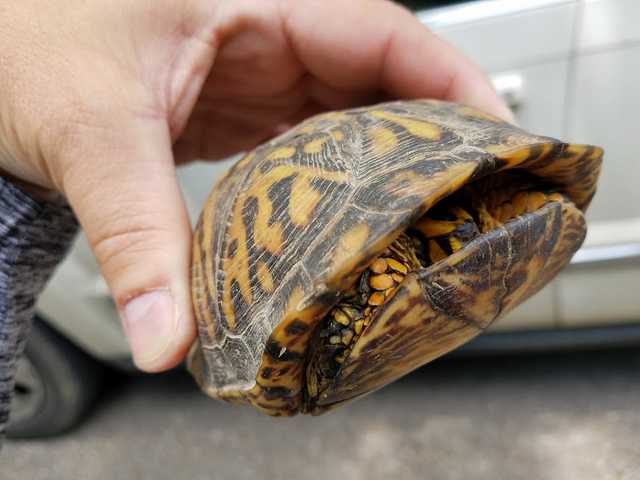 As I left my country ass home, and was driving down the road to take care of some schooling necessities for my Crown Princess, I saw something on the side of the road. It was that little critter. Big red-eyed Box Turtle all huddled up in his shell. I imagine he was scared, and even if he wasn't, I decided it's better to not play in traffic when you're that small. So I picked him up and gave him a ride.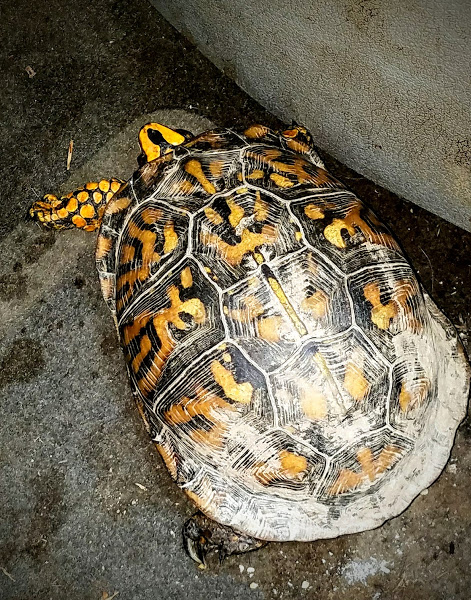 He was not aware yet, that I was relocating him to some of the most peaceful and pristine natural surroundings any
human
could possibly imagine.
So off we went with him, and he rode fairly contently on the floor of the truck. I believe he may have liked the cool air from the a/c blowing down on him as he seemed to migrate toward the blower near the corner of the floorboard. Or maybe it was as far away from this giant abducting human that he could get. Not sure, but I do know, unlike other parties in the vehicle, that he didn't whine once, or ask me for anything. It was almost like he didn't speak English or something. Too bad all of my passengers can't be as respectful of their driver LOL!
To The Park!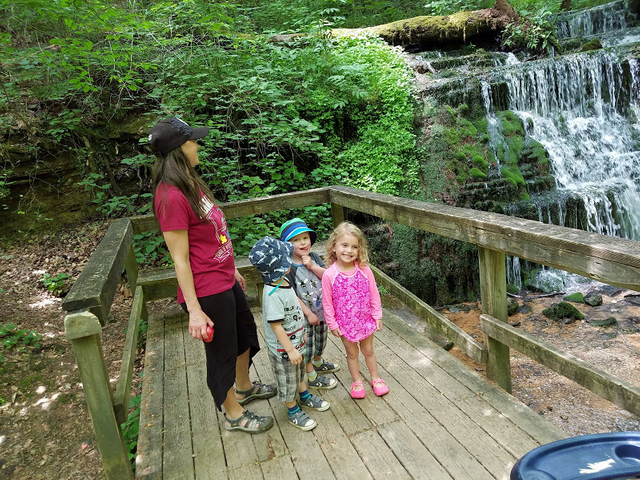 We (
@katrina-ariel
and I) both arrived at the same time. And yes, this is one of the same spots I take the girls fishing from time to time and yes, you have seen this place before if you've been reading my posts for awhile. One of my favorite places. Hugs and pleasantries ensued and off we went to the waterfall and being a hot day, of course we were going to wade in the water!
Outside
, this is probably the
coolest
place to be in the summer. The fresh water that feeds the river and lake is very cold as it is part of the Capshaw Caves river system.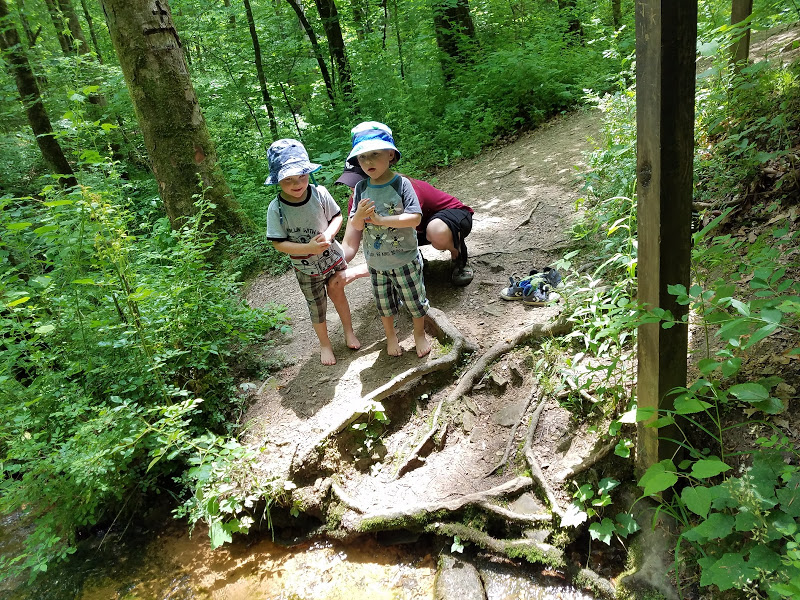 What that means is, it has about ten miles of an underground, out of the sun, coolant system that keeps this water flowing over the small set of falls, extremely cold. And, in the summer, this is a blessing in disguise. So how about we get out of those shoes and socks and take it for a little test drive eh? And no I didn't forget, in fact that was first on the list - welcoming the turtle to his new highly upgraded habitat. What do you think, does he look happy in his new place?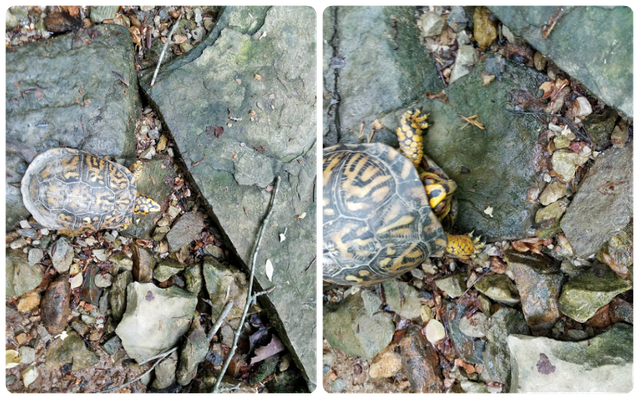 Fun In The Water
That's exactly what it was. A few interesting rocks were found...and thrown. There was periodic checking up on the turtle by the Warrior Princess and Ryan, and apprehension from the youngest Power Puff Girl. I think, it was because when we went to the park the other day, the asphalt was hot on her feet, so she didn't want to touch ground. I spent half of the time there holding her above the water so she could hover and play with the currents. When she finally got a little more used to the water, she, like everyone else, couldn't help but smile.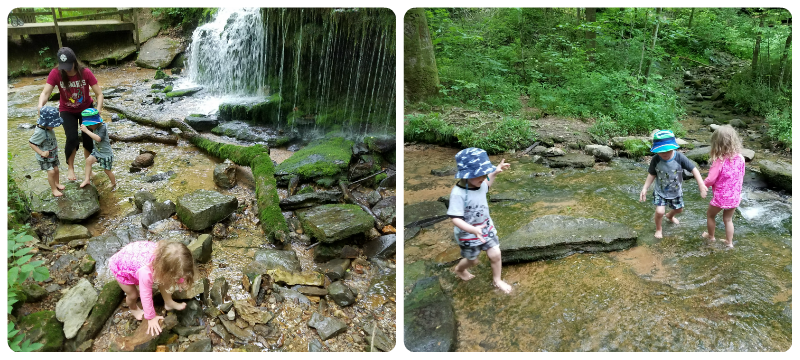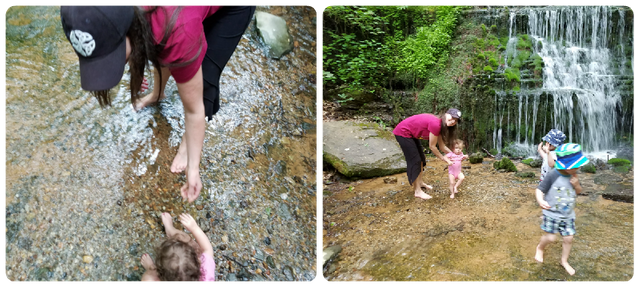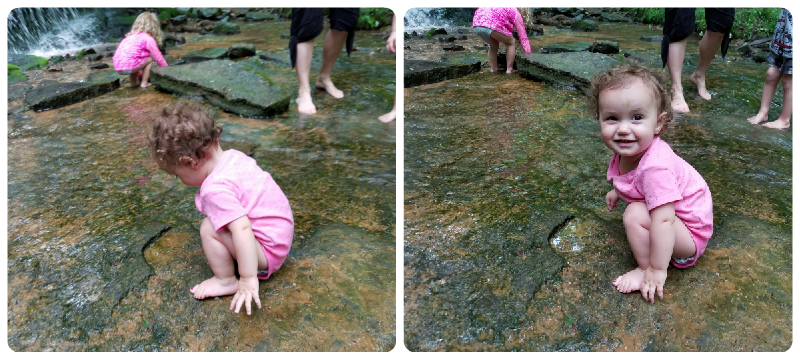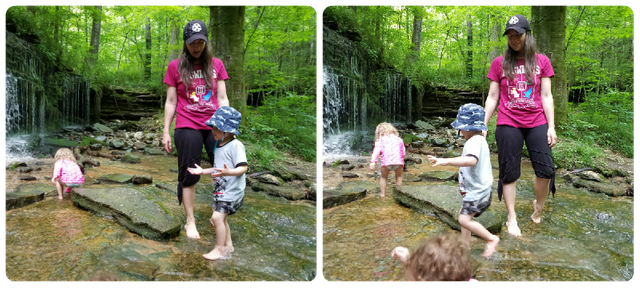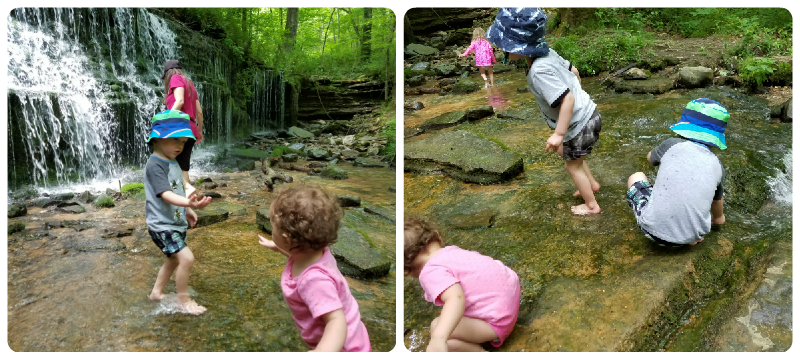 Blue Toes
As much fun as it is to play in the water, we can only do it for so long. Plus, it was time for me go get Luna from school. So, this is only the first part of our day with Katrina and the twins.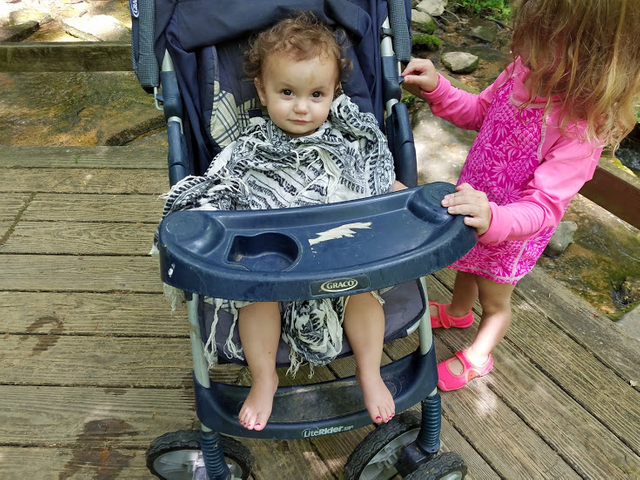 I swear though, that woman is one of the most prepared I've ever met. Freya was all shivering and she whips out a shawl and throws it on her like a blanket. She was all cozy and had that, "awww, thank you" stare in her eyes. With turtle comfortable, the children cooled off, and weather being most agreeable, we set off back down the gravel path to the vehicles and made a plan to meet back up at Dogwood once I had gotten Luna. That being said, stay tuned for the next part of our amazing day! I promise, it will be just as smiley and interesting as this one. STeeM oN my peoples!

@liberty-minded made this badass gif