THE DIARY GAME: 20TH/08/2020 A SIMPLE SHOE MAKING FACTORY.
HOW I SPENT MY DAY IN A SHOE MAKING FACTORY.
Hello steemit members I hope all is well.
A week earlier I went to a shoe making factory to request from them if I could volunteer or give them any assistance needed with labour and if they accepted I could volunteer to work with them.
They agreed and gave me some training for a few things they wanted me to do and we agreed on the day that would be more convenient to volunteer and that was non other than on the 20th of this month of August 2020.
So I kept it mind knowing the date I agreed to work with the shoe making factory. We actually agreed to work from 8:00am to 5:00am. On reaching this date I woke up at 3:00pm, said my prayers, read my Bible, Clean up my self ,dressed up then I had some breakfast and by 7:00 I left to go and work in the factory.
I reached the factory exactly 8:00am I was welcomed by the employee of the place and so I started on my assignments that I was told to work on. The shoe making factory makes both men's closed shoes and open shoes. Where as for women only open shoes are made for them.
This is a very small scale factory and it mainly has two machine for making shoes. One machine mainly saws shoes and the other helps in the binding the souls of the shoes.
[My own image]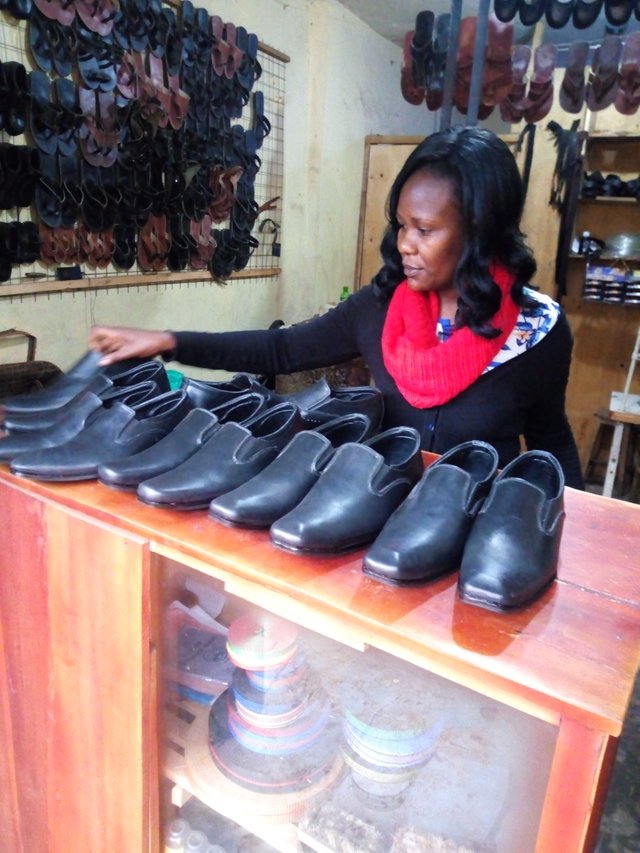 This is me binding the shoe and making it stronger and long lasting with the binding machine.
[My own images]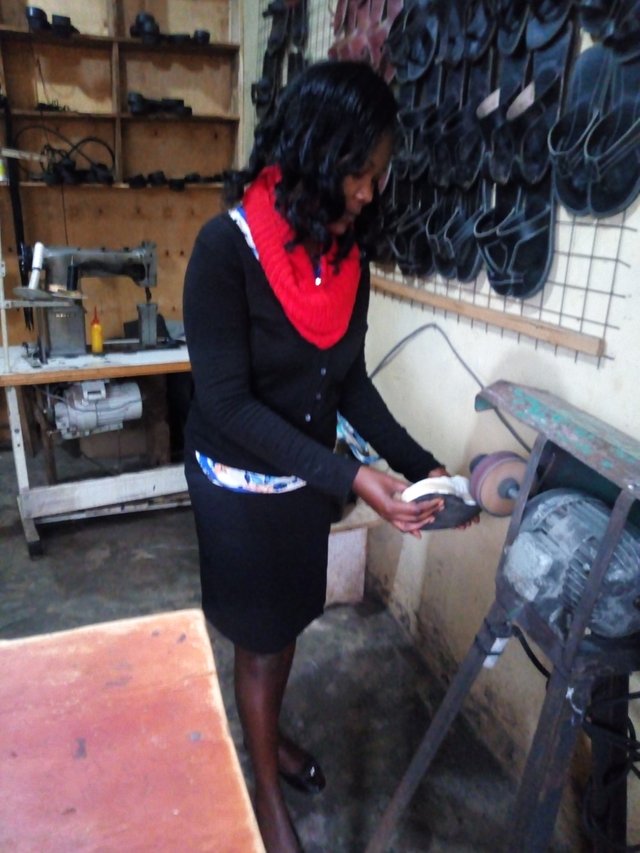 This is me displaying shoes.
The rest of the work is done manually like putting glue on shoes soul before sawing, cutting materials for shoes and also displaying the shoes to be bought by customers.
The open shoes that are mainly made here are craft shoes known to us as African shoes. Some of them are made from animal skin and other lether materials.
[My own images]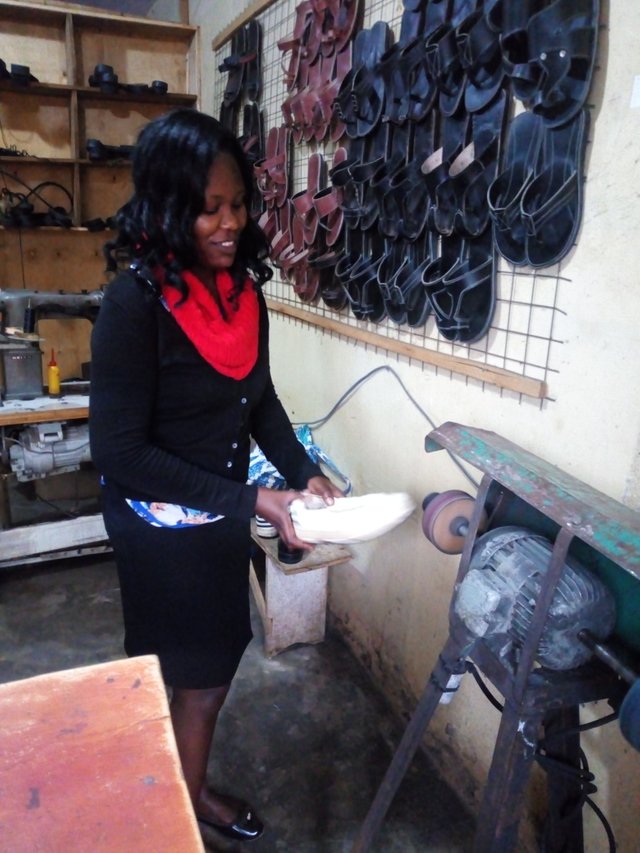 This me still binding shoes on both pictures.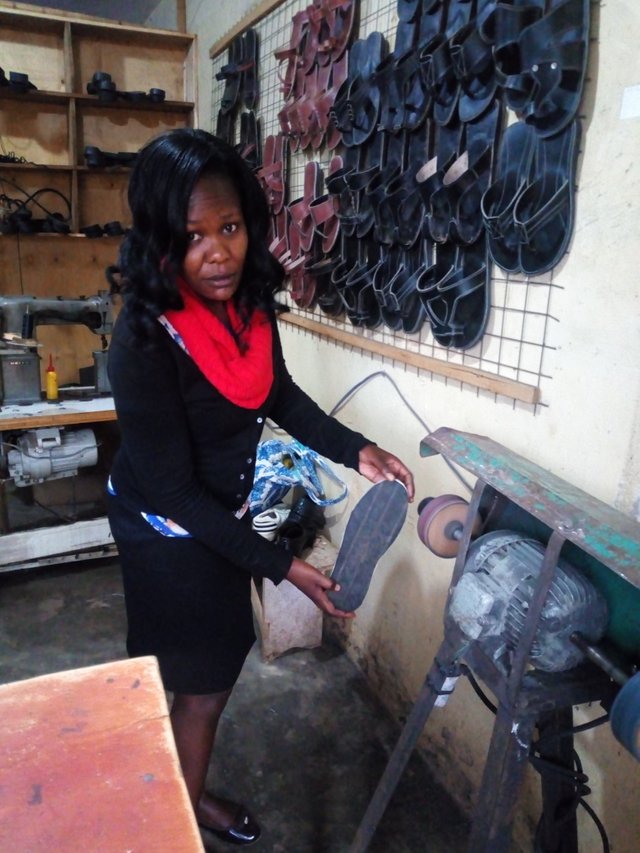 Mainly my work was to put gulu on shoe souls to make them stick together before they are sawed and after sawing I again bind them with the machine to make them stronger and after the shoes are made I put them on display for sale.
Men's shoes cost $13.514 and laddies' shoes cost $4.0540. This was a very busy day because their was a lot of materials to be cut and to be transformed in to shoes.
After making shoes we display them and wait for customers to buy.
[My own Images]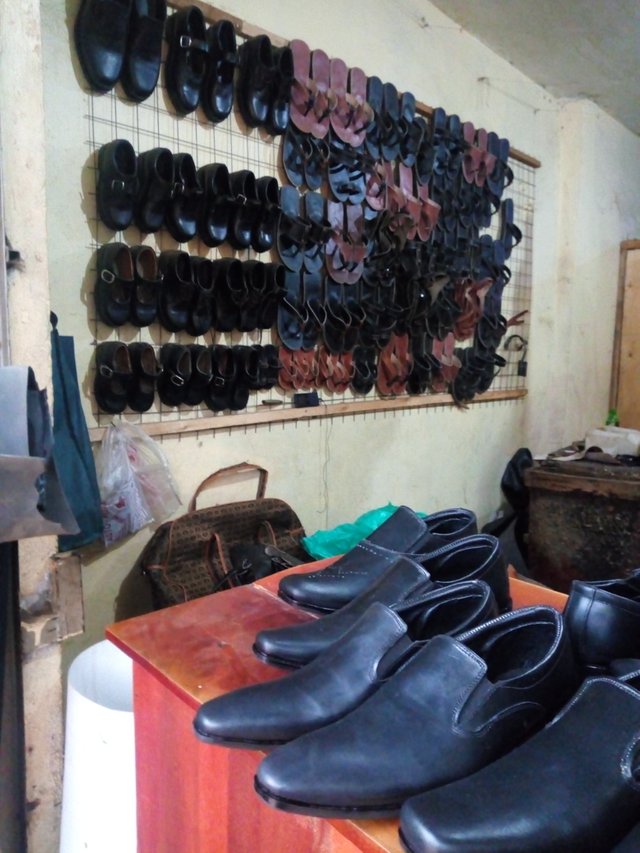 The shoes displayed in different angles.
However I also recommend that in order to bring in more profit the factory could employee some marketers and not only depend on displaying only.
The marketers could sale on commission also so that the more the sale the more commission and this also could motivate them to sale more hence improving sales. This is how I spent my day.
I am part of team-passion