The Diary Game (6/27/20): A Typical Saturday at Home
Intro
Greetings fellow Steemians! I know technically you are supposed to do one distinct diary entry per day, but considering I skipped yesterday (due to my FPL post), I need to make up for it in order to get back on track. Please let me know if this violates the integrity of the game in any way, and if so, I will refrain from doing so in the future. Thanks for understanding!
My Day
I woke up an hour earlier than intended. My alarm was set for 10:30, but I woke up at 9:30 because of a stupid fly buzzing around in my room. I got my revenge later when my dad stepped on it in the kitchen. Like every morning, I browsed Reddit and Instagram before getting out of bed, in addition to checking my schedule for the fall. Today, I noticed that my potential MATH 231 course will be taught remotely via Zoom lectures. While I was disappointed initially, I see the funny side in a grad student having to teach a college math class for probably her first time using one of the worst meeting applications ever. I do not envy her right now. For reference, the class capacity is normally 45 students, and it is typical for a graduate-level student to teach the course.
For breakfast, I had a bagel with cream cheese again, but this time, I got my redemption by successfully cutting my bagel into two intact uneven halves. However, I forgot to toast it before smearing my cream cheese. You win some and you lose some.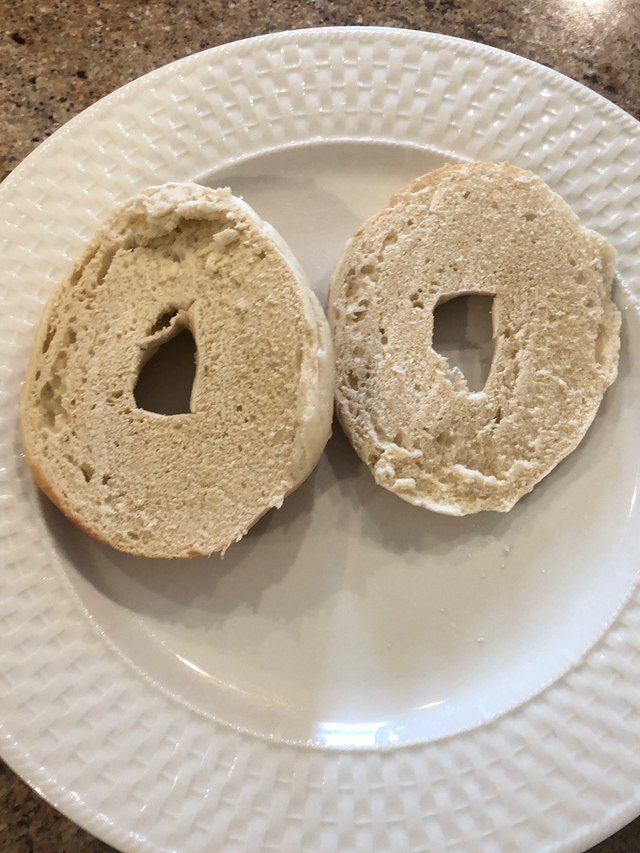 I watched the second half of the Bayern Munich game while I ate breakfast. For those unaware, Bayern plays in the Bundesliga, the top German football (soccer) league, and they have won the title (finished in 1st place in the table) a whopping EIGHT consecutive years. I didn't really pay attention during the match because it was the last game of the season, and they had already clinched their championship. The only notable events I witnessed were an opposing player getting a red card (after receiving two yellows) AND conceding a penalty kick, Robert Lewandowski scoring said penalty kick, and Thomas Müller scoring a trademark unconventional goal to make the scoreline 4-0. I don't think highlights of the game have been released yet by the official Bundesliga Youtube Channel, but keep an eye out in the coming days if you are so inclined to see these moments from the match.
At 12, I waited for my brother to get out of the shower and bathroom (AGAIN) for the second day in a row. I really need to work out some sort of bathroom schedule with him or just wake up earlier to shower. After getting dressed, I watched my favorite English team, Manchester United (MU), play against Norwich City (NOR) in a quarter final FA Cup match. Just for some historical context, the FA Cup is the oldest football competition after first being established in the 1871-1872 season. For my Americans out there who follow only the big 4 sports leagues, an FA Cup match is the equivalent of an NFL playoff game, essentially, in terms of being a one-off, high stakes game. Each match is 90 minutes, and if tied after that, two 15-minute extra time halves are played. If both sides after still tied after 120 minutes, then the match goes to penalty kicks.
MU fielded a "B team" starting line up while NOR played their first-choice starting XI. The scoreline was 1-1 after 90 minutes, so the match went to extra time, where MU center back (CB) Harry Maguire scored one of the scrappiest goals I've ever seen in the 118th minute. As former MU manager Sir Alex Ferguson would say, this was "squeaky bum time", the final moments in which the result of a match is decided. Here is Maguire's goal and other match highlights, courtesy of The Emirates FA Cup Youtube Channel:
After the match was over, I texted with my friend Colin about American colleges on a variety of topics: the renaming of on-campus buildings or schools originally named after racist and slave-owning individuals, the BLM movement in general, the impact of the very few and uncommon radical violent protests, and how each of our colleges plan to reopen for the fall. Colin is a friend who is a year older than me and have looked up to for a while, and I always enjoy talking to him about advice, current events, or anything that's noteworthy.
From 3-5, I wrote my diary entry for 6/26/2020. Once I finished that task, I folded my laundry I did earlier. My wash load was just socks and underwear, so it didn't take very long to put away. At 5:30, my mom and I continued working on my college clothes inventory. It actually went well for once because I have 17 long-sleeve shirts (including 1 Penn State shirt and 3 flannels) that we deemed acceptable. I just need to buy a few more (and maybe expand my Penn State apparel) and I should be good to go in terms of long-sleeves shirts.
On Saturday's, my family either gets delivery or carry out meals from local restaurants for dinner. Tonight was no exception as we ordered from Outback Steakhouse. Personally, I decided to get a 9 oz. sirloin steak with creamy mashed potatoes and a house salad with oil & vinegar dressing as my side. Here is a picture of me looking like a stereotypical bandito while my dad and I were waiting in his car for our food to be ready: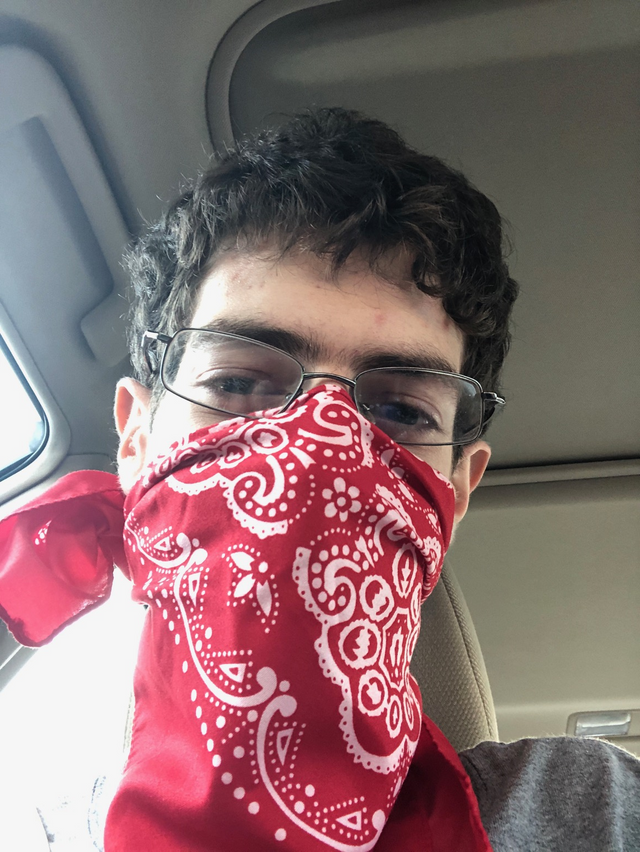 After dinner, my parents and I watched the movie Just Mercy. I had already seen it this year after going on a school field trip to a local movie theater, but this was my parents' first time watching it. Brief synopsis without spoiling anything: Harvard graduate and African-American lawyer Bryan Stevenson moves to Alabama to set up the Equal Justice Initiative, a legal organization that seeks to overturn wrongful death penalty convictions, with legal services being provided for free of charge to clients. The plot focuses mainly around the story of Walter "Johnny D." McMillan, but also features other cases involving Herbert Lee Richardson and Anthony Ray Hinton. Just Mercy is based off the book of the same title by Bryan Stevenson. The cases and people in this movie are based off real life events and people and true stories and testimony. There a few very notable and recognizable actors in lead roles including Michael B. Jordan, Jamie Foxx, and Brie Larson. I highly recommend watching this movie for educational and civic duty purposes.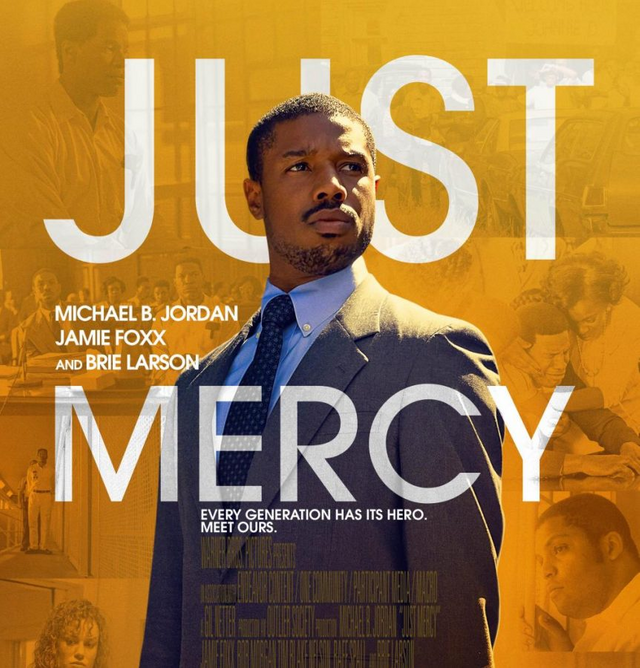 I will keep up the hard work on my daily diary posts, and I hope that you all will continue to read them. Writing them has provided me with an outlet to assess my time management skills and see if I am balancing responsibilities with leisure time. Hopefully, I will find the time to be involved in the second round of The Diary Game in college. Enjoy the rest of your weekends everyone. Until next time!