THE DIARY GAME: 2020/09/23 : A busy day.
Hi friends,
How are you? Same as the last few days today also I am going to update my diary here. Today, I woke up at 7.00 am. It was hard for me to woke up early in the morning because in the last few days I woke up around 9.00 am. In the meantime, I was thinking of not going to work. I already have 2 summer vacation holidays. I was thinking to apply them today. I laid on the bed for around 15 minutes without being able to decide anything. A few minutes later I checked the time. It was 7.25 am. Oh, I was late. That time I got some power to get out of the bed. Then I went to have a shower. Somehow, I was able to get ready before 8.00 am, and finally, I decided to go to work. Lol…
Today I had little pain on my legs. So, I couldn't able to walk fast today on my way to work. My friend also had the same problem. So, we went to the office a little bit late today compares with the other days. After going to work, we had a morning meeting at 9.00 am. Until lunch, there was no task for us. We had our lunch today at 12.00 pm. After lunch, we had another meeting and we discuss our future task during that meeting. They assigned some tasks to our team. The meeting was finished after 30minutes and then we started to work on new tasks.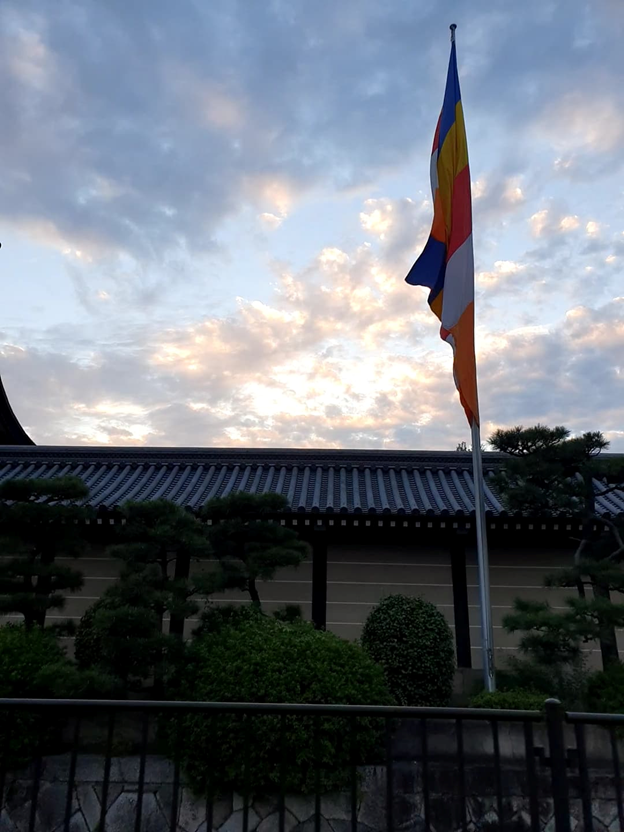 I saw some buddhist flags on my way to the station.
Today we left the office at 5.30 pm and we went very fast because we tried to catch the 5.59 pm train. We were able to go to the station 2minutes before train time. We came fast today because today was a class day for us. After coming to the sharehouse I put some bread into the toaster then I went to the washroom and had a shower. When I came back to the room, bread was ready, and I ate them with the chicken deal that I created yesterday. After that, I got ready for the class and then logged in to the zoom just in time. When the class was finished, I called my mother and had a chat with her for 15 minutes.
That was my day. Thanks for reading.
#thediarygame #srilanka #japan #steemexclusive #the1000daysofsteem
Thanks to @besticofinder for guiding me to do this.
This is me.