THE DIARY GAME: 3rd August, 2020: A Boring Day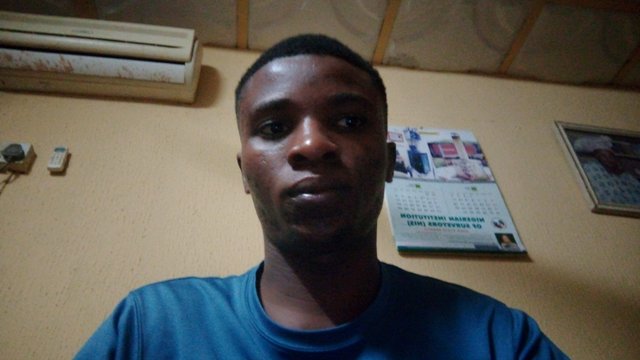 The picture I took after cutting my hair

Basically, I can say I woke up with style today. Though a bit late than before but I like it that way simply because I was able to get enough sleep and nobody came to disturb me. I don't think I would be mistaking if I say I slept like a new born baby with no worries or nothing to think about.
It's unusual of me to wake up by 9:30am. The normal time am used to is waking up by 7:00am latest. But then, I had a very stressful day yesterday and I guess that was exactly the reason I slept for a longer period today.
Immediately I got up from bed, the very first thing I did was pick up my toothbrush, applied a toothpaste and brushed my teeth. I felt so bad when I woke up only to find out that they haven't even started cooking yet. Few minutes after that, I was summoned by my aunty to boil rice and fried fish and I did exactly just that.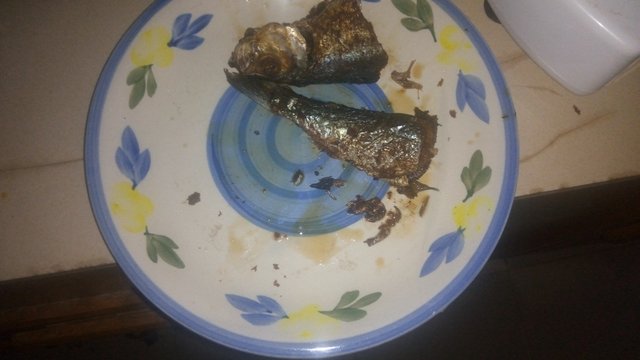 Some of the fish I fried

It was already 11:00am when the food became ready and I took little since I already lost my appetite. It's very usual that when I cook food, I end up losing my appetite and won't be able to eat much of that food. Not sure if am the only one it happens to but I guess my stomach always get filled up with the smell of the food.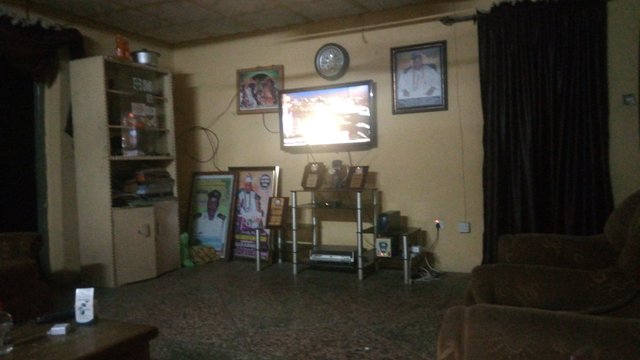 While I was watching news on TV

After I was done eating, I rested for a while and decided to go do some exercise by playing table tennis with my younger brother. My body was still heavy, so I couldn't move it very well while playing. And due to this, I was beaten in five straight set by him. In the middle of that, I watched some news on TV. Not really because I wanted to but because my aunty tuned the TV to the news channel .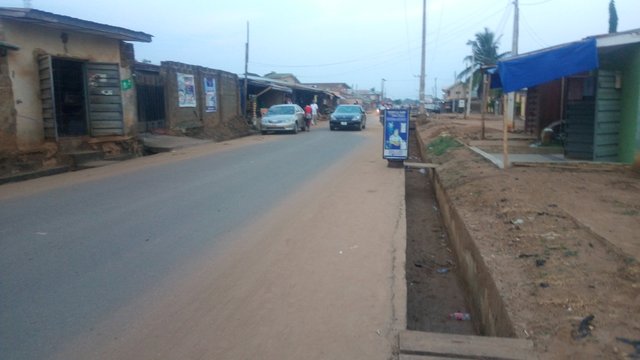 A picture of the route I took on my way to the barbers shop

There was nothing much to do after that and I took a nap at around 2pm. This nap lasted for about 3 hours. On waking up at around 5:00pm, I quickly undressed, too my towel and went to the bathroom to take my bath. I came out of the bathroom, dressed up and went straight to barber's shop to cut my hair. I cut my usual Afro style. That's the common name we give to it in this part of the world. It might be called another name in other places though.
I got back home from the barber's shop at around 8:00pm. The food was almost ready when I got back. It was cassava flakes and Okro soup and fried fish they were preparing. Pending the time the food would be ready, I went out to get snacks because I was very hungry already.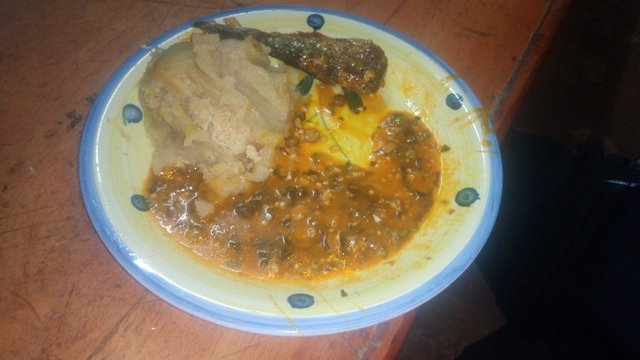 Cassava flakes and Okro Soup and Fish

That's more like how I spent my day today. The usuals that I will be doing after publishing this article would be to watch the Big Brother Nigeria reality TV show, do somethings online and maybe analyse some of my Forex trading chart before I go to bed. Thanks for reading!
---
---
You can check out my most recent introduction post here. As a means to help build the Steem network, I have set my post payout to 100 % steem-power as post payout.
As a part of the #9jafive team, I give a special appreciation to @steemitblog, @steemcurator01 and @steemcurator for this diary game challenge
All images were taken with my Tecno Pouvoir 3 (LA8) Phone and edited with Photogrid.