Connecting Your Money On The Blockchain
This information is primarily intended to structure the project known as TIHOSAY.
TIHOSAY uses an ETHEREUM substructure and it is an ERC-20 compliment token.
The Ethereum ecosystem has been of a great benefit to TIHOSAY. Here are some things that this information tries to explain; Card, Stock exchange, Ico request, Trusted merchant credits, Affiliate, Ico details, Roadmap and Team.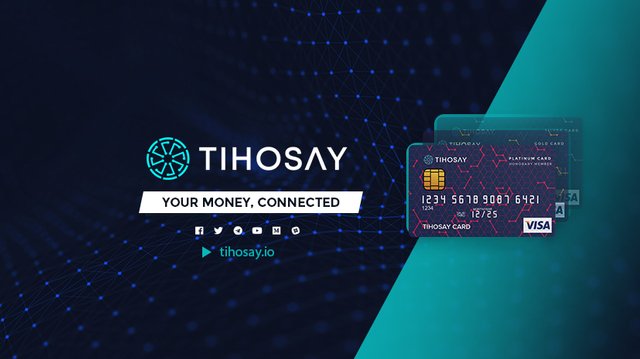 The modelling of TIHOSAY started in March 2017, with the aim to leave every problem behind and help to change the idea of people about the crypto world because TIHOSAY believes that since cryptocurrency is revolutionary and it offers several benefits in all payments, the reason why they are not used remains a misery to all.
TIHOSAY will ensure to provide an easier, safer, cheaper, faster use of cryptocurrencies for users around the world.
An Explanation Of TIHOSAY Explanation And Debit Cards.
TIHOSAY has a visa debit card which can be used for transactions instantly, with the debit card. 9 different supported cryptocurrencies can be converted to local FIAT, it can be withdrawn as cash at hand and it can as well be used for shopping.
TIHOSAY as well makes buying and selling transactions very easy to access.
The Advantages Of Competition For Merchants.
Support will be created for merchants who are honest and who compete to grow their business by providing them with the 'Trusted Merchant Credit'.
There is an availability of 'Trusted Merchant Card' which will help to provide reliable and trouble-free merchant to its users.
It should be noted that the commision required while buying and selling TIHOSAY in the exchange market is very low and this will ensure that more transactions will be carried out with TIHOSAY.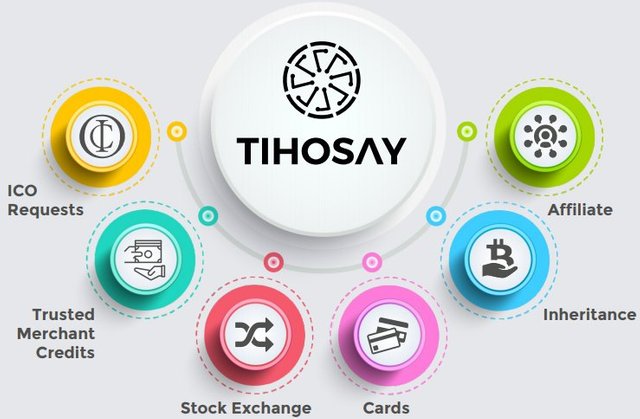 The Tihosay Application.
TIHOSAY infrastructure services can easily be accessed with a single membership, while the right for web and the on-site sales can only be accessible for accounts with merchant title.
It is important to know that QR code can be read with the TIHOSAY application and it could have all its features displayed.
Time loss and confusion will be prevented by using the TIHOSAY application because QR codes can be listed individually on the application.
There Is An Inspection Center.
There will be an inspection centre for all users who have the merchant title.
They will have their data collected by getting through a research about complaints and negative feedback.
You Have Rights That Protect Your Inheritance Transactions.
TIHOSAY guides and protects your inheritors, there is an availability of quick transfer of rights and investments to the person or institution standing as the inheritor upon the demise of the owner of the account.
TIHOSAY Is Certainly The Future Everyone Expects.
TIHOSAY aims to develop a platform where operations can be carried out easily. There are new innovations and advantages for every customer who uses the platform.
There is going to be a successful launch of an ICO that has the aim of measuring the interest attained to the platform which will then be able to help the launching of the TIHOSAY platform by making it go public on the 15th of April, 2018.
The Function Of TIHOSAY Visa Debit Card.
The card allows you to be able to transfer your available crypto fund into local fiat.
There is a commission fee of 1% which is for software usage. There will be no charged fee for customers who request the TIHOSAY visa debit card, the monthly and annual fees are at no cost at all.
The Way TIHOSAY works In Three Simple Steps.
For all users who will download the TIHOSAY application from any of the following sources; windows, ios and Andriod markets have the ability to control all transactions with an individual wallet.

TIHOSAY exchange can be bought and sold in the same wallet.

Money can be transferred as FIAT to the card.
Advantages Of Using TIHOSAY Visa Debit Card.
The card can be used in over 4 million stores, hotels, restaurants and countries where visa cards are accepted.
It offers an instant access to your assets from anywhere in the world with a global account.
There is an availability of free ATM withdrawal.
There is a low commission fee.
There is free shipping. and so many other advantages.
Analysing TIHOSAY Cards
TIHOSAY also have a platinum card with a daily spending limit of $75,000 and an ATM withdrawal limit of $2,500. The maximum spending per month is $125,000 and a monthly ATM withdrawal limit of $2,500.
It has a gold card which has a daily spending limit of $25,000 and an ATM withdrawal limit of $2,000.
It's maximum spending per month is $25,000 and a monthly ATM withdrawal limit of &2,000.
It has a silver card which has a daily spending limit of $7,500 and an ATM withdrawal limit of $750.
It has a maximum spending per month of $12,500 and a monthly ATM withdrawal limit of $1,500.
All these cards also have an additional ATM limit usage from TIHOSAY from its bonus system.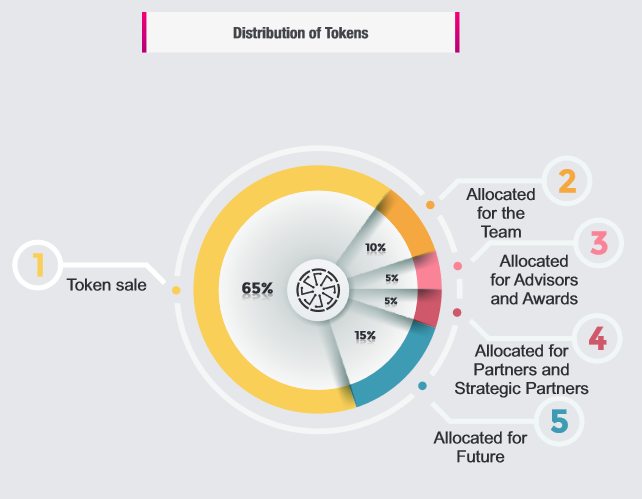 Tihosay ICO Details
PRE-ICO
Token Amount: 10,000,000 THO

Dates: 15 - 24 April 2018

Max Bonus: 40%

UP TO 50 ETH +15%

51-100 ETH +20%

101-150 ETH +25%

OVER150 ETH +40%
ICO STAGE 1
Token Amount: 35,000,000 THO

Dates: 1 - 10 May 2018

Max Bonus:30%

UP TO 50 ETH +10%

51-100 ETH +15%

101-150 ETH +20%

OVER150 ETH +30%
ICO STAGE
Token Amount: 7,000,000 THO

Dates: 11-20 May 2018

Max Bonus: 20%

UP TO 50 ETH + 5%

51-100 ETH +10%

101-150 ETH +15%

OVER150 ETH +20%
ICO STAGE 3
Token Amount: 13,000,000 THO

Dates: 21-30 May 2018

Max Bonus: 10%

UP TO 50 ETH + 5%

51-100 ETH +10
---
---
Source
Website: https://tihosay.io/
Whitepaper: https://tihosay.io/assets/blockchain/layer/Tihosay-WP.pdf
Twitter: https://twitter.com/tihosay
Facebook: https://www.facebook.com/tihosayio/
Telegram: https://t.me/tihosayio
ANN Thread: https://bitcointalk.org/index.php?topic=3101782.0
Authored by: gbenga88
Bitcointalk URL: https://bitcointalk.org/index.php?action=profile;u=1874687
Eth Address: 0xdcef7d27bbaae609accdaf43ccf41b042beaffb4