TIL that a bar in Los Angeles is selling a 40-ounce Colt 45 in a brown paper bag for $15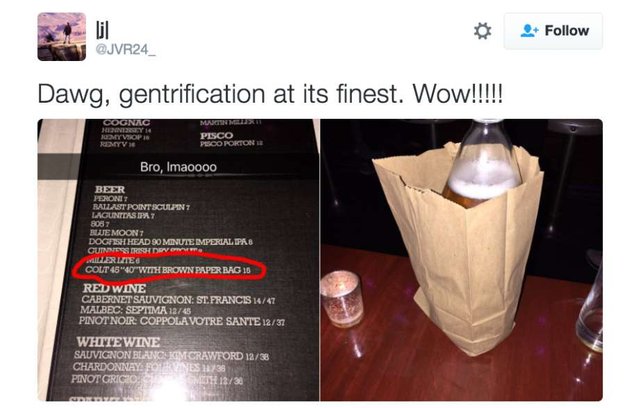 Guinness, Lagunitas, Blue Moon, Dogfish Head, Miller: these are familiar names to beer drinkers, though I don't see any local flavor. Saint Felix bar in Los Angeles has added a new "beer" to its list: Colt 45. A 40-ounce bottle of the cheap malt liquor will run you $15 (which is a lot more than they charge for it at the corner store). As a bonus, you get a brown paper bag. So you can take your 40 on the bus or pound it at the bus stop.
Just don't drink and drive. Pity your Uber driver or your sleeping partner after you quaff a 40 of that stuff. Leave the window open if the temperature outside is not life-threatening. Malt liquor is not real beer and its gaseous side-effects rip right through the ozone layer.
This sounds like a publicity stunt. It worked. Smile, you're on Steemit!
http://www.sfgate.com/food/article/Calif-bar-selling-40-oz-bottles-of-Colt-45-with-10806519.php