The end of the times: Let anyone who desires drink freely from the water of life. Revelation 22:17
The apocalypse is not the end of the world but the end of the times. And after this end of time, there will be a water of life that all men will be able to drink: "The Spirit and the bride say, ´Come´. Let anyone who hears this say, ´Come´. Let anyone who is thirsty come. Let anyone who desires drink freely from the water of life.", Revelation 22:17.
The water in the bible represents life and purification, the water is a symbol of the spirit of wisdom.
When the new Jerusalem is established, that is, when God's creation is completely perfected, this spiritual water will bring with it the vision of God, the contemplative life (John 17:3):
"Then the angel showed me the river of the water of life, as clear as crystal, flowing from the throne of God and of the lamb down the middle of the great street of the city. On each side of the river stood the tree of life, bearing twelve crops of fruit, yielding its fruit every month. And the leaves of the tree are for the healing of the nations. No longer will there be any curse. The throne of God and of the Lamb will be in the city, and his servants will serve him. They will see his face, and his name will be on their foreheads. There will be no more night. They will not need the light of a lamp or the light of the sun, for the Lord God will give them light. And they will reign for ever and ever.", Revelations 22:1-5.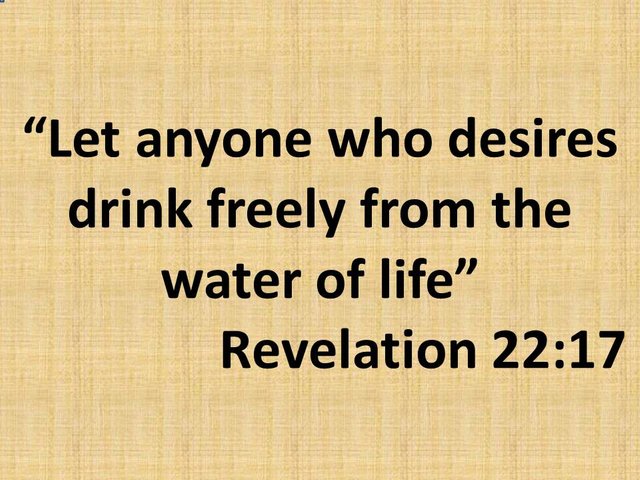 The spiritual water is the wisdom from above, which progressively purifies the soul of man as we receive it with the intention of practicing it: "The wisdom that is from above, is first pure; and then peaceable, gentle, open to reason, full of mercy and good fruits, impartial and sincere", James 3:17.
Love comes from wisdom because to love something you have to know it first, wisdom is the way to God. Living wisely is living according to the commandment of love. Wisdom is the knowledge of the correct means to live.
All the prophecies, among which is the book of Revelation, explains that after a certain time, the knowledge of God, that is, his spiritual water, and therefore his vision, will be definitively established among men.
For more information visit my profile follow the link and download for free my ebook.